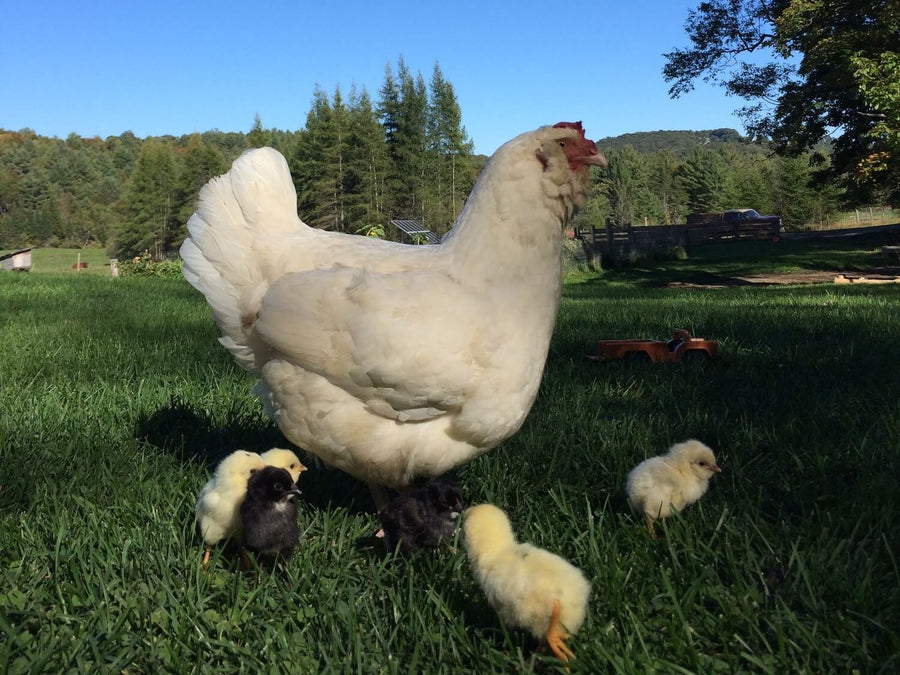 Raising backyard chickens is a wonderful and fulfilling activity. If you choose to start raising your own hens, there are some important things to be aware of when it comes time to source them. The first step is always deciding on a breed. There are numerous types of breeds, each with their own advantages and disadvantages, and it's important to figure out which one is best for your backyard. After finding your breed, the next step is deciding to raise chicks or adult hens. This is a conclusion that must be arrived at with careful consideration. Both have their benefits and detriments, so it is imperative to know which best fits your personal situation.
How to raise chicks
Chicks are very delicate and require extra safety precautions. Raising chicks will require a safe space, known as a brooder, for them to spend their first 4-6 weeks while they feather-out. Baby chicks are covered in a fluff that will eventually turn into feathers. At this stage, they are quite vulnerable to weather and temperature. Their space will need to be kept warm, dry, and secure from predators even as small as a rat.
Chicks grow into hens fast. If you are raising chicks, expect their first eggs in no sooner than five months. Once a hen begins laying, you can expect an egg at 24-48 hour intervals (weather and daylight hours depending) for 5-7 years (some hens lay well into their 9th and 10th years). Chicks are painfully cute and raising them is a uniquely satisfying and educational experience. They grow quickly and transform from little yellow peeps into tiny, docile, food-producing dinosaurs in a matter of months.
How to find baby chicks
Baby chicks are easy to locate. Most often in the spring, they can be found at local feed and hardware stores for immediate in-store purchase. Spring is a natural time to get chicks in most parts of the country, as it allows for the birds to reach maturity before the cold of winter sets in and gives them a chance to begin foraging on fresh grass and bugs almost as soon as they have begun to grow their feathers. To herald spring, many feed and hardware stores celebrate what they call "chick days." For several weeks at the height of spring, chirping can be heard throughout the store. Plus, all of the materials you need to raise the chicks are usually offered for sale right along with the baby birds. These stores order large quantities from hatcheries and then serve as a middle man for a marked up price. The benefit of an in-store purchase is the convenience of an in-the-flesh human available to answer your questions and help with any additional tools or feed you may need. If you are looking for a precise breed or the flexibility of an arrival date sometime other than spring, you should consider a hatchery.
Choosing a hatchery
Out-of-state purchases from hatcheries are quite common, and most states readily allow the practice. The hatcheries are regularly checked for health and disease, so the onus of an inspection falls on the producer and not you, the customer. It is recommended for sustainability reasons to find a hatchery nearest you, nonetheless the search can be a daunting affair.
Not all hatcheries are equal and some far outstrip others in terms of customer service and animal welfare. One that stands out is in Sebastopol, California, called Alchemist Farm. There the owner, Franchesca Duval, is as committed to the health and welfare of her birds as she is to her community. At Alchemist Farm, Duval offers a different solution, donating the rooster chicks she cannot sell to various rural groups and families in her local community. The roosters are then raised to be nourishing food for humans in need.
The farmers at Alchemist Farm specialize in heritage and rare breed chickens; ones that haven't been bred for maximum production but rather are heirlooms of a disappearing culture of food production. These are breeds that will soon die out if not for farmers like Duval, and they require backyard chicken keepers like yourself to continue their existence. Knowing which breeds you want will greatly influence how you acquire your chicks, whether from a hatchery or a local store.
How to order chicks
If you have chosen to source your chicks from a hatchery, you will need to examine which dates they have available for shipment. Most hatchery websites will list all of their hatching dates at checkout along with the availability for those dates. It is wise to order your birds well in advance to ensure the availability of the breed that you desire. You can order chicks as early as the preceding winter. When they become available (starting as early as March 1st in many areas), they will begin to ship. You can coordinate your hatch date (and thus your ship date) with what best suits your needs. Chicks will be ready to be moved outside by 6-8 weeks, provided the weather is tolerable and mild. Use this timeline to calculate your ideal ship date. Depending on how far you are from the hatchery, most chicks will take 1-2 days to arrive to your house. They will be shipped to your local post office (regardless of what sort of home delivery you usually have). Expect a call from the postmaster that morning as early as 7 AM. The chicks will be chirping loudly, eager to go home with you and enjoy a larger, warmer space, some food, and a sip of water.
How to raise already grown hens
If you choose to purchase grown hens, you will not need the features or expense of a brooder and will be able to put them straight into a coop as they already have their feathers. The only real downside of purchasing grown hens is that it's very rare for people to sell them in the prime of their lay. Hens that are for sale are usually already several years old and have dramatically slowed down their egg production. If your egg needs are not particularly great and your time limited, grown hens are a great choice. This is a way to provide mature hens a forever home in exchange for a steady source of eggs for a small family without the time, money, and energy that is required to raise chicks.
How to find grown hens
Purchasing grown hens requires more research initiative than purchasing chicks. You will need to look and advertise your search on local listservs, local online marketplaces, and at your nearby farmer's market. Depending on the age of a chicken, you can expect to pay anywhere from $10- $30 for a grown hen. You will want to visually inspect the hens and be on the lookout for feather loss, comb loss, foot/talon health, mites, and any other signs of distress. Ask the farmer or seller for the approximate age of the bird(s) and any flock health or behavior issues. If you are buying hens out-of-state, you will need a vet to see and sign off on the birds, and this transaction requires a certificate of veterinary inspection. This is to mitigate the spread of chicken-born diseases and adherence to laws that are are integral to the health and safety of our food production system. A vet's visit to the farm for this express reason can be costly, so an out-of-state purchase of grown birds it is not recommended unless you are searching for a rare breed unavailable by other means.
Waiting for your chicks to arrive? Read on to learn how to build a brooder for them.
A note from Pete and Gerry's: For generations, our family of farmers at Pete and Gerry's Organic Eggs has been dedicated to revolutionizing the way eggs are produced in the United States. We believe that consumers deserve better eggs from happier chickens living on small farms run by fairly paid farmers, and that's what we have dedicated our business to. We also believe deeply in the transparency and verification of our standards, which is why we became a Certified B Corporation in 2013. It's also why our farms meet the rigorous Certified Humane Free Range and USDA Certified Organic standards. We take the welfare of our hens, the sustainability of our farms, and health and happiness of our partner farmers and consumers very seriously. The resulting eggs are ones that stand out in the supermarket; they remind consumers of the eggs from their childhood farms and excursions abroad in Europe. And we're happy to be second best. In fact, we believe that everyone deserves a chance to raise hens right in their backyard and experience the joys that come with raising and growing food at home. Kate MacLean of Longest Acres Farm is here to tell you how.
Kate MacLean lives and works on 120 acres of land known as Longest Acres Farm in Chelsea, VT with her husband Nick, son Leland, and daughter Amelia. As an ex-city-dweller, she gained valuable experience working on friends' and neighbors' farms before making the move to rural Vermont with her family in search of a fulfilling, self-sustaining way of life.
Her breadth of experience in farming and raising countless varieties of chickens and other livestock on Longest Acres Farm not only makes Kate an expert in her field, but an advocate for home grown food and self-sustainability.