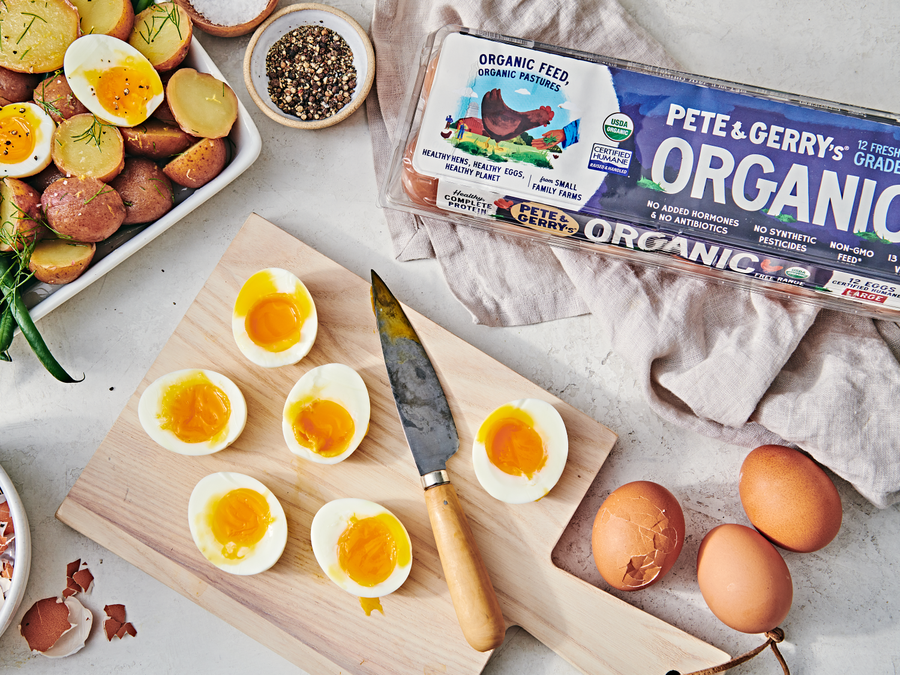 he answer is simple: eggs are one of the healthiest, most nutrient-dense natural foods out there. They're a complete source of protein, boasting generous amounts of omega-3 and containing all of the essential amino acids your body needs to build and repair muscles. They're also chock full of lutein, zeaxanthin, and choline. Just one egg offers all this (and more!) for a mere 70 calories.
Eggs are a whole, unprocessed food
When it comes to eggs, what you see is what you get—and that's a good thing! Eggs are unprocessed, which means they contain no additives or hard-to-pronounce ingredients. Shelled eggs have nothing added to or taken out of them, making them a whole food. As with any food, there are still "ingredients" that go into the production of eggs, including high-quality supplemental chicken feed, fresh greens, and tasty forage from the pasture.
Eggs are full of healthy fats
The majority of the 5 grams of fat in an egg comes from polyunsaturated and monounsatured fats, which can benefit the body in a number of ways. This works with the high-quality protein in eggs to help curb hunger pangs by managing appetite and blood sugar control, both of which are important for weight management and diabetes prevention. For those concerned about saturated fat, eggs are still a healthy option. The Dietary Guidelines of 2015 recommended consuming less than 10% of calories per day from saturated fats. On a 2,000 calorie diet, that's 20 grams per day. A single egg contains about 1.5 grams of saturated fat, which is less than 8% of your daily value.
Nearly all of these healthy fats are contained in the yolk, which is why it's a smart idea to consume the whole egg. For an even bigger boost of protein in your egg scramble or omelette, liquid egg whites are a great option.
Eggs won't raise cholesterol levels (in most cases)
Decades of research has shown no evidence that moderate dietary cholesterol or egg consumption increases the risk for heart disease and stroke, except in people with a strong genetic risk for high cholesterol. This research kicked off in response to the now famous Framingham Heart Study beginning in 1948, which established a link between high cholesterol levels in the blood and health problems like heart disease. Misinformation and myths surrounding cholesterol only spread when the USDA went a step further and made an unsupported conclusion that ingesting any food high in cholesterol would, in turn, drive up the levels of cholesterol in the blood, and thus should be avoided.
It turns out not all foods behave the same way in the body. Subsequent reviews of the USDA's claims, along with numerous, more current studies have revealed no evidence that egg consumption actually elevates cholesterol within blood levels. Thus, no correlation with increased disease risk can be drawn.
In reviewing the scientific evidence for development of the 2015-2020 DGA, the Dietary Guidelines Advisory Committee acknowledged that cholesterol is not a nutrient of concern for overconsumption by the U.S. population and recommended the discontinuation of a specific limit on cholesterol due to evidence from a 2013 report issued by the American Heart Association and the American College of Cardiology showing "no appreciable relationship between consumption of dietary cholesterol and serum cholesterol."
Omega-3 fatty acids in eggs help regulate your body
Omega-3 fatty acids are like superheroes: they can help regulate blood clotting, inflammation, and genetic function. Their other superpowers include controlling and preventing heart disease, stroke, lupus, eczema, and rheumatoid arthritis. So what are omega-3 fatty acids, anyway? They belong to the polyunsaturated fats family and are one the essential fats, which means the human body can't produce omega-3 fats on its own. This is just one of the reasons why humanely raised eggs are an important addition to your diet: a study has shown that hens with access to outdoor pastures produce eggs with significantly more omega-3 fats than eggs from caged hens.
Eggs are a complete protein
The 6 grams of protein found in an egg are made up of all 9 essential amino acids that are vital to our survival. Containing every essential amino acid makes eggs a complete or "whole" protein, and the benefits of this are endless. Whether you're seeking a filling lunch on a tight budget or a vegetarian in need of a high quality protein source, eggs can fulfill your daily nutrition needs. Science also suggests that protein plays a starring role in making a meal satisfying. Protein-rich foods take more time for the body to break down, keeping you feeling fuller longer.
Lutein, zeaxanthin, and choline for brain and reproductive health
Eggs are considered a nutrient dense food, and for good reason. They have high amounts of beneficial nutrients like lutein, zeaxanthin, and choline in relation to their total caloric content.
Lutein and zeaxanthin are antioxidants that help keep your eyes healthy by preventing macular degeneration and age-related blindness. Choline is perhaps one of the most powerful essential nutrients in eggs because it plays an important role in memory, mood, muscle control, and other brain and nervous system functions. It helps support the nervous, endocrine, digestive, and reproductive systems. Choline is also essential in fetal and infant brain development, since adequate choline during pregnancy can prevent neural tube defects. Even lactating women are especially in need of dietary choline to protect the health and development of their babies. Just one egg provides a quarter of the daily choline needs for someone who is pregnant or lactating. Our bodies are able to make a small amount of choline on their own, but the rest must be obtained from food sources like high-quality eggs.
Eggs contain 13 vitamins and minerals
We all know that vitamins and minerals are essential to our diets, but why is that? Each vitamin and mineral has its own function, and luckily, eggs contain a whole lot of them—this includes vitamins D, B12, A, K, riboflavin, and other antioxidants, all of which support the body in varying ways. Eggs also contain a robust amount of the antioxidant selenium, which helps prevent chronic disease and the breakdown of body tissues.
Most notably, egg yolks are one of the few foods that naturally contain vitamin D, which helps the body absorb calcium and is therefore essential for bone health. Research has shown that eggs from humanely raised hens contain significantly more vitamin D than conventional or caged eggs, which is yet another benefit of outdoor access.