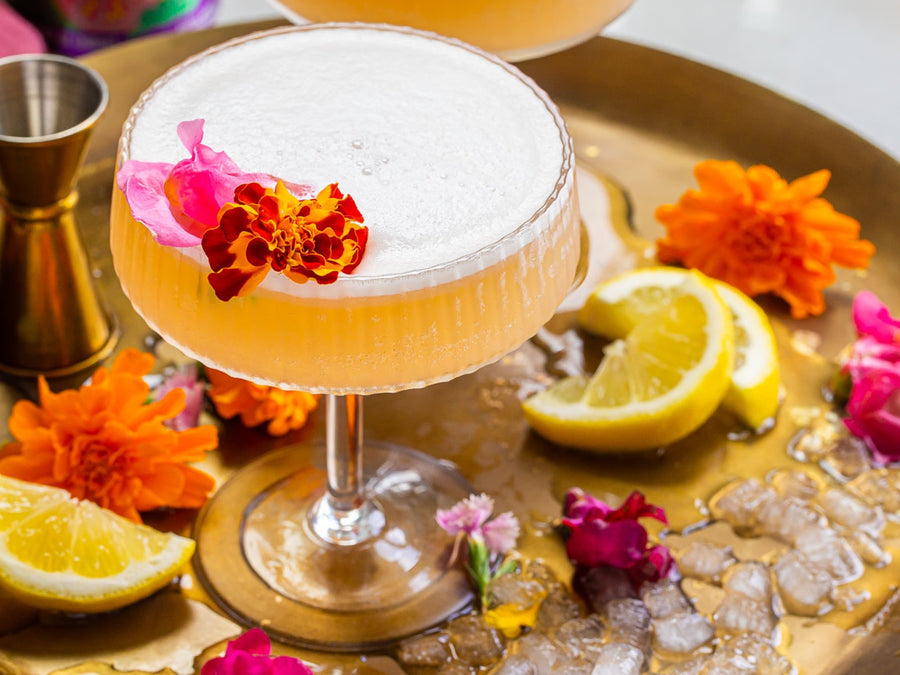 Please drink responsibly. These recipes call for alcohol and are not suitable for those under the legal drinking age.
If you've yet to sip a gin fizz with a foamy finish or enjoy a velvety whiskey sour, you might be wondering, are egg white cocktails safe? The answer is yes! Egg white cocktails are safe to consume as long as they've been made with pasteurized egg whites like our organic pure liquid egg whites. Rather than adding flavor to your beverage, egg whites offer a delightful and unexpected texture that rounds out just about any cocktail made with gin, whiskey, brandy, or otherwise. So whether you're a budding bartender or hosting happy hour at your place, explore the world of egg white cocktails by starting with these boozy recipes.
Neither texture nor taste are sacrificed in the making of this tropical tequila sour that's sweetened with agave nectar and coconut rum. Silky egg whites bring balance to this cocktail's tangier notes, while a classic two-shake preparation ensures a satisfying foamy top with every sip.
Thanks to the egg white foam on top, this festive pumpkin and apple cocktail has an ultra silky smooth quality. Needless to say, it goes down easy. A splash of apple brandy brings a fruity, warm flavor to the mix, making this the perfect drink to try after dinner, around the holidays, or in the vicinity of a roaring fire and a cozy couch.
For a drink as visually stunning as it is steeped in pre-Prohibition era history, look no further than this elegant Clover Club. Homemade raspberry simple syrup gives this cocktail its vibrant hue, making the summery concoction a perfect addition to your special occasion dinner or romantic evening in.
There's a reason why fizzes and sours are so often served with egg white: the tartness and acidity of freshly squeezed lemon juice and gin play so well with that voluptuous, airy foam that forms in the cocktail shaker. After trying this one with Meyer lemon, you'll probably never order a gin fizz without the egg white again.
This fizzy cranberry-mint cocktail is the ultimate elevated party punch, bar none. Club soda, gin, muddled cranberries, and fresh mint mix and mingle, creating a tart and fragrant base for simple syrup, egg white foam, and a few homemade candied cranberries for garnish.
If you're a true lover of eggnog, you know that there's really no wrong time of year to enjoy this beverage. Whether it's snowing outside or 70 degrees and sunny, who wouldn't want a glass of the beloved chilled cocktail? Made with almond and coconut milk, this yolkless dairy-free version is light, but still refreshing, sweet, and luscious.
Fantastically Foamy Cocktails with Pete & Gerry's Organic Egg Whites
If you've ever wondered how to make cocktails foamy or wanted to impart a delightfully silky texture, our Pete & Gerry's Liquid Egg Whites are the perfect thing to shake things up!