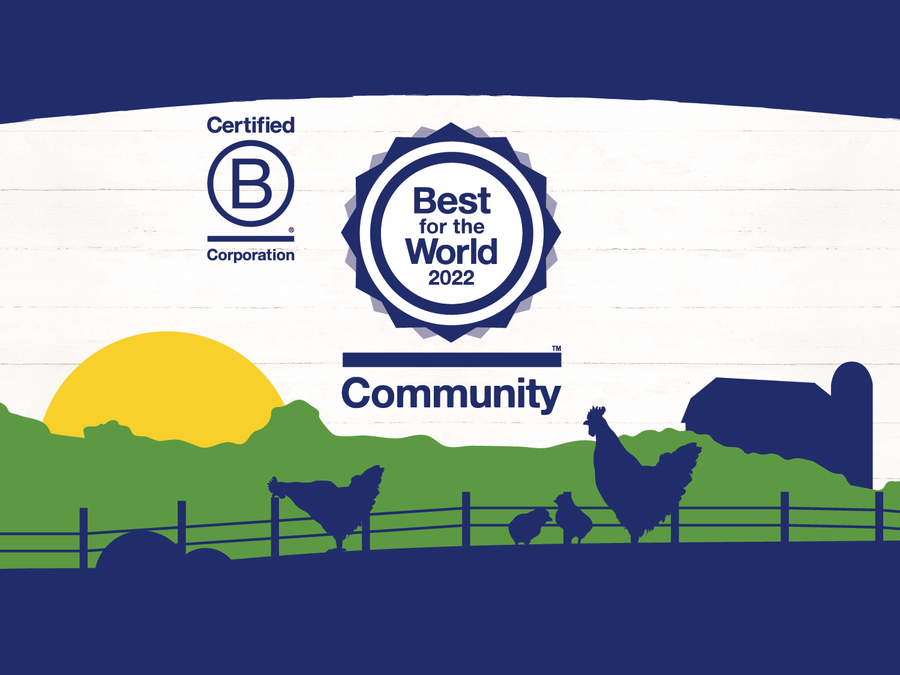 Big news on the farm! We're proud to share that Pete & Gerry's has been recognized as one of the Best For The World B Corporations of 2022 for having an exceptional impact on our community. After earning our first Certified B Corporation Certification in 2013, receiving this honor is a proud moment for all of us; from our hardworking partner farmers to the folks who deliver our eggs to your local grocery store. And you should be proud, too: every time you choose to stock your fridge with Pete & Gerry's, you're supporting the families and flocks that make our better eggs possible.
What is a B Corporation?
The B Corporation movement began with a nonprofit called B Lab back in 2006, and has since grown to include thousands of businesses across numerous industries and countries today. Simply put, B Corporations (B Corps) seek to harness the power of business as a force for good. Profit has traditionally been the most important measure of success in the corporate world, but B Corps seek to change that by placing just as much importance on people and the planet as we do on profitability. In other words, we don't just want to stay in business; we want to use our business to make a difference.
In order to achieve B Corp Certification, a company must achieve the following:
Meet a score of at least 80 points on the B Impact Assessment, an evaluation of a company's positive impact
Pass a risk review, an evaluation of a company's negative impact
Change their corporate governance structure to be accountable to all stakeholders, not just shareholders
Exhibit transparency by allowing information about their B Corp Certification performance to be publicly available on their B Corp profile on B Lab's website
Even better news is that B Corp Certification doesn't just evaluate a product or service; it assesses the overall social and environmental impact of the company that stands behind it. For Pete & Gerry's, this spans from our small family farms to our earth-friendly recycled plastic cartons.
What does it mean to be Best For The World™?
The Best For The World B Corp distinction is granted to Certified B Corps whose verified scores in the five impact areas evaluated in the B Impact Assessment—community, customers, environment, governance, and workers—rank in the top 5% of all B Corps in their corresponding size group.
At Pete & Gerry's, we have been recognized for our efforts in the Community impact area. As all B Corps are already businesses that meet high standards of verified social and environmental performance, public transparency, and legal accountability to balance profit and purpose, this is a recognition that makes us incredibly proud! And we're just getting started: Pete & Gerry's will continue collaborating with the global B Corp community to continue our work and positively impact all our stakeholders.
What has Pete & Gerry's done to positively impact its community?
B Corps recognized for their exceptional commitment to community have mission-driven cultures that embrace supplier relations, social engagement, charitable giving, and strong, diverse communities. Here are a few examples of how Pete & Gerry's makes a difference in those communities and beyond:
We partner with small family farms.
In a food system overrun with factory farms, we believe in the restoration of the small family farm to the American landscape. Our farming model provides opportunities for small family farms to remain in business, from the organic grain mills who supply our feed to the families across the country that produce our eggs. Best of all, it allows us to provide you and your family with wholesome, organic, free range eggs at a fair price.
We farm in a way that keeps our environment safe and healthy.
No antibiotics, no synthetic pesticides, and no GMOs: that's the organic promise. Because these practices don't introduce dangerous chemicals into local ecosystems or degrade soil, organic farming is known to be more sustainable than conventional farming, which has far-reaching consequences not only for our planet, but for all of its inhabitants.
We follow the highest standards for animal welfare.
In addition to USDA Organic Certification, all of our cartons boast a Certified Humane seal. Our hens are free range, which means that when they're not laying eggs in their spacious barns, they're out roosting under clear blue skies, foraging in the green grass, or enjoying a dust bath in the shade. Adhering to the gold standard for animal welfare means a better life for our hens and a higher quality egg for you.
We remove plastic from the waste stream.
Organic eggs in plastic cartons may sound like an oxymoron, but the reality might surprise you: rather than create new waste, our cartons use what's already headed for the landfill. They're made from 100% post-consumer recycled material that comes from the most common plastics around, including water bottles and soda bottles. By diverting these materials out of the waste stream, we're also keeping plastics out of our oceans.
Every year, Best for the World recognizes the top-performing B Corps creating the greatest positive impact through their businesses. More than a badge of honor, Best for the World provides an opportunity for recognized companies to share knowledge, learnings, and best practices with the B Corp community and businesses outside of the community to encourage innovation and transformation across the business sector. The full lists are available here.