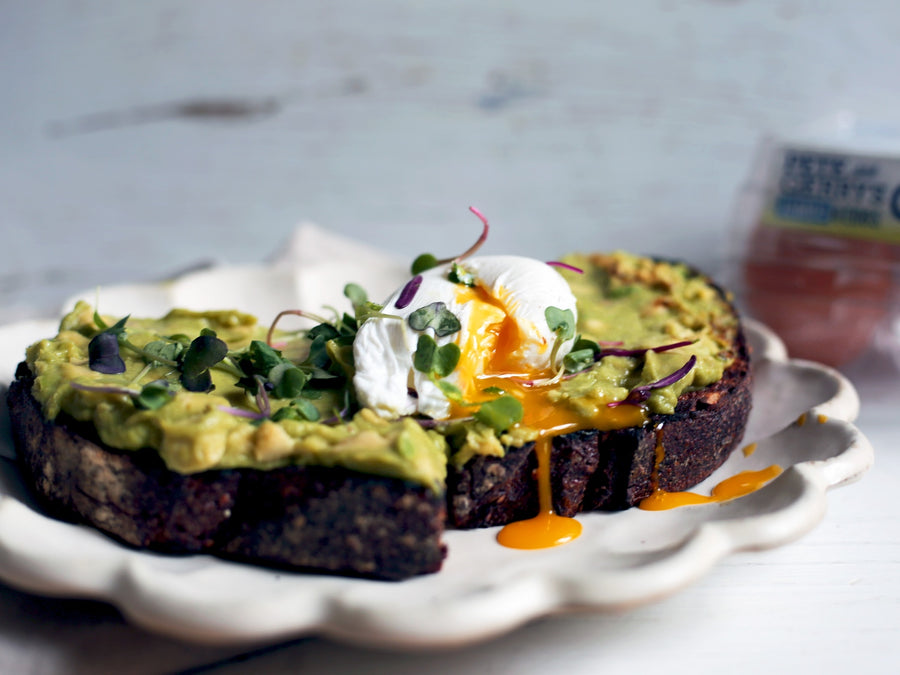 Each of these recipes combines avocados and eggs, two nutritional powerhouses, for a healthy, filling, and satisfying meal that will help kickstart your day or make the dreaded afternoon slump a thing a of the past.
Avocados are just about as versatile as eggs. Whether they're the star of a dish, playing a supporting role, or simply acting as a garnish, you can always count on avocados to add a very particular creamy texture and full, slightly nutty flavor to your cooking-a unique combination that has yet to be replicated by any other food on the planet. And like eggs, avocados are a healthy, nutrient dense ingredient: just one avocado contains countless vitamins and minerals, plenty of better-for-you unsaturated fats, and a notable amount of potassium. Each of the following recipes combines avocados and eggs, two nutritional powerhouses, for a nourishing and satisfying meal that will help kickstart your day or make the dreaded afternoon slump a thing of the past.
It's everyone's favorite item on the brunch menu for good reason. But with this recipe in your back pocket, there's no need go out for a great slice of avocado toast! Topped with mashed avocado and jammy eggs, this is as as simple as it gets-so no matter your skill level in the kitchen, you'll nail it every time.
Starting with a corn tortilla crisped up in olive oil, these breakfast tacos are built with simple, straightforward ingredients like sunny-side up eggs, a sprinkle of queso blanco, diced red onion, and a dollop of plain yogurt. Avocado, a common addition to tacos, rounds out the dish and brings balance to the punchy fresh salsa and lime.
The mashed avocado in this recipe offers some much needed creaminess to balance the spicy chili crisp atop the tostada. Stacked with heirloom tomato slices and crumbled cheddar cheese, it's the ideal assembly of classic breakfast flavors with a twist.
If you know, you know. Avocado toast toast has gained its fame and popularity for good reason: it's easy to make, incredibly filling, and inexpensive to assemble at home. Use this recipe to take your avocado toast up a few notches by adding a poached egg, opting for a slice of rustic sourdough, and finishing with flaky salt and microgreens.
A fantastic swap for traditional pasta, these spiralized strands of zucchini pair perfectly with a couple slices of avocado and a runny egg yolk. In place of spaghetti, the fiber- and vitamin-rich zoodles combined with healthy fats and protein make for a well balanced dinner.
This take on Turkish eggs, also known as cilbir, is all about balance. The dish is mostly made up of ingredients that are rich in healthy fats; Greek yogurt, fried eggs, and spicy harissa butter. To cut those fats, herbaceous and lemony avocado relish steps in, adding just the right level of acidity to every bite.
Haven't tried baked avocado yet? It's surprisingly good, especially when cooked with an egg in the center. These avocado egg boats are completely hands-off, making them ideal for busy mornings-all you have to do is preheat the oven and choose your toppings.
Deviled eggs are so much more than an appetizer-they make for an easy work or school lunch, too. These ones are inspired by the flavors of guacamole, and filled with a combination of yolks, avocado, lime juice, cilantro, and garlic. Serve with fresh veggies for a complete lunch.
These aren't even on the same level as your average breakfast burrito. Each tortilla is packed with healthy options like collard greens, sliced avocado, sweet potato, mashed black beans, and eggs cooked over easy. If you want to take your green goddess breakfast burritos to new heights, the recipe includes instructions for cilantro pepita pesto and vegetarian shiitake "bacon."
To make a healthy hash out of virtually any seasonal vegetables that you have on hand, all you need is a trusty skillet and a few organic eggs. This highly riff-able sweet potato hash includes tender pieces of kale, crispy bacon bits, and sliced avocado, but could be fashioned out of anything from Brussels sprouts to sweet corn.
Any dish that touts itself as "green" simply isn't complete without some avocado, and this shakshuka is no exception. In place of the traditional tomato sauce, it's made with sautéed spinach, shallot, spices, and cilantro, with the eggs baked right on top and queso fresco crumbled all over.
If you like your breakfast spicy, this tostada is for you. Habanero cheddar scrambled eggs set each bite aflame, but not before the creamy mashed avocado swoops in with a cooling effect. Whether or not you add the extra drizzle of habanero hot sauce at the end, you're in for meal that's sure to wake you right up.
For this easy lunch dish, you'll need quinoa, hard-boiled eggs, black beans, radishes, and a couple herbs and spices. Each black bean fiesta bowl is finished with perfectly ripe avocado and a homemade honey-lime dressing that you'll want to put on every salad or lunch bowl you ever make.
When you have some extra time in the morning and want to go all out with your breakfast, fix yourself a plate of huevos rancheros-also known as toasty tortillas topped with sunny-side up eggs, fresh tomato, queso fresco, avocado, and any other fixings your heart desires.
It doesn't get much simpler than this breakfast bowl filled with healthy ingredients like chickpeas, mashed avocado, roasted sweet potato, and cherry tomatoes. Whether you take your eggs fried or scrambled, a bowl like this is an ideal way to start your morning.