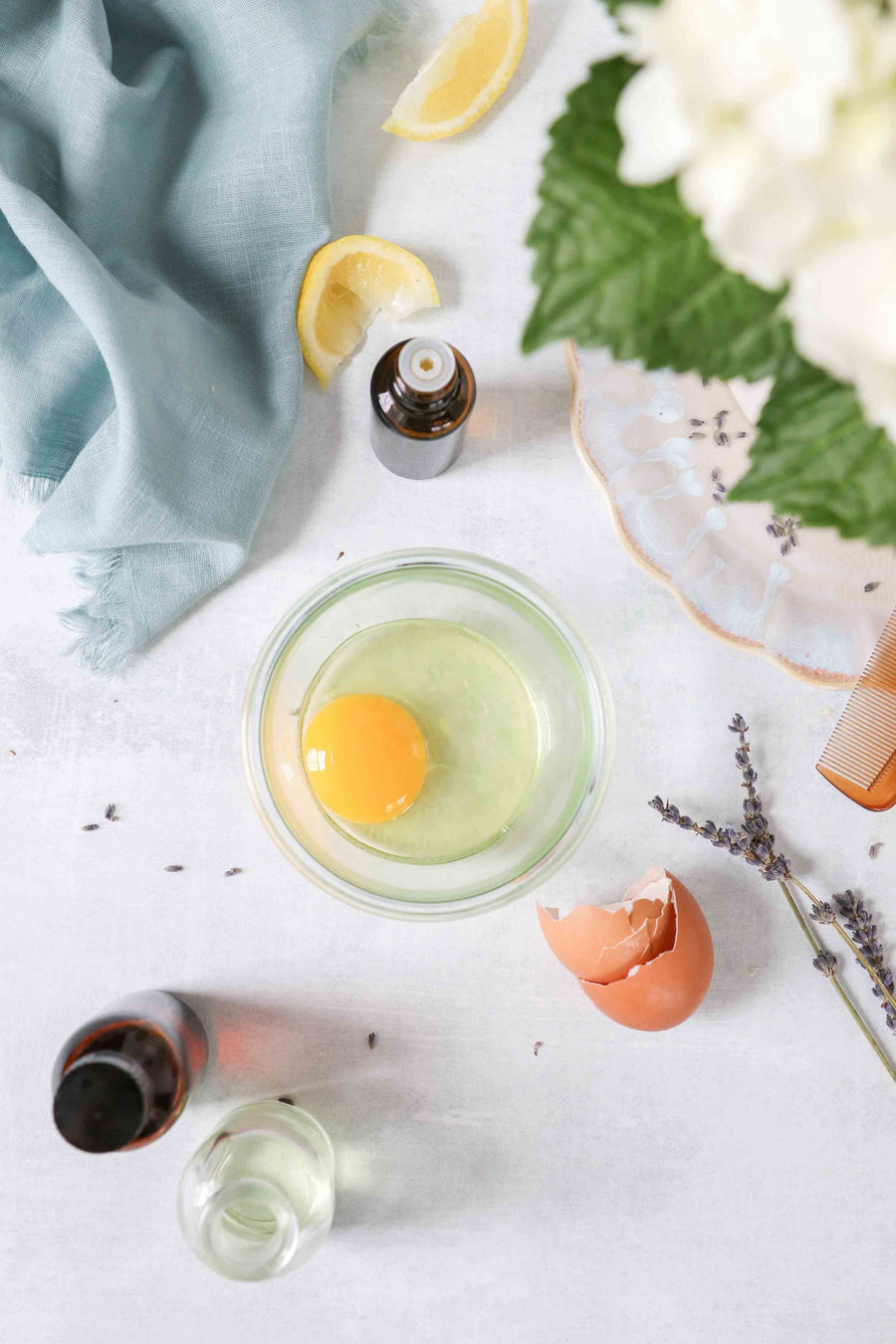 Raise your hand if you'd like healthier, shinier hair. Because who doesn't? As someone who's always looking for ways to make her hair grow faster, look shinier, and feel thicker, I've got some good news: you can stop splurging on expensive hair products. The key to healthy hair has been right in your refrigerator this whole time.
The nutrients in eggs (those gorgeous golden yolks, especially) are the same ones found in strong, glossy hair. And adding eggs to your beauty regimen can refresh even the most frazzled locks. While you're free to slather raw eggs in your hair and call it a day, I recommend taking a more tailored approach based on your particular hair woes. Combining eggs with other ingredients like aloe vera, essential oils, & lemon juice can help target specific issues and do wonders for all different types of hair.


Understanding hair problems
To understand why your hair is acting up, it's important to consider the factors that contribute to hair problems in the first place. An unbalanced diet, chemical treatments, environmental damage, time of year, and overstyling can all strip your hair of moisture, minerals, and protein. This leads to dry, weak strands that break and frizz more easily.


Why use eggs for healthier hair?
Eggs are a nutrient-rich hair superfood. Vitamins A and E, biotin, and folate are just some of the nutrients found in eggs that are said to help keep hair thick and healthy. The yolk is loaded with healthy fats, which help replenish moisture and make strands look sleek and shiny. And because hair is 80% protein, applying
protein-rich eggs
to hair can help replenish the protein lost through styling, making hair stronger and better able to stand up to heat.
It's not just the hair shaft itself that benefits from eggs—they can do wonders for your scalp as well. Applying eggs directly to the roots helps infuse hair follicles with much-needed vitamins and minerals. Nourishing the scalp encourages new hair to grow stronger and be less prone to breakage or shedding. And when your hair doesn't fall out as much, it appears thicker and healthier.


Choosing the best ingredients for your hair
To get the most vitamins and minerals from your eggs, it's important that you use organic,
free range eggs
from hens that have access to outdoor pasture. Pete & Gerry's egg farmers allow their flocks spend most of their time outside enjoying grass, bugs, fresh air, and sunlight. Thanks to access to pasture and high quality organic feed, the hens' eggs are chock-full of the vitamins and minerals your hair needs to grow thick and shiny.
So just
pick up some
Pete & Gerry's Organic Eggs and whip up these hair treatments for healthier hair in minutes.
1. Moisture mask
Supplies
2 Pete & Gerry's Organic Eggs
1 teaspoon lemon juice
10 drops lavender oil
10 drops rosehip oil
Instructions
Combine ingredients in a small bowl and beat with a fork or whisk until frothy. Apply to hair, then cover with a shower cap. Let sink in for 20 minutes, then shampoo and condition.
2. Growth serum
Supplies
1 Pete & Gerry's Organic Egg, white only
1 tablespoon coconut oil
1 tablespoon aloe vera gel
Instructions
Mix all ingredients together in a small bowl and apply to your scalp. Using your fingertips, gently massage the mixture into your roots for 10 minutes. Wash hair and follow up with a quality conditioner.


3. Split-end sealer
Supplies
1 Pete & Gerry's Organic Egg
1 tablespoon olive oil
1 teaspoon honey
Instructions
Mix all ingredients together in a small bowl and apply to the ends of your hair. Cover with a shower cap, and allow mixture to sink in for 20 minutes. Wash off.
4. Shine-boosting mask
Supplies
1 Pete & Gerry's Organic Egg, yolk only
1 teaspoon castor oil
Instructions
Mix ingredients together in a small bowl and apply to your hair from root to tip. Let sink in for 30 minutes, then rinse off with warm water. Follow up with a quick shot of cold water to seal the hair shaft and boost shine.
5. Clarifying shampoo
Supplies
1 Pete & Gerry's Organic Egg
4 drops peppermint oil
1 teaspoon honey
1 teaspoon baking soda
Instructions
Combine all ingredients in a blender and puree on high until smooth. Hop in the shower and pour the egg mixture into the palm of your hand. Apply to hair like you would traditional shampoo, being sure to massage into the scalp and throughout the length of your hair. Let sit 10 minutes, then rinse well. No conditioner needed.