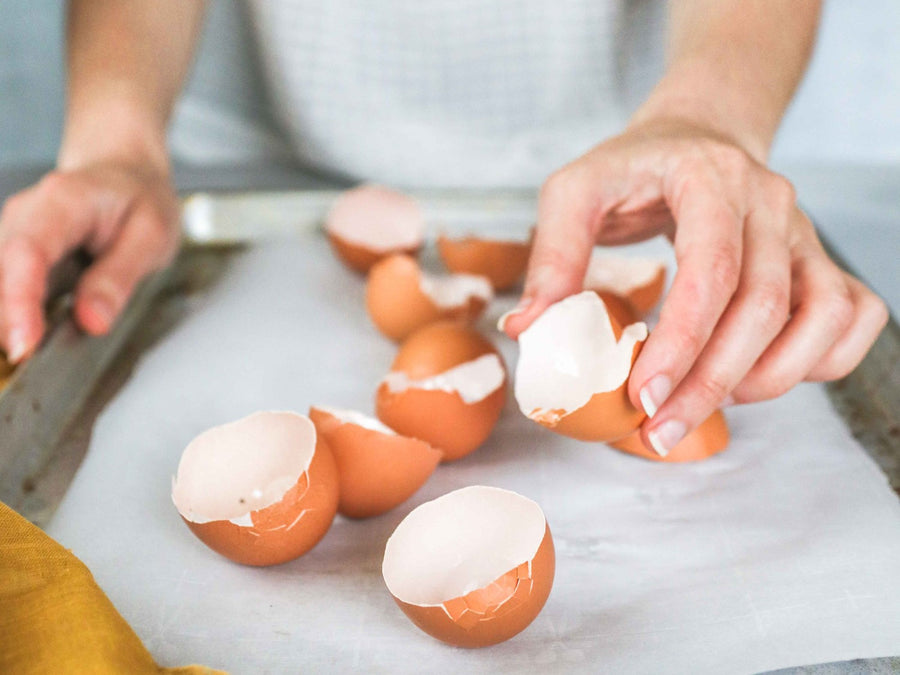 If you ask us, eggshells don't get enough credit. Sure, they aren't the most pleasant addition to a
French omelet, and no one wants crunchy

scrambled eggs

for breakfast—but too often, eggshells get tossed into the trash without a second thought. Thanks to their nutritional make-up, eggshells are actually a fantastic addition to your compost bin, vegetable garden, and even your morning smoothie. Whether you're striving to reduce waste at home or troubleshooting pests and poor soil in your garden, use these tips to put your eggshells to work.
Eggshells are mostly made up of calcium carbonate, which is essential for plant growth. So why not start your seeds in them? Just add a bit of soil, follow the instructions for germination on your seed packet, and wait for your seedlings to sprout. When you're ready to transplant, you can gently crush the eggshell, allowing the roots to grow freely and giving the soil a chance to absorb all the nutrients that the eggshell has to offer over time.
We've heard it time and time again: calcium is essential to a healthy diet, strong bones, and so much more. For many people, getting enough calcium is easier said than done. Luckily, eggshells are an excellent source of this mineral! As long as you take a few precautions (including sanitizing the eggs and choosing organic), you can safely grind your eggshells into a fine powder to add a significant boost of calcium to your morning smoothie, juice, and even your homemade broths and soups.
Eggshells are a compost bin's best friend. They break down beautifully, adding a plethora of nutrients that your garden and potted outdoor plants will love. Eggshells are considered a "green" material, which means they should be combined with "brown" materials such as dried leaves, pine needles, newspaper, and coffee filters for a balanced home compost bin.
Got garden visitors? No need to spend money on pesticides and risk harming the ecosystem in your backyard. When ground into powder, eggshells can help decrease the number of creepy crawlies in your garden, including beetles, grasshoppers, and caterpillars, all of which can wreak havoc on your plants if left to their own devices.