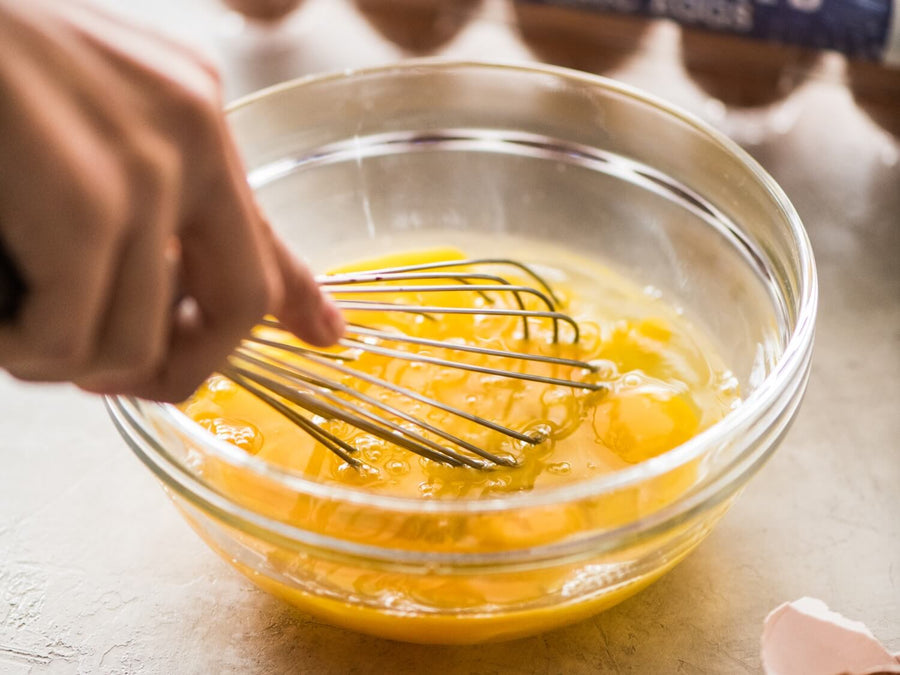 Scrambling has long been one of the most popular ways to prepare eggs. We have a sneaking suspicion that this is probably because scrambled eggs are incredibly
versatile

and pair effortlessly with lots of other tasty foods. Or maybe it's because they're one of the easiest breakfast foods to make: since you're just mixing everything up, you're much less likely to wind up with something on your plate that you didn't plan on serving. Still, there are some simple tricks to the trade that will ensure that your scrambled eggs come out just the way you want them. Here's how to make the best scrambled eggs.
How to make perfect scrambled eggs:
Crack the desired number of eggs into a bowl, aiming for 2 or 3 per serving. Beat them lightly with a fork or whisk until the whites and yolks are well combined.

Turn your burner on low heat and melt a pat of butter in a non-stick frying pan, spreading the butter around as it melts. It may start to foam slightly, but don't let the butter burn or brown.

Turn the heat up to medium and add the eggs to the pan. With a heat-safe rubber spatula, stir the eggs. The key is to keep your spatula moving, mixing and folding the eggs constantly.

Once the eggs take on a slightly firm texture with a glossy sheen, they're done. If you like your eggs a bit dryer, cook for another minute. Season with salt and freshly ground black pepper to taste.
Recipes that call for scrambled eggs
While scrambled eggs are great all by themselves, nestling them next to a slice of buttered toast with bacon or sausage makes for a satisfying breakfast plate. Beyond that, there are lots of other ways to make them the basis of a more varied meal. From filling all the nooks and crannies of your loaded breakfast skillet to elevating homemade fried rice to new levels, the possibilities for scrambled eggs are endless. Brush up on your own scrambling skills or learn a new take on this breakfast basic with these scrambled egg recipes:
While swapping the standard bread for slices of roasted sweet potato may be what sets this breakfast plate apart, softly scrambled eggs with melty cheese are the foundation that holds these hearty toasts together.
A clear departure from your typical scrambling methods, this dairy-forward recipe calls for a dollop of goat cheese or spoonful of yogurt to give your scrambled eggs unrivaled richness and exceptional flavor.
If shrimp and scrambled eggs sounds like an unexpected pairing, this delicately balanced dish is a combo you've been missing out on. Broaden your scrambling skills with this recipe that uses peanut oil and a largely hands-off approach for soft, creamy scrambles every time.
One of the benefits of scrambled eggs is their ability to transform last night's dinner into an easy, portable meal you can eat on the go. Try making these loaded burritos with your favorite tortillas or make your own to fill with scrambled eggs and the leftovers hiding in your fridge.
Unlock a new level of nostalgic comfort food by stuffing your scrambled eggs into these loaded breakfast egg rolls along with breakfast sausage, shredded potato, bacon, cheddar, and avocado. Try making these shareable snacks in the air fryer for less mess, and don't forget salsa for dipping!