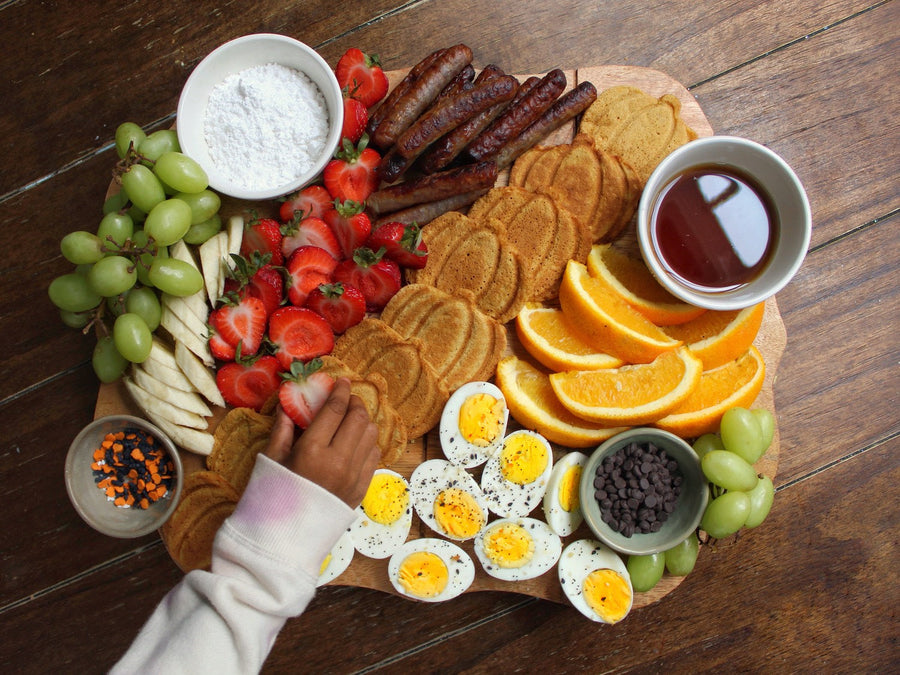 Breakfast is a pretty big deal in my family. In fact, I think we collectively agree that it's our favorite meal of the day—especially on the weekends when we have the time to go all out! I've been making breakfast boards for my family on Saturday mornings for many years now, and it has quickly become one of our most scrumptious traditions. I love how easy they are to build, and how, by design, they bring the whole family together to enjoy some quality time at the breakfast table. Breakfast boards also require far fewer dishes, meaning less cleanup to do later. My favorite hack? Use the board itself to prep your fruits on. Whatever breakfast foods you choose to include on your board, be sure to follow my easy, tried and true tips to put one together for your own family this weekend.
Breakfast board shopping list
Before shopping for your breakfast board, you'll need to plan out all your ingredients. There's nothing worse than realizing you're missing something right before the family digs in! For a well balanced breakfast board, a good rule of thumb is to shop for the following categories: proteins, fruits, toppings, and starches such as pastries or baked goods. I adapt my boards based on mood and seasonality, but an easy approach is to include at least 2 proteins, 1-3 starches, your favorite seasonal produce (I strive for 3 or more), and of course, at least 2 toppings. You can never have enough toppings! To help spark inspiration for your shopping list, here are some of my family's favorite breakfast board items:
Proteins: eggs, breakfast sausage, bacon, ham, smoked salmon, cheese, avocado
Fruits: bananas, apples, strawberries, blueberries, raspberries, blackberries, oranges, grapes, kiwi
Toppings: butter, maple syrup, yogurt, powdered sugar, mini chocolate chips, sprinkles, whipped cream, jam, honey, cream cheese
Starches: muffins, pancakes, biscuits, waffles, bagels, scones, toast, banana bread, croissants, cinnamon rolls, donuts
Steps for building a breakfast board
Once you've decided what to include on your breakfast board, it's time to put it all together. Here's how I do it, step by step:
Step 1: choose a board
You want to start by snagging yourself a good charcuterie board. You can find boards of all shapes and sizes at local stores and even online. There is a wide range of price points to fit any budget, but my suggestion is to find one with a good, sturdy thickness to it. I also have a few small dishes and ramekins that I often use for butter, syrup, and other toppings; you can use any small bowls that you already have at home.
Step 2: add proteins
I begin prep by getting my savory proteins started. We always have Pete and Gerry's Organic Eggs in our fridge, so they usually make their way onto my Saturday morning breakfast boards. One of my favorite ways to prepare them is by hard-boiling, so I'll typically begin my morning by getting them on stove to boil. Once they're cooked, cooled, and peeled, I slice them in half and top them with some everything bagel seasoning—my favorite combo. In addition to eggs, I always add at least one kind of breakfast meat to our board. Crispy bacon or breakfast sausage are both great choices!
Step 3: add fruit and toppings
Next, I prep the fruit and toppings. Fresh fruit always adds such gorgeous pop of color to a breakfast board. I try to buy fresh, and get everything rinsed and sliced (except the bananas, which I do last to prevent browning) at this point in the process.
After that, I put all of the toppings - or fixings, as my daughter Zarie calls them - into their bowls. Toppings will always depend on the main ingredients you've chosen to feature on your breakfast board. For example, if I'm making pancakes or waffles, I usually include syrup, powdered sugar, and butter, and the girls love when I add a couple small bowls of mini chocolate chips and sprinkles. This is also a great time to add some festive fun to your breakfast board, such as holiday themed sprinkles (like the pumpkins and bats pictured). If you're including some whipped cream, add in a drop of green food coloring for a St. Patrick's day themed breakfast board, or use a tiny bit of pink for Valentine's Day. These are all easy ways to turn up the magic and make the morning feel extra festive.
Step 4: add starches
I always make the starches last so that they're still hot when the kids come running for breakfast. I've done everything from blueberry muffins to pancakes, biscuits, and, of course, waffles! I thought these pumpkin waffles would be the perfect way to lean into the fall season. The girls always get a kick out of the fun shapes, and mama loves the way the kitchen smells. If you're going for a savory breakfast board, bagels are a great option. You can even make muffins the night before so that you have less cooking to do in the morning.
Step 5: enjoy!
Once you've arranged your proteins, fruit, toppings, and starches on your charcuterie board, it's time to dig in. My family and I usually sit at the table and enjoy our breakfast with some orange juice or hot cocoa first thing Saturday morning.
Breakfast boards are so versatile and customizable that it's no wonder why they've become such a hit in my home. Whether you focus on your family's favorite breakfast foods or use the board as an opportunity to clean out the produce in your fridge at the week's end, breakfast boards always feel a little more special than your average morning meal. However you choose to build yours, my biggest tip for the perfect breakfast board is to make sure you have plenty of variety—because when all is said and done, you want everyone to have the opportunity to enjoy the foods that they love and leave the meal with a nice full belly.
Shakira Patterson is the motherhood lifestyle blogger, serial holiday celebrator, and party enthusiast behind OccasionsByShakira.com, a resource and inspirational space for parents. Shakira currently lives in the Fort Bragg area of North Carolina with her active duty military husband, two daughters Raegan and Zarie, and her newborn son Xander. Her passions include travel, Disney, and finding ways to turn up the magic on everyday occasions, always with the goal of making intentional and special memories as a family.