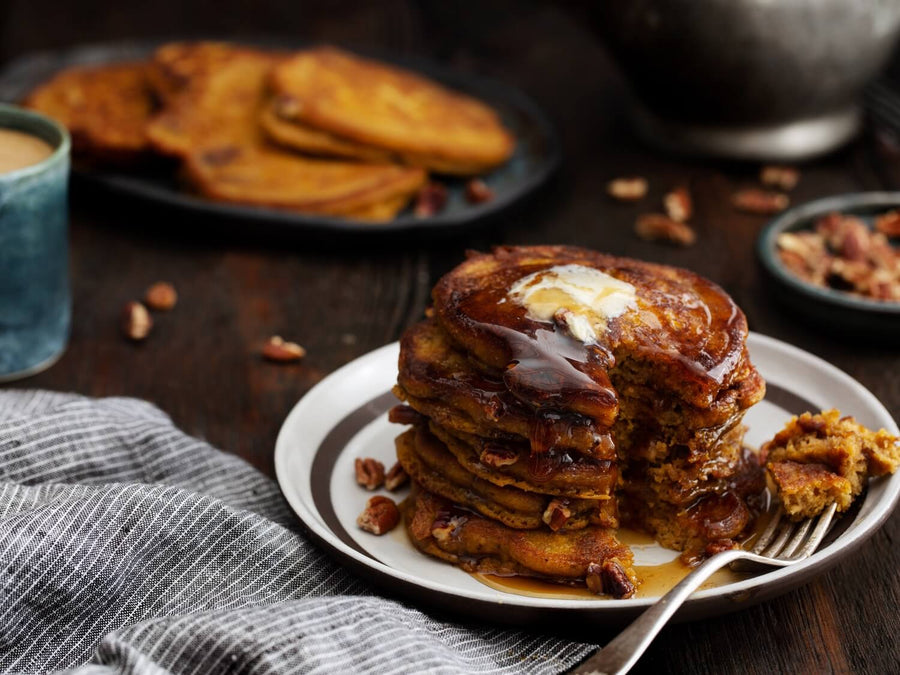 Ready to take your stack of French toast, pancakes, or waffles to new heights? These unique recipes can lead the way.
There are a few things that French toast, pancakes, and waffles have in common. For one, they're all vessels for maple syrup (we're big fans of the real stuff). They're also best eaten in tall stacks with a pat of butter on top. And this trifecta of stackable breakfasts gets even more exciting when you play with seasonal flavors and toppings, transforming your eggy slices of brioche, mile-high flapjacks, and crispy maple syrup holders with unique combinations like cinnamon-apple, oatmeal-pumpkin, blueberry cream cheese. If you're ready to take your stack to new heights, these recipes can lead the way.
This cinnamon apple French toast starts with an unassuming loaf of brioche and a fairly traditional egg batter. The genius of the recipe lies in the chunks of Honeycrisp apple coated in brown suggar and cinnamon that you'll spoon on top, bringing a welcome crunch to each soft slice.
When you need a little spice in your life (namely cinnamon, ginger, nutmeg, and clove), these pumpkin and pecan pancakes will deliver. And good news for pumpkin spice fanatics: seasonality isn't an issue here. These pancakes include some quintessential fall flavors but can be made year round with canned pumpkin puree and staples from your spice rack.
If you think about long enough, you'll realize that eggnog is really just French toast batter. So why not dunk a few slices of brioche in it? This eggnog French toast recipe calls for four additional eggs, ensuring that whether you use homemade or store-bought eggnog, you'll end up with a perfectly eggy breakfast stack.
You've heard of green eggs and ham, but have you tried green pancakes? Don't knock 'em until you have. Made with banana, spinach, oat flour, and eggs, this healthier version of the beloved pancake stack is gluten-free-and since there's no added sugar in the recipe, these pancakes go well with your favorite savory toppings.
It turns out that stuffing French toast with melty, lemony cream cheese and fresh blueberries is an extremely good idea. In this recipe, the entire sandwich gets dipped in egg batter, then pan fried in butter until the bread is golden brown and the cream cheese filling starts to ooze at the seams in the most delicious way.
In this recipe, cinnamon sugar meets French bread, and they go for a dip together in homemade Mexican chocolate sauce. Need we say more? This churro French toast is a little easier to make than authentic churros, so it's the perfect quick fix for when you're craving that fried dough flavor and cinnamon sugar finish,
French toast, pancakes, and waffles all have a reputation for being carb-heavy, but they don't have to be. This keto take on pumpkin spice waffles is low carb and made with almond flour, which gives each crispy waffle an extra tender texture inside. After all, everyone - no matter their dietary needs or preferences - should be able to enjoy the bliss that is a stack of waffles on a Sunday morning.
Like crepes, these Norwegian pancakes are known for being light, thin, and not overly sweet. Before rolling them up, you can fill each one with fresh berries of your choice, then add a dollop of cardamom-spiced whipped Greek yogurt. Out of fresh berries? Try a smear of jam, softened butter, or even a savory filling.
We can't stress this enough: you don't have to be following a gluten-free diet to enjoy gluten-free pancakes. In most traditional pancake recipes, overmixing is an easy mistake to make, which leads to chewy or tough pancakes. By using oat flour in place of traditional wheat flour, you can bypass any risk of overmixing, and you'll be rewarded with one of the most tender stacks of pancakes you've ever tried.
French toast comes with very few cons, one of which is the fact that all the dunking and flipping is a hands-on process, so not ideal when you're cooking breakfast for a crowd. Our solution? Grab your favorite casserole dish. This apple cinnamon raisin French toast casserole can even be assembled the night before and baked in the morning. French toast doesn't get much easier than that!