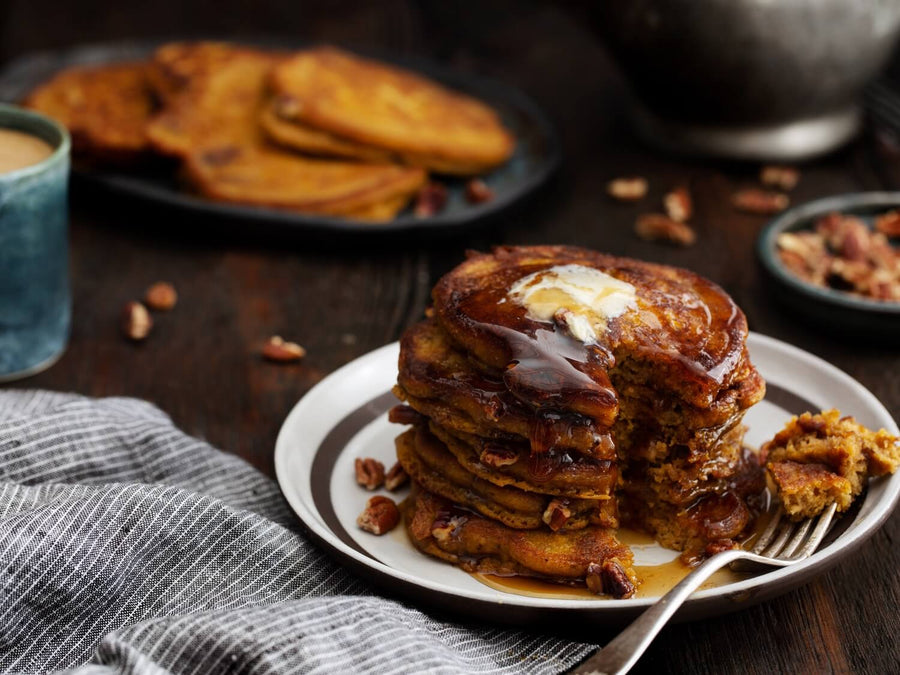 Take advantage of pumpkin season by showcasing the autumn squash in one or all of our best pumpkin focused recipes.
Like the egg, pumpkin is an incredibly versatile ingredient: it can lend a creamy texture to sauces and cocktails, or mellow, earthy flavor to pancakes and baked goods. Roasted pumpkin (and even canned pumpkin purée) shines when paired with warm spices like cinnamon, nutmeg, clove, and ginger, which help subdue its vegetal flavor and bring out the sweet notes of this quintessential autumn squash. Take advantage of its season by showcasing it in one or all of our best pumpkin recipes.
Part of the joy of fall baking is getting to decide exactly when pumpkin spice season begins, even if your local bakery is still in summer mode. Welcome all the autumn vibes into your kitchen with the cinnamon-kissed aroma of these cake donuts that balance sweet, earthy pumpkin flavors with a silky coffee glaze.
Chock full of chocolate chips and brimming with pumpkin flavor, this quick bread is the ultimate fall breakfast/dessert hybrid. Whether you add chopped nuts and dried ginger chips or stick with a classic pumpkin and chocolate pairing, these loaves won't stick around for long once you pull them out of the oven.
When your cravings for pumpkin desserts start measuring off the scale, it may be a sign it's time to make this keto-friendly earthquake cake. A cross between layer cake, cheesecake, and cookies, this chocolatey pecan-filled pumpkin cake delivers pure autumnal decadence with every bite.
Don't let cakes, breads, and pies have all the fun! Our eggs are right at home in this creamy pumpkin and chickpea cumin-spiced shakshuka sauce. The recipe even includes instructions for roasting your own pumpkin, a process that's almost completely hands-off and yields much more flavor than you'd get from a can.
These pumpkin cheesecake bars pay homage to fiery fall foliage and the crisp breeze of a perfect autumn day. With just a touch of brown sugar, the creamy filling goes light on the sweetness and complements the chocolate cookie crust and simple crumb topping beautifully.
This silky smooth pumpkin cocktail features pumpkin purée, egg whites, and a splash of apple brandy to add some warmth and spice to your happy hour. Never had a silk cocktail? All you need to know is that it lives up to its name.
We're all for leaning into the pumpkin spice craze, because when done right (read: not sickly sweet), it's a flavor combination that just makes sense. And so do these protein waffles, which just happen to also be low-carb and keto-friendly.
Naturally gluten-free oatmeal pumpkin pancakes are the pancakes to beat if you're looking to make the tenderest of tender breakfast stacks. Make your family's day by taking full advantage of the spice cabinet, that extra can of pumpkin leftover from Thanksgiving, and a dash of cocoa nibs.
As grand as cheesecakes come, this pumpkin dessert is an absolute showstopper. Whatever you do, don't skip the sour cream topping: it turns every slice into a festive display of pure autumn indulgence.
A tall stack studded with pecans and dripping with warm maple syrup: also known as the fastest way to get into the fall spirit. The contrast of that satisfying nutty crunch and pillowy, skillet-kissed pumpkin batter is what every autumn morning needs.
Gooey butter cake, but make it fall: that's exactly what you get with this low carb cake inspired by Paula Deen's classic recipe. Featuring a pumpkin spice and cream cheese filling nestled atop a sweet and tender almond flour crust, this gooey goodness is sure to be the star of any fall gathering.