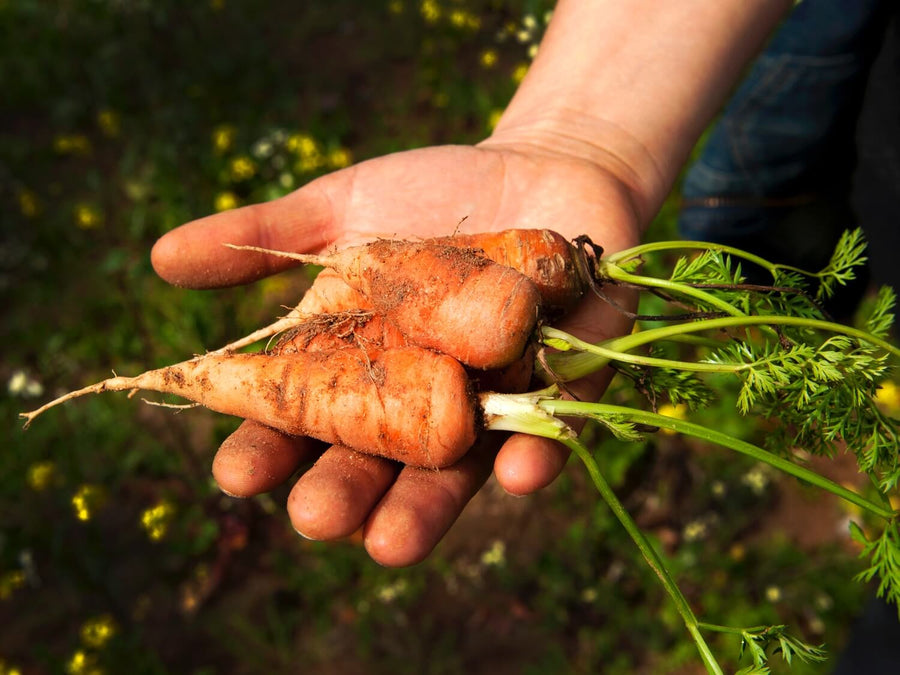 Summer may be the high season for your garden, but thanks to autumn's mild temperatures, the fall season brings a wonderful harvest of dark leafy greens, rich red beets, and so many other vegetables. Get your gloves and spade ready, and let's dig deeper into optimizing your space and soil for cooler weather, choosing hardy seeds, and tending to your fall vegetable garden.
How to start your fall vegetable garden
Getting your fall vegetable garden ready requires some planning ahead to determine the best day of the year to start planting. Begin with your area's average first fall frost date, which you can find in a farmer's almanac or online. Then find out how long your vegetables will take to harvest by doing some research or checking the back of your seed packet. Using that number, count back from the first frost date. Then count back an additional two weeks, because many fall veggies grow slower as the days shorten.
First frost day - number of days to harvest - 2 weeks = the optimal day for planting your seeds
Preparing your garden
Leading up to your planting day, make room for your fall crops by removing any plants in your summer garden that are no longer performing well or have already been harvested. Pull any weeds, because they'll steal moisture and nutrients from your new plants.
If there is a lot of clay in your soil or the ground simply needs replenishing, it's helpful to work in some compost. This will get your fall vegetables off to a healthy start.
Starting your seeds
You'll most likely grow vegetables for your fall garden from seed. Many garden centers put their seeds on discount late in the season, so you might get some great deals! Look for the USDA Certified Organic seal, which ensures the seeds are non-GMO and free of pesticides.
Quick tip: If you live in a warmer climate, you might need to start your fall vegetable seeds indoors. Many of them do better in air-conditioning than they do in the heat. However, if do decide to start your seeds outdoors, plant them a little deeper than you would in spring, because the soil is usually cooler.
Tending to your garden
The general rule is that most fall vegetables do best with about an inch of water a week. Once your seedlings or transplants are rooted, give them one deep watering each week rather than several lighter waterings.
There could be pests and diseases in your garden, so watch out for holes or spots on plant leaves. Deal with them immediately to minimize the damage by using a homemade remedy like organic pest control eggshell powder.
Extend your growing season even later into fall by protecting your plants from frost. For larger areas, cover the garden with a sheet, blanket, or tarp.
Planting for your needs and climate
Whether you want a quick harvest or a hardy one, there are many vegetable varieties to choose from. Some quick crops that go from seed to table in 40 days or less include:
Arugula
Mustard greens
Spinach
Turnips
Red radishes
All of the following vegetables are suitable to plant in the fall, no matter where you live:
Beets
Broccoli
Cabbage
Carrots
Cauliflower
Lettuce
Radish
Spinach
These varieties will survive below-freezing temperatures if given some protection. During the first arrival of cool weather, cover them with a blanket, cardboard box, or plastic tunnel.
Beets
Broccoli
Brussels sprouts
Cabbage
Carrots
Collards
Kale
Kohlrabi
Leeks
Lettuce
Mustard greens
Rutabagas
Swiss chard
Turnips
Harvest
The best part of a fall vegetable garden is enjoying the fruits (or in this case, veggies) of your labor. Farm fresh eggs and garden fresh veggies are an unbeatable team: the dark leafy greens, nutty broccoli florets, and earthy red beets are perfect additions to your hearty soups, healthy breakfast skillets, and pickled deviled eggs.