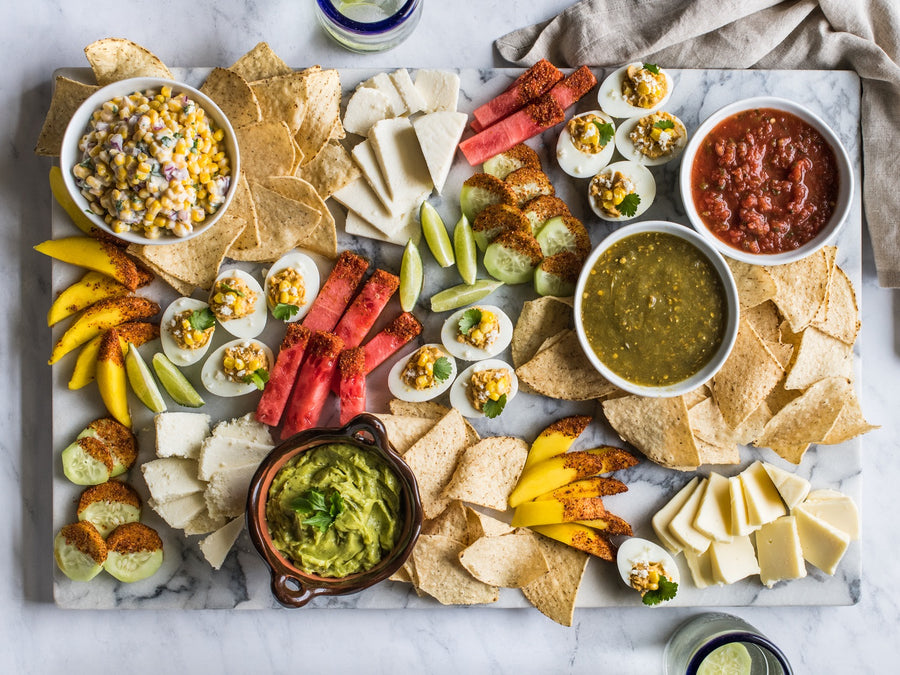 Grazing boards are a fun way to entertain guests and feed the family during holidays and celebrations of all kinds. Whether you're gathering for Cinco de Mayo, a birthday party, or just a sunny weekend afternoon, a board inspired by the flavors of Mexican cuisine will make for a beautiful and delicious centerpiece. If the thought of shopping for and artfully assembling a bunch of ingredients feels overwhelming, just know this: putting together a totally snackable Mexican charcuterie board doesn't have to be difficult. Simply follow the recommendations below to fill your board with easy-to-prep ingredients that are healthy, satisfying, and guaranteed to please every guest.
Mexican grazing/charcuterie board ingredients
To create an irresistible and inviting Mexican grazing board, filling it with elements that can easily be picked up by hand and snacked on without utensils is key. Balancing proteins with cheeses, fruits and vegetables, salsa, and dips is the way to go. Then, simply fill in the gaps with tortilla chips to complete the board.
Proteins
Every charcuterie board needs a centerpiece, and Mexican street corn deviled eggs fit the bill! These bite-size flavor bombs are the perfect little snack for grazing. In addition to the creamy elements you'll find in classic deviled eggs, the filling includes corn, cotija cheese, and a bit of chili powder for that authentic elotes flavor. They also add a substantial, protein-packed element to any Mexican charcuterie board while keeping everything vegetarian. Other protein ideas and potential centerpieces include:
Carnitas (shredded pork)
Cooked Mexican chorizo or sliced Spanish chorizo
Mini empanadas
Assorted fruits and vegetables
Easy-to-grab pieces of fresh watermelon, mango, and cucumbers dipped in chili lime seasoning (like Tajin) are an essential addition to any Mexican charcuterie board. This combination of sweet, salty, acidic, and spicy is inspired by the Mexican street vendors that sell delicious cups of the popular snack. Other fruits and vegetables that can be used include:
Jicama
Papaya
Pineapple
Sliced bell peppers
Cheese
Who doesn't love cheese? It's a great way to round out any Mexican charcuterie board. Queso fresco is a popular choice: this crumbly fresh Mexican cheese is mild, milky, and light. It's not as salty as the popular cotija cheese, and is great eaten alone or sprinkled on top of dishes. Chihuahua cheese is another option: it's firm and slightly sharp with a flavor similar to mild cheddar and Muenster, making it great for snacking. The cheese aisle can be a pretty overwhelming place, so just keep an eye out for these cheeses when you shop:
Salsa
You can't have a Mexican charcuterie board without some salsa! Whether you go for homemade or store-bought, it's a must. A classic restaurant-style red salsa is always a popular one, and couldn't be easier to make: all you need are tomatoes, cilantro, onions, garlic, lime juice, and jalapeño. Salsa verde is equally easy to whip up at home with nothing but jalapeños, onions, cilantro, and tomatillos for the perfect tangy bite. Other options include:
Corn salsa
Black bean salsa
Dips
Don't forget to pair some creamy dips with that salsa! Guacamole is a fan favorite, so be sure to make or buy double what you think you need, because it always goes first. Mexican street corn dip is another great way to serve up some classic Mexican flavors without having to spend your whole afternoon grilling and preparing corn on the cob. It's made with drained and rinsed canned sweet corn, mayonnaise, lime juice, red onions, cilantro, and cotija cheese. Other dip ideas include:
Mexican 7-layer dip (sometimes called taco dip)
Sour cream dip
Tortilla chips
Where there's salsa and dip, there's gotta be torilla chips! You can buy store-bought tortilla chips in a pinch, but if you have the time, these homemade options are even better:
How to assemble a Mexican grazing board
The easiest way to assemble a Mexican grazing board is to start by placing the larger items on the board first, including the salsas, dips, and deviled eggs. Place them in different sections all around the entire board so that there's plenty of space in between each element.
Next, add a few sections of the cheeses. You can leave entire wheels of cheese whole or slice them into bite-sized pieces for easy snacking. If leaving the wheels whole, make sure to place a small cheese knife beside each wheel so that guests can slice their own whenever they want.
Then, add a few sections of fruits and vegetables. If you have guests who aren't big fans of chili lime seasoning, you can serve the seasoning on the side in its own designated bowl. Alternatively, you can pre-assemble small cups of the assorted fruits and vegetables so that guests can simply grab and go without having to pick up the slices off the board individually.
Last but not least, fill in all the empty spaces on the board with tortilla chips! Serve with toothpicks, napkins, and small plates, if desired.
Isabel is a first-generation Mexican American and no stranger to authentic home-cooked Mexican food, which she was raised on. Today, she's proud to share the recipes and traditions that shaped her childhood via her blog Isabel Eats, the home of authentic Mexican cuisine and Mexican-inspired dishes with a twist. Isabel currently lives in Oklahoma City with her husband John and two cats Charlie and Lucy. Life moves pretty fast at Isabel's home, where there's always plenty of gardening to do, recipes to test, and new spicy snacks to try on Taste Test Tuesday.