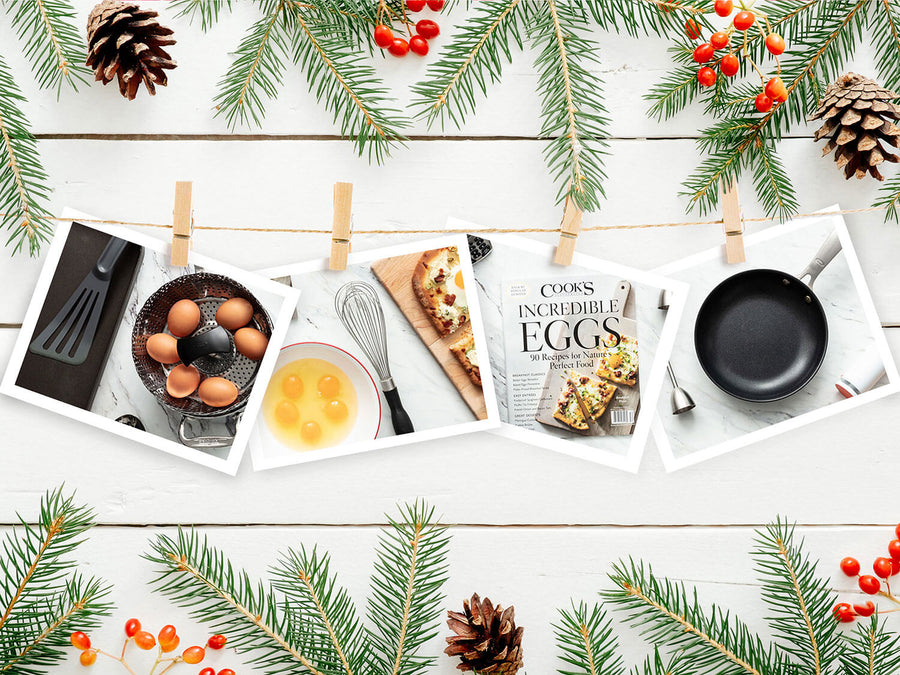 At America's Test Kitchen we take reviews seriously––and we're different from other review sites. We write only about products we've tested ourselves, which means no product summaries from other websites. We don't accept advertising. We purchase all our own products at retail prices and never accept any free or "loaner" products from manufacturers. Once we name a winner, we stock it in our test kitchen, where our team and 60 test cooks use it regularly to monitor its performance and durability. We''re exhaustive but practical, scientific but approachable. And we always put function first. We've been doing this for more than 25 years––and we are never done learning. Like America's Test Kitchen, Pete & Gerry's values high quality ingredients and products, and the pride that goes into producing them. It's why we're pleased to partner together and why we're sharing some of our favorite egg-centric products to stock in your kitchen:
With an ergonomic Santoprene rubber handle and a balanced, lightweight feel, this whisk was like an extension of a hand. It whipped cream and egg whites quickly, thanks to 10 wires that were thin enough to move through the liquid quickly but thick enough to push through heavy mixtures and blend pan sauces to smoothness. Try using it with this almond milk poached scrambled eggs recipe! Learn more about how America's Test Kitchen chose this whisk here.
Made from a resin/fiberglass composite, this fish spatula had a relatively thin, smooth head that was long, narrow, and provided ample room for picking up food. Its straight, moderate-length handle brought our hands close to the action and was fairly comfortable to grip, if a little slicker than preferred. Just don't leave it on a hot pan––it melted at 450 degrees. Learn more about how America's Test Kitchen chose this spatula here.
This little OXO skillet bested the rest for three simple reasons: superior nonstick ability, a comfortable handle, and a nicely shaped body. It cruised through 50 eggs at the beginning and end of testing, indicating a slick, durable nonstick coating. Testers found its rounded, brushed-steel handle "grippy" and liked that it gave "options for where to hold." Construction-wise, it was "lightweight but sturdy" and perfectly balanced, making it especially pleasing to cook with. It'll ensure your rolled Japanese omelette slides out with ease! Learn more about how America's Test Kitchen chose this nonstick skillet here.
The lightest of the stainless steel models, this nearly perfect spoon has a long, hollow handle that feels like it was molded to fit our palms; its wide, shallow, thin bowl makes it a breeze to scoop up food. Quibbles in our tests were minor: The bowl got a few scratches in the dishwasher, and a few testers thought the steep, ladle-like angle between the handle and the bowl upset the balance of the spoon. Learn more about how America's Test Kitchen chose this slotted spoon here.
The heaviest, thickest ramekins we tested, these sturdy ceramic dishes didn't slide around in a slippery baking dish and stayed perfectly still while we layered delicate berry pudding. Straight sides meant soufflés and puddings emerged picture-perfect, and thick walls provided gentle insulation, producing baked eggs with creamy whites and runny yolks. A bonus: They stack securely for easy storage and can be used for a multitude of other endeavors in your kitchen. Crack your eggs into them prior to poaching, or use them to create some of our favorite recipes, like Chocolate Pots-de-Cr√©me, Baked Eggs with Chorizo and Hash Browns, or Keto Lemon Pudding Cakes. Learn more about how America's Test Kitchen chose these ramekins here.
This special issue contains more than 85 fail-safe recipes for ATK's favorite egg-centric dishes. You'll find basic egg preparations such as Easy-Peel Hard-Cooked Eggs, as well as breakfast and brunch hits, including Broccoli and Feta Frittata and Deep-Dish Quiche Lorraine. There are also dinner options such as Fried Brown Rice with Pork and Shrimp and desserts including Flourless Chocolate Cake. The ATK test cooks tested each recipe again and again (sometimes 100 times) to arrive at the best, most foolproof version.