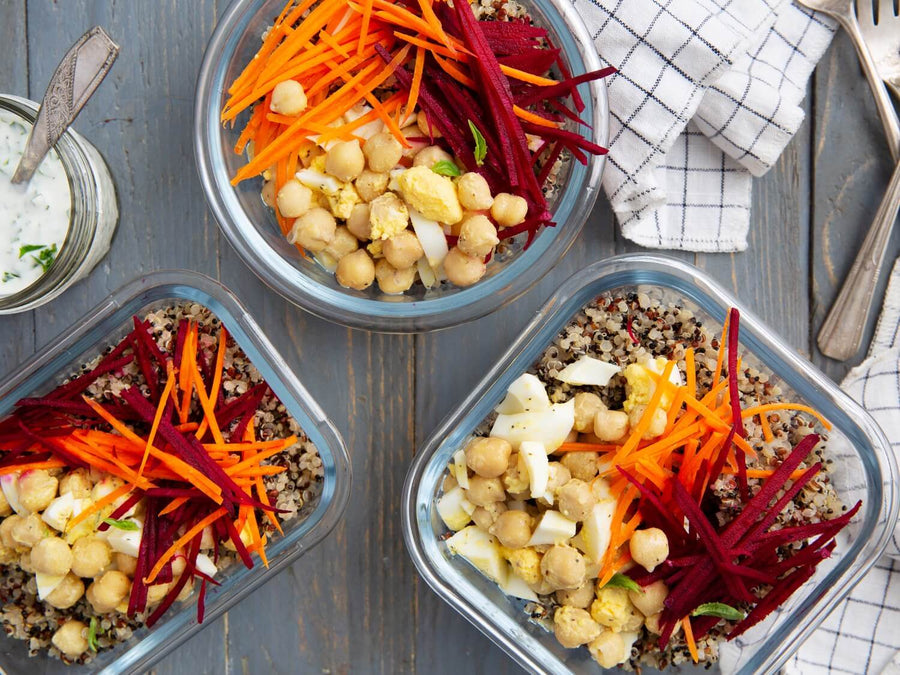 Meal prepping is all about thinking ahead and setting yourself and your week up for success, and what a difference it makes to have a pre-made lunch to look forward to! Say "you're welcome" to your future self with these filling meal prep lunch recipes.
Meal prepping is all about thinking ahead and setting yourself and your week up for success. Whether you're at work, school, or packing a lunchbox for the kids, we all know what a difference it makes to have a pre-made lunch to look forward to in the afternoon. Say "you're welcome" to your future self with these filling meal prep lunch recipes.
Sure, these bite-sized wonton cups fit perfectly in your hand for a simple and satisfying snack any time of day. They're also easy to prep the night before by whipping up a batch of delightfully spiced curry egg salad to stow away in the fridge until lunchtime arrives.
2. Mediterranean Bowls
Add these colorful Mediterranean bowls to your weekly meal prep lineup and they'll quickly become a favorite recipe. Qunioa, chickpeas, and veggies give the bowls variety, while the creamy herb dressing adds yet another layer of freshness that you can enjoy all week long.
Slices of light, fluffy milk bread and the addition of Japanese-style mayonnaise make this deceptively simple egg salad sandwich a meal worth stepping away from your desk to enjoy. Just like the popular offerings found in Japanese convenience stores, each sandwich holds up well in the lunchbox or fridge to enjoy the next day.
This traditional Mexican dish is the type of meal that tastes like it spent the entire afternoon bubbling away on the stove, but actually comes together in well under an hour. The tomoto and chile based sauce only gets more flavorful in the fridge, so don't be afraid to make a big batch for the whole week!
The hardest part about making these eggwiches is choosing your flavor. Will you go for caprese with fresh mozzarella, Cuban with savory ham and Swiss cheese, or banh mi with a perfect balance of salty and fresh? Either way, you're in for a scrumptious low-carb lunch.
Most traditional curries typically take a good portion of the day to make right, but this rich tomato- and coconut-based version with jammy eggs will require under half an hour of your meal prep session and give you something to look forward to as the clock inches closer to lunch.
This mayo-based deli-style cauliflower and egg salad keeps well in the fridge all week and only requires a few minutes of cooking. When just barely fork tender, the florets combined with crispy bacon bits and fresh green onion hit the spot midday, whether you're eating at work or on the go.
These bowls are the definition of bright and beautiful! Salmon, asparagus, eggs, and brown rice keep them tasting fresh without compromising on nutrition. They make an ideal lunch for work, school, or on a day where cooking just isn't in the cards.
Niçoise salad isn't just for entertaining: it also makes for an exciting (and more importantly, varied) lunch that's more than greens and vegetables. Pack your lunch full of soft-boiled eggs, seared ahi tuna, fresh green beans, briney olives, and baby potatoes for a meal that hits every note on the flavor scale.
It's more than a salad: it's an herby egg bowl! Packed with greens, fresh herbs, avocados, heirloom tomatoes, and soft-boiled eggs, this lunch is big on flavor and can be made with virtually any produce you happen to have in your fridge.
Add an energy-boosting superfood to your meal prep routine with this hearty kale and egg soup. The twist? The eggs are poached right in the broth, making for a flavorful and rich dish. To make an even bigger batch that's freezer friendly, leave the eggs out of the soup and poach a few whenever you're ready to eat.
Meal prep doesn't have to be complicated. It's more than possible to simplify your routine and keep the flavor coming! Less than one hour stands between you and four servings of this low carb steak and eggs fajita bowl.
If you have a soft spot for soft-boiled eggs, this shaved asparagus salad is your new best friend. It calls for simple, no-nonsense ingredients and includes a vinaigrette to rival your favorite store-bought dressing.
Though they make a great on-the-go breakfast, don't overlook these fajita egg cups come lunchtime. Add them to your Bento box along with fruits and vegetables for a balanced meal that's sure to make you the envy of the office.
You heard it here first: this antioxidant power blend salad goes from fridge to lunchbox in just 25 minutes, which is why it's one of our all time favorite meal prep solutions. Bring it to work and hear the oohs and ahhs of your coworkers when you pull out this enviable packed lunch.
Avocado (all things green, really) can be hard to sneak into your kids' diets. These deviled eggs take the effort out of getting something both nutritious and visually enticing into those lunchboxes. Simply scale up the recipe to have lunch for family members young and old ready in no time.
We figured out a way to power through those midday meetings. You guessed it: fried rice with spring veggies. Plus, you can even sneak in leftovers by using brown rice from last night's takeout. It's a win-win that's sure to brighten your work day.
Soup is the coziest meal prep solution out there, but can eat away at precious time if it requires hours of simmering. Luckily, this egg drop soup comes together in under 20 minutes, and a big batch of it will keep you satisfied all week long.
When the clock strikes lunchtime, you want something delicious and satisfying with little to no work involved. These bowls are the answer: they combine a trifecta of eggs, quinoa, and black beans that you'll go back to again and again.