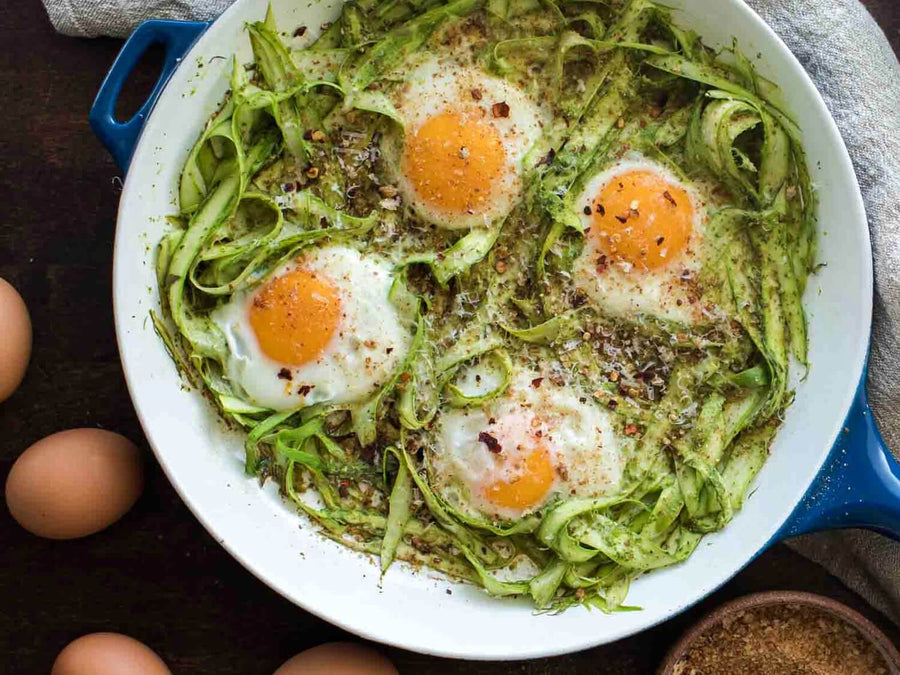 The key to feeling satisfied on meatless Monday? Fill your dinner plate with nutritious, plant-based ingredients and vegetarian protein sources like eggs. Check out these meat-free dinner recipes to get started.
There are so many great reasons to participate in meatless Monday. Some people choose to go meat-free one day a week for personal health reasons, while others do so in support of an earth-friendly lifestyle or to help lower the carbon footprint of animal-based agriculture. Regardless of your reasons, no one wants to go to bed hungry, let alone on a Monday. The key to success? Fill your dinner plate with nutritious, plant-based ingredients and quality vegetarian protein sources like eggs. Here are a few hearty meatless dinner recipes to try when Monday rolls around.
It's a daring statement, but it has to be said: these loaded veggie burgers taste even better than their beefy counterparts. Using your favorite homemade veggie burger recipe or store-bought patties as a base, load up on peppery arugula, grilled zucchini rounds, red pepper sauce, and a runny fried egg for a vegetarian meal that the whole family will love.
If any dish proves how versatile vegetables can be, it's this one. The asparagus is shaved into delicate ribbons that act like fettucine, clinging to the pesto and crunchy, cheesy homemade breadcrumbs. This skillet takes under 30 minutes to make, so it's perfect for those insanely busy Mondays that feel extra Monday-ish.
Don't be fooled into believing this thirty-minute recipe is anything like the overly-salty instant ramen found on convenience store shelves. Tender oyster mushrooms, homemade chili oil, fresh ginger, mushroom broth, and a soft-boiled egg keep this easy ramen meat-free while adding layers of texture and unmatched umami flavor.
This bowl of goodness deserves an award for creamiest soup without the use of cream. Instead, it gets its velvety-smooth texture from cashews, tender butternut squash, and coconut milk, making for a dairy-free, vegetarian, and protein-rich meal that's ready for all the toppings you can throw at it. Toasted pumpkin seeds, cilantro, and roasted peanuts are highly recommended.
Replace the steak or grilled chicken in your grain bowl with a crispy fried egg, a swirl of hummus, and voila! You've got a filling dinner that doesn't skimp on protein nor flavor, keeps you so satisfied that you won't find yourself back in the kitchen at midnight, and is so easy to riff on that you'll probably want it for dinner tomorrow, too.
Take it from cookbook author Jessica Merchant: the easiest weeknight meals are the ones that come together with the leftovers hiding in your fridge! That lonely penne or forgotten rigatoni pasta becomes the glue that holds this fluffy frittata together alongside any mushrooms and spring greens you have on hand.
This spin on shakshuka has been bulked up with fennel, a celery-esque addition with a licorice-like flavor that pairs perfectly with the rich, rustic, cumin-spiced tomato sauce that poaches the eggs while it bubbles away in the oven. The dish is 100% vegetarian, making in an excellent option for dinner when Monday comes around.
When a bite of something sweet, savory, crispy, and soft is all you want on Meatless Monday, look no further than this Shake Shack copycat recipe. A panko-crusted steamed egg patty takes the place of breaded chicken or pork in this novel sando, nestled between slices of milk bread and coated in miso honey mayonnaise for a satisfying sandwich experience.
Yes, you read the recipe right. This skillet requires just five ingredients, plus olive oil and a pinch of salt and pepper. It's almost too easy! Simply crisp up the quinoa (it can be leftover or freshly cooked) in a cast iron skillet, crack the eggs over top, dot with fresh tomatoes and basil, and you've got a healthy, meat-free dinner on the table in under half an hour.
Swap spaghetti and meatballs for eggs in zoodle nests once a week, and thank us later. While they may not be the starchy, carb-filled ingredient you know and love, zoodles are totally slurpable in their own right–especially when the egg baked into the center of these nests bursts open and coats every zucchini strand in yolky goodness.
There's something truly satisfying about preparing a hearty meal you can enjoy down to the last drop. For the Mondays you find yourself cooking for one, this single serve vegetarian shakshuka offers an unconventional take on the well-loved dish with the addition of chopped heirloom tomatoes and spicy chili crisp.
It's so easy to make a great vegetarian curry that you won't even miss the meat. This one calls for eggs as the protein, and it's about as paired down as curry can get. Don't worry; it still delivers on flavor thanks to all the spices, coconut milk, and vegetable stock in the recipe. It's super saucy and makes for a great vegetarian meal on its own or served over rice and steamed vegetables.
As they say: never judge a book by its cover or recipe by its title! While named for the "parent-and-child" combination of chicken and eggs, this oyakodon recipe remains 100% meat-free by sourcing its flavor from a medley of pea shoots, sweet onion, choho, and shimeji mushrooms simmered in a dashi and soy sauce blend. Make this meal your own by working in the spring veggies from the bottom of your crisper drawer or leftover from your CSA share.
Even if you're a regular meat-eater, it might not even dawn on you that you're enjoying a vegetarian meal when you dig into this from-scratch polenta. The only thing that could make a bowl of sweet corn comfort food better? Sundried tomato and basil relish and a fried egg with crispy, lacy edges.
Vegetarians rejoice! The key to pesto pasta has finally been cracked. What's the secret ingredient, you ask? A poached egg nestled atop that plate of garlicky, herbaceous noodles, so that each strand gets some yolk action. Adding an egg also brings some protein to a traditionally protein-light dish, making for a nutritionally balanced meatless Monday meal.
Who doesn't love a hearty bowl of soup at the end of the day? Here's an easy protein swap: replace the sausage in your favorite brothy bowl of kale and potatoes with eggs that poach right in the vegetable broth. You'll end up with a pot of pure comfort; a soup begging to be ladled into your favorite bowl and finished with Parmesan cheese and red pepper flakes.
Shakshuka screams versatility; it's not limited to any particular time of day (or night, for that matter). This one is an excellent option for Monday dinners, and an easy way to get in your greens to boot. It's made with a whole pound of spinach sautéed in olive oil, plus shallot, garlic, cilantro, avocado, queso fresco, and eggs, of course.
For most people, a simple recipe like roasted Brussels sprouts would typically play a supporting role at the dinner table, likely served alongside some variation of steak or grilled chicken. But when jammy eggs and buttery breadcrumbs join the party, this side dish is worthy of entrée status.
If you've ever doubted how adaptable eggs can be, feast your eyes on this egg ribbon pasta. That's right—no flour...just eggs, butter, salt, and pepper transformed into pappardelle-esque noodles that cradle roasted asparagus spears and blistered cherry tomatoes when the clock strikes dinnertime.