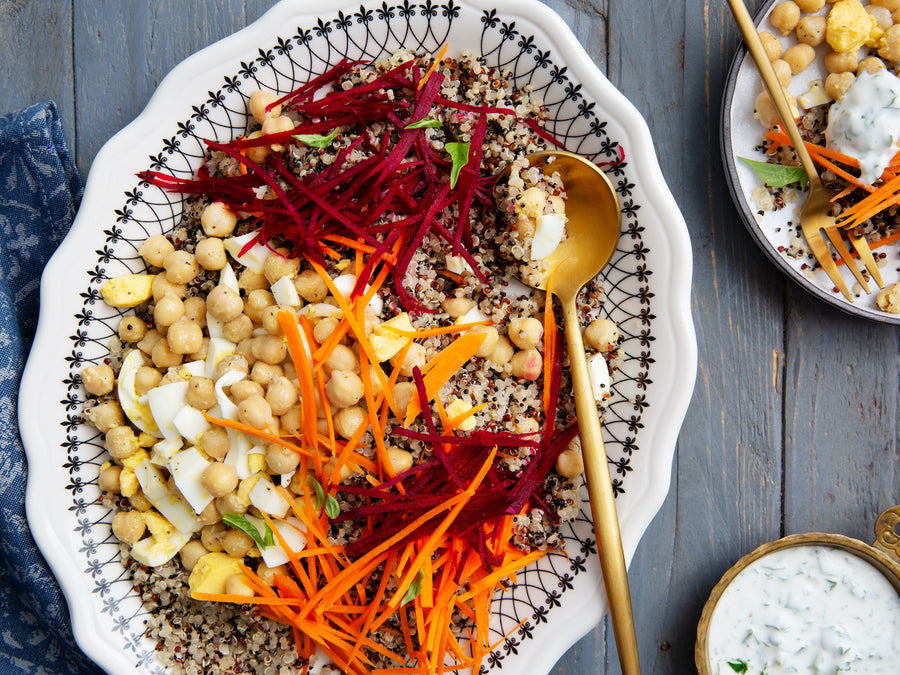 A good lunch makes all the difference when the clock strikes noon. If you need a lunchbox refresh, make yourself one of these anything-but-boring vegetarian lunch recipes and wave goodbye to that aternoon slump.
A good lunch gives you the fuel you need to charge through those afternoon meetings. It's the difference between feeling famished come dinnertime and having enough energy at the end of the day to take the dog for a walk, go for that sunset run, or finish those chores you've been avoiding all week. And here's the big secret: a good lunch with plenty of protein doesn't have to include meat, nor does it have to be another uninspiring plate of leafy greens. If you need a lunchbox refresh, make yourself one of these anything-but-boring vegetarian lunch recipes and wave goodbye to that afternoon slump for good.
Convenience is key when it comes to ensuring lunch makes it into your afternoon plans' because who has time to cook from scratch every single day? Just like the popular offerings found in Japanese convenience stores, each of these sandwiches are easy to prep ahead and hold up well to enjoy the next day.
There's a time and place for takeout, but fried rice can also be a light and filling lunch. Made with asparagus, peas, scallions, fresh ginger, soy sauce, scrambled eggs, and brown rice, this one is exactly that.
Take it from an Olympic gold medalist: protein is everything when it comes to lunchtime, and it doesn't have to be in the form of meat. Gwen Jorgensen makes her signature vegetarian egg salad with full fat yogurt, mustard, celery, carrots, red onion, a pickle, and diced jalapeño for a kick of heat.
4. Mediterranean Bowls
A bed of quinoa looks
and
tastes infinitely more inviting when you add some chopped hard-boiled eggs, chickpeas, crunchy carrots, and beets to the mix. Top with an herby garlic and lemon Greek yogurt dressing and you're in business; no meat or fish needed to complete these Mediterranean lunch bowls.
This Chinese-inspired dish is both flavorful enough to star as the main course of your lunch and simple enough to pull together in under twenty minutes. Bright and tangy tomatoes bring a welcome acidity and added nutrients to the soup, which gets rounded out with tender eggs and hearty chicken broth for a satisfying midday meal.
Cilbur, also known as Turkish eggs, can be enjoyed any time of day, but is particularly appropriate for lunchtime' especially when you need a little extra protein to get back in the groove. This adaptation of the iconic dish delivers on flavor by way of avocado relish and spicy harissa butter to top the garlicky Greek yogurt and fried egg.
Yes, this salad is a gorgeous shade of green. No, this salad isn't just a pile of lettuce. And yes, you'll actually look forward to diving into the asparagus ribbons, spring peas, radishes, carrots, tender red potatoes, ricotta, and soft-boiled eggs tossed in homemade vinaigrette.
Pull out your favorite bento box from storage, because you just found its perfect match: these vegetarian spring rolls. Each roll checks every box, stuffed with soy-glazed green beans and bell pepper for crunch, wonderfully chewy rice noodles, fresh basil for brightness, and cooked egg for protein and healthy fats.

## 9. Mayonnaise-Free Potato and Egg Salad
Who knew two simple kitchen staples could make for one heck of a lunch? Rethink everything you know about potato salad, because this recipe transforms the versatile root vegetable plus hard-boiled eggs into an herby, mustardy, mayo-free lunchtime must-have.
Eggs are a superfood in our book, so they're right at home in this antioxidant salad with baby spinach, walnuts, feta cheese, dried cranberries, and a simple orange juice vinaigrette. It's called a power salad for a reason.
If you don't like broccoli or Brussels sprouts, you probably haven't tried them roasted with turmeric, garlic powder, and olive oil until fork tender and crisp. Paired with eggs cooked in spaghetti squash nests and a spoonful of hummus, they make for a nutritious vegetarian lunch you'll want to add to your meal rotation for the foreseeable future.
Lettuce wraps get the egg salad treatment in this recipe, but there's a twist: roasted beets. They mix and mingle with balsamic vinegar, brown mustard, and fresh dill, adding an earthy, naturally sweet, complex element to an otherwise simple lunch option.
Want a lunch dish that'll make you feel like life's a party at noon on a weekday? Step away from your desk and dig into one of these black bean fiesta bowls, complete with cilantro lime dressing, avocado, crisp slices of radish, and quartered hard-boiled eggs.