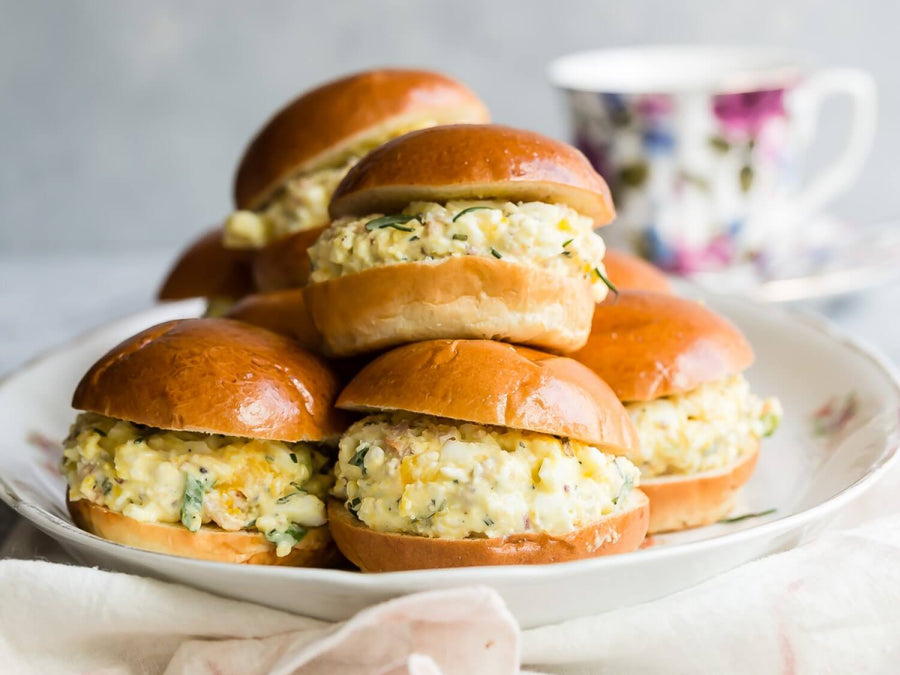 Just like you would if you were at the office, don't forget to take a lunch break when you're working from home. These recipes can be made on the fly and will fit seamlessly into your work from home routine, so step away from that laptop and whip up some lunch!
Just like you would if you were at the office, don't forget to take a lunch break when you're working from home. Conference calls, video chats, and managing those everyday distractions that come with working remotely will fill your day up pretty quickly, so you need a meal that will keep you fueled through the afternoon and can be made on the fly. Sound too good to be true? Think again: these recipes will fit seamlessly into your work from home schedule and take minimal time to prepare. So step away from that laptop (even if it's just for a few minutes) and whip up a real meal!
These snackworthy wonton cups are proof that egg salad was meant for more than sandwiches. Each crispy wonton is filled with a creamy mixture of tender eggs, curry powder, and a touch of chili flakes to keep your tastebuds satisfied as you power through those afternoon calls.
Whether it's a big day at work or challenging day at home, sometimes a plate of warm comfort food is the key to turning any afternoon around. This Monte Cristo sandwich delivers a soulful combination of melty cheese and savory smoked ham with sweet notes of raspberry and a powdered sugar dusting.
3. Mediterranean Bowls
These Mediterranean bowls include quinoa, hard-boiled eggs, chickpeas, fresh beets and carrot, and a no fuss homemade Greek yogurt dressing. If you can dedicate 45 minutes to making a batch of them, you'll be all set on work from home lunches for the rest of the week.
When your workday fills up quickly with one urgent matter after the next, having a few ready-to-eat lunches on hand is a must. These Japanese egg salad sandwiches are easy to assemble with a short list of ingredients and even simpler to store in the fridge or lunchbox for later eating.
Put your work on pause for a just 20 minutes and you'll soon have a plate of these hard-boiled eggwiches at your desk. They come in caprese, Cuban, and banh mi flavor varities, so you can pick and choose depending on whether it's Monday (all three, please and thank you) or any other day of the week.
With the help of a few golden egg yolks and only twenty minutes, you can make this vibrant fried rice on your midday lunch break. A few servings of leftover rice are generously coated with egg yolks before getting fried to perfection with shrimp and fresh asparagus or whichever frozen vegetables you have on hand.
A classic egg salad on brioche (or whatever edible means of transportation you have lying around) hits the spot when you need to put your to do list on pause for a bit. So find a 30-minute gap in your calendar if you can, set your phone to airplane mode, and boost your productivity by making this tried and true sandwich.
If you have deli meat in your fridge, chances are you have everything you need to make these protein-packed turkey club egg wraps between calls and emails. Don't feel like you have to bend over backwards for an elaborate midday meal; make lunchtime work for you!
Craving something fresh and bright? Tossed salad isn't your only option! Try these spring rolls instead. They're filled with cooked egg, green beans, bell peppers, basil, and rice noodles, all wrapped up in rice paper and ready to be dunked to your favorite peanut sauce while you sift through your unread emails.
You're working from home sp for once have access to a stove—why not put it to good use? This green shakshuka features spinach, cilantro, avocado, and eggs, and it's nice break from the sandwiches and salads that you could bring into the office any other day.
Picture this: you pop cauliflower florets in the oven to roast while you start to build your grain bowl with leftover farro (or brown rice, quinoa, barley...any grain will do!), a swoop of hummus, and a fried egg. Sooner than you think, you'll have a nutritious work from home lunch to enjoy while you pour over those spreadsheets.
A twist on potato salad, this deli-style cauliflower salad is rich and creamy without feeling too heavy, so it won't bog you down during those virtual afternoon meetings. The leftovers will only get better, so don't be afraid to serve them as a side dish for dinner.
Minimal ingredients like eggs, quinoa, tomatoes, and feta cheese plus half an hour of your time equals a recipe for success. This quinoa and tomato skillet checks off all the food groups so that you can check off more items on your to do list.
Transform fresh asparagus into sauteed ribbons coated with pesto and topped with eggs, toasted breadcrumbs, and Parmesan cheese in the time it takes to clear out your Monday morning emails. This skillet tastes as good as it feels to hit unread: zero.
If it's a particularly busy day at work, don't feel like you have to drop everything to cook a nutritious lunch. This egg drop soup requires just 20 minutes of your time in exchange for a brothy bowl of whispy egg strands and fresh green onions.
They say that taking the time to shower and get dressed in the morning is the key to staying productive when you're working from home. So change out of your jammies, make yourself an antioxidant power blend salad for lunch, and conquer the day.
If you have a spiralizer, peeler, or even a sharp knife in your kitchen drawer, a zoodle nest could be in your future. The zucchini noodles will inevitably get coated in runny yolk and turn extra slurpable, so we recommend enjoying this one after you've signed off that video conference call with your boss.
Egg salad is the ultimate work from home lunch, but even we can admit that it needs a little sprucing up sometimes. Some chopped pickles and fresh dill will do the trick! And who could say no to those added electrolytes when back to back calls are about to take over your afternoon?