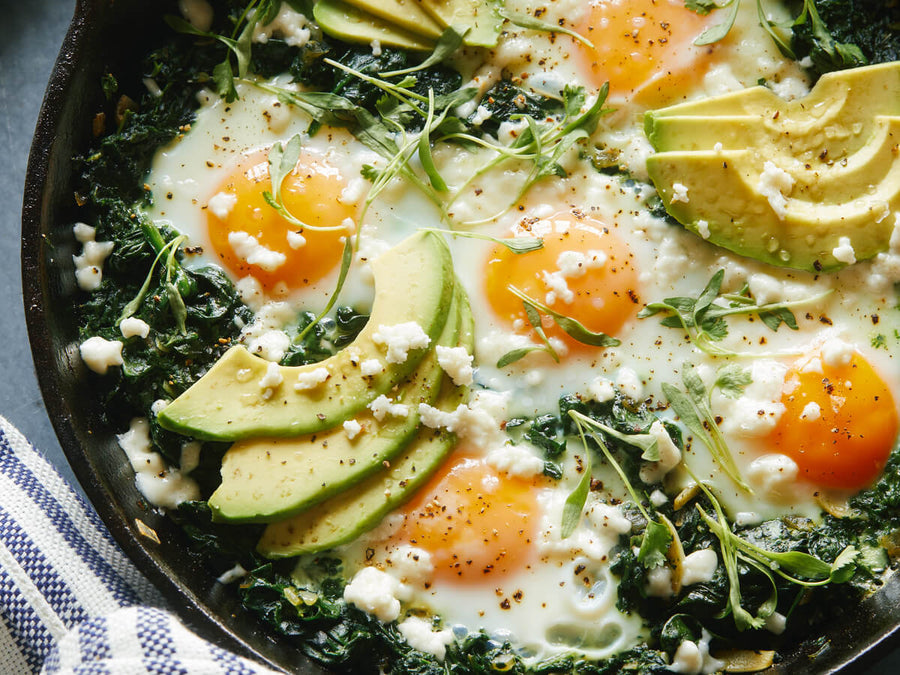 It's the season of all things green, from four-leaf clovers to new leaves just starting to bud. To celebrate the bounty of spring and the traditions of St. Patrick's Day, we've collected some of our favorite dye-free recipes that boast fresh produce and a natural green hue.
It's that time of year: the season of all things green, from four-leaf clovers to new leaves just starting to bud. To celebrate the bounty of spring and the traditions of St. Patrick's Day, we've collected some of our favorite dye-free recipes that boast a natural green hue thanks to basil, spinach, avocado, and other green herbs and veggies that bring fresh flavors to the table.
Perfect for the in-between weather that springtime is known for, these cozy polenta bowls offer a healthy dose of comfort in every spoonful. The poached eggs are a satisfying topping for pools of cheesy polenta, and freshly picked herbs and microgreens add the final touches to each bowl.
Up your green game by topping your morning toast with mashed avocado, microgreens, and a perfectly poached egg. St. Patrick's Day or not, once you've added this avocado toast recipe to your repertoire, you'll find yourself craving it every time you need a boost.
Asparagus comes into season just as the weather begins to warm up, so St. Patrick's Day is the perfect time to include it in your cooking. This carefully crafted spring salad is made with jammy soft-boiled eggs, raw shaved asparagus, spring peas, and crisp radishes dressed in a simple vinaigrette.
There are so many reasons to love these deviled eggs. For one, they're paleo, which means no iffy additives or hidden refined sugar. The easy homemade pesto mayonnaise adds a hint of green and an herbacious kick to the dish, making it an easy choice for your St. Patrick's Day celebration or a springtime picnic.
Green pancakes and eggs are the new green eggs and ham! And they're packed full nutrients to boot. Fresh spinach gives them a stunning green color, while and oat flour, banana, and a couple of eggs add heaps of flavor, vitamins, fiber, and protein, yielding a nutritious canvas for your favorite savory or sweet pancake toppings.
Served on crackers, between fluffy potato buns, or atop pickle slices (more green!), this dill pickle egg salad is the ultimate snack for pickle lovers. The green flecks of fresh dill marry beautifully with the tangy zing of vinegar that runs through every bite!
If there's a time to go all out, it's on St. Patrick's Day. Naturally, you'll need a hefty breakfast to fuel your day of celebrations. Our suggestion: a vegetarian green goddess breakfast burrito packed with veggies, cheese, and a brilliant green cilantro pepita pesto teeming with enough flavor to get the party started.
When we think of green, we can't help but picture the humble egg's perfect match: the avocado. These baked egg boats are creamy, full of protein and healthy fats, and require almost no hands-on preparation—which means more time to dig out your green outfit.
If you're feeling fancy, make this salad. It's an easy way to zhoosh up a St. Patrick's Day party (and a great excuse to enjoy a glass or two of champagne on this beer-centric holiday). The greens and asparagus are tossed with homemade port wine and truffle vinaigrette, then finised with morel mushrooms and hard-boiled eggs.
Want to end the day with a light dinner that pairs well with a whisky cocktail or just a cold beer? These roasted Brussels sprouts are the answer. They're dotted with jammy eggs, creating a simple yet rich and flavorful side dish or vegetarian entrée.
Think it's too early for pesto? Think again! Even if you don't have an indoor basil plant, local farms and co-ops are likely to be abundant with basil when spring rolls around. Turn it into a bright and zesty pesto to coat your pasta, then top it all off with a poached egg and bid adieu to the cold days of winter.
Ideal for any meal of the day, this recipe is a tried and true classic. If you aren't on the zoodle train yet, it's time to hop on: the tender green ribbons do such a good job of replacing spaghetti that even carb-lovers will be twirling their forks in glee.
Green on green is just how we like it, so needless to say this egg skillet is a favorite around here. Spring is the best time to find fresh asparagus, and the pesto, runny yolks, and toasted breadcrumbs in the recipe really make it shine.
Combining the flavors of guacamole and classic deviled eggs is always a good idea. This recipe yields just enough to pack for your lunch or to snack on in the afternoon alongside a handful of crunchy homemade plaintain chips that you'll want to make again and again.
This soup is comfort food at its finest. Fresh kale and thyme add vibrant green hues, while eggs poached right in the broth add just a touch of creaminess. St. Patrick's Day or not, it's the perfect soup for any chilly spring day.
Getting your greens in at breakfast time has never been easier. The stunning color of this shakshuka is all thanks to spinach, cilantro, and avocado, which all come together with baked eggs in one wildly delicious bite.