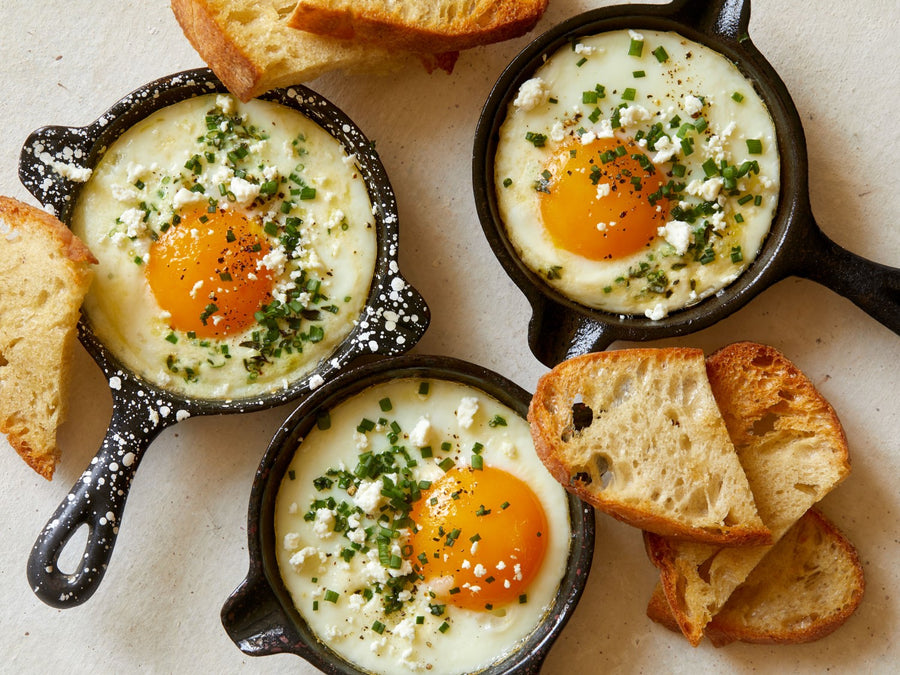 Healthy. All natural. Full of protein. Nutrient-dense. Eggs have earned themselves many titles over the years, with each term meaning something different when it comes to nutrition and the role eggs play in a balanced lifestyle. But how many of these claims are actually true, and what do they mean for eggs and human health?
Are eggs healthy?
We'll get straight to the point: yes, eggs are healthy! But we won't ask you to take our word for it. Thanks to the persistent voices of farmers and food producers like us, the Food and Drug Administration confirms the many health benefits of eating eggs. The truth we've known all along has been backed by the science as the FDA recognizes eggs are a healthy, nutrient-dense food. On top of being low in calories and packed with protein, they're chock full of nutrition: one egg contains 13 essential vitamins and nutrients for just 70 calories.
With so many benefits wrapped into one delicious package, it's no surprise that some consider the egg to be one of nature's most perfect foods. For those in need of a little more convincing, here are just a few reasons why eggs are a healthy choice:
Eggs are the original whole food
Before entire grocery stores of bulk bins and healthy options existed, smart shoppers turned to whole foods like eggs for a delicious all-in-one source of sustenance. As an additive-free, unprocessed product, eggs make it easier to reach your nutritional goals while skipping out on unecessary or harmful ingredients.
Eggs are a complete protein
As many health-conscious grocery shoppers may know, eggs are a convenient and inexpensive source of protein. But did you know that eggs are a complete protein, too? A single large egg offers 6 grams of protein and all 9 essential amino acids the human body needs to thrive. Complete proteins are also effective at staving off hunger pangs throughout the day and regulating blood sugar levels. Combined with the FDA's advice on including a variety of both animal and plant proteins in a healthy diet, this makes eggs a great option for those looking to embrace Meatless Monday or simply fuel their day with humanely raised, protein-rich foods.
Eggs provide healthy fats and omega-3 fatty acids
There are 5 grams of fat found in each egg, though it's important to remember that not all fats are created equal and some are absolutely necessary for optimal brain function. Of those 5 grams, most of the fats in eggs are polyunsaturated and monounsatured fats that can benefit your body and may decrease risk of heart disease, stroke, and more.
Eggs also contain naturally occurring omega-3 fatty acids, which are a particularly important polyunsaturated fat that isn't produced by the human body and must be supplemented through diet. Reaching for humanely produced food staples like free range eggs can even mean more benefits for your family's health as eggs from hens given outdoor access have been shown to provide more omega-3 fats than those from caged or even cage-free hens.
Eggs aren't to blame for high cholesterol
Many once believed that consuming eggs or other foods containing dietary cholesterol may increase one's risk of heart disease and stroke, but that line of thinking has long been debunked. Thanks to the Dietary Guidelines Advisory Committee and many studies that have been conducted since, the science shows that eating a moderate amount of dietary cholesterol is not known to raise the risk of heart disease for most individuals. The experts at the FDA confirm this with their 2022 guidance deeming it unnecessary to limit one's consumption of dietary cholesterol from healthy, nutrient-dense foods like eggs.
Key vitamins and nutrients found in eggs
To give you a closer look at the many key vitamins and minerals found in our organic eggs, we've broken down the basics of egg nutrition in the list below:
Choline
Eggs are naturally rich in choline, a nutrient essential for the healthy function of cells while also encouraging brain activity, metabolism, nerve function, and even memory. For expecting parents, choline plays a crucial role in preventing birth defects, and eggs are specifically recommended as an important first food for infants and toddlers.
Vitamin D
Alongside choline, vitamin D is an important nutrient that the modern American diet doesn't typically include enough of. Eggs are a good source of vitamin D and work with calcium to strengthen teeth and promote bone health.
Selenium
Beneficial antioxidants like selenium partner up with vitamin E and other antioxidants found in eggs to fight off chronic disease. While only trace amounts of selenium are required for a healthy immune system, this essential mineral can only be obtained through diet and plays an important role in preventing heart disease, thyroid imbalances, memory loss, and the breakdown of body tissues.
Riboflavin
Also known as vitamin B2, riboflavin is a water-soluble vitamin that allows the body to convert food into energy. Getting enough of this important vitamin is crucial for the growth, development, and overall function of healthy cells.
Phosphorus
One large egg offers a full 10% of the daily recommended intake for phosphorus, an essential mineral for producing energy in the body, healthy DNA and RNA, and strong bones and teeth. Phosphorus also helps muscles contract and enables the body to recover after a long workout or strenuous exercise.
Egg nutrition facts
| Item | Amount or DV% |
| --- | --- |
| Calories | 70 |
| Choline | 23% of DV |
| Selenium | 22% of DV |
| Riboflavin | 14% of DV |
| Vitamin D | 10% of DV |
| Phosphorus | 10% of DV |
| Protein | 6 grams |
| Total Fat | 5 grams |
| Saturated Fat | 1.5 grams |
| Trans Fat | 0 grams |
| Cholesterol | 185 milligrams |
| Sodium | 70 milligrams |
| Total Carbohydrate | 0 grams |
| Dietary Fiber | 0 grams |
| Total Sugars | 0 grams |
Eat healthy with nutrient-dense eggs
After crunching all the numbers, it's easy to see that eggs are a vital part of any balanced diet. Whether you're in search of a quick weekday lunch or ways to feed your family on a budget, eggs provide a healthy and affordable food source that's rich in vitamins and essential minerals. So go ahead and crack open a carton today to start your morning on a nourishing, healthy note!