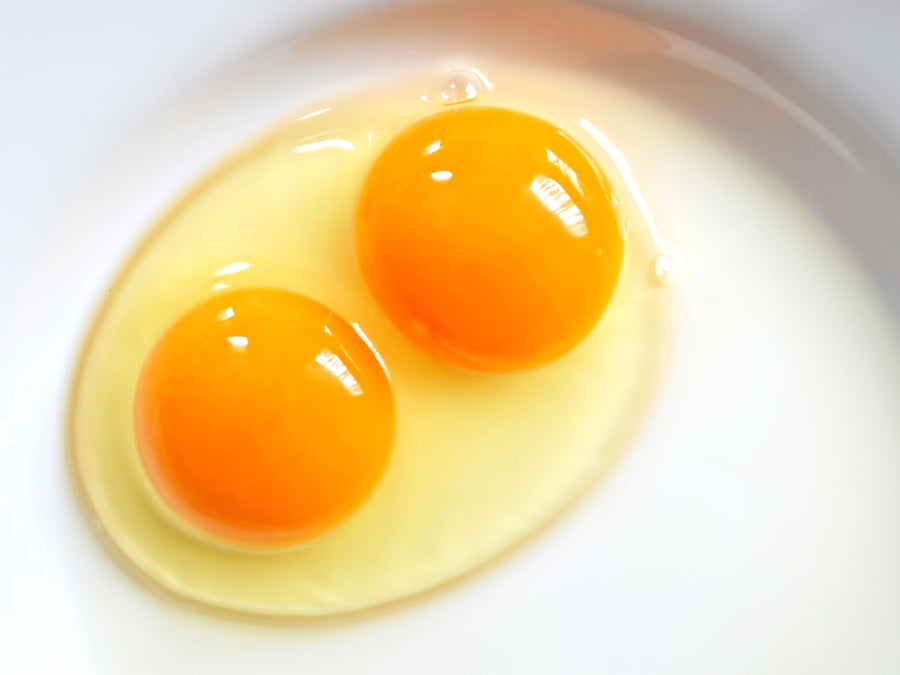 Have you ever cracked open an egg with a double yolk? If so, lucky you! Have you ever cracked into several eggs in your dozen to find double yolks in more than one? This may be quite an unusual sight to see, but eggs with double yolks are safe to eat and often wind up together in the same carton.
What causes eggs with double yolks?
It is true that eggs with two yolks are fairly rare: you might find them in 1 of every 1,000 eggs. These eggs typically come from our younger hens whose bodies are still just learning how to lay. Eggs with two yolks also tend to be very large & in fact, these larger eggs often end up being sized as super jumbos.
Why do eggs with two yolks end up in the same carton?
After being washed, all of our farm fresh eggs go through the sorting machine together to be sized. Once they are identified as super jumbos, the eggs are sent to the first packing station where they are hand packed because they are too big for the machine to pack. They are then packaged as jumbos, even though they are technically super jumbos, before being sent off to our partner stores.
As the hand packing station runs all day long, jumbo cartons continue to be filled with super jumbos. These eggs usually contain 50% double yolks. As these cartons are filled, they all go into the same case. So, even though they are rare, double yolk eggs often wind up in the same cartons.
Hand packed and humanely raised
What does all this mean for shoppers like you? Well, if you crack open a Pete & Gerry's Certified Humane egg and find a double yolk, chances are pretty likely that you'll find a bonus yolk or two in that same dozen. And because those jumbo cartons are hand packed and placed in cases together, you could find a whole grocery display of lucky dozens with more than a few double yolks!