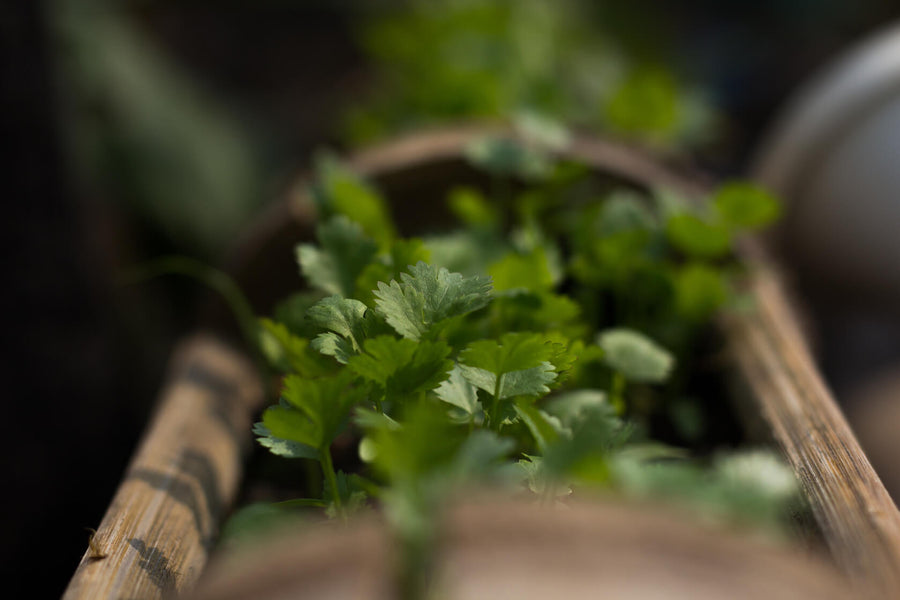 Both in late spring and the first weeks of fall, a blend of warm days and cooler nights offers just the kind of climate cilantro needs to thrive. Even better: you don't have to own acres of land or even have a backyard
garden

to welcome this versatile culinary herb into your home and kitchen — growing cilantro indoors couldn't be easier! So pick up some seeds, potting soil, and planters at your local garden supply store to grow your own cilantro harvest at home!
Preparing seeds
Before planting cilantro seeds, prepare them by gently crushing the seed husk. This can be done by holding two seeds between your index finger and thumb and applying pressure until the outer "shell" cracks. Once you've prepared your seeds, soak them in water for 2 to 4 days. When you're about ready to plant, place the seeds on a paper towel overnight to dry.
Planting cilantro
If growing cilantro indoors to start, drop the seeds in quality potting soil and cover them with about a 1/4-inch layer of soil. Let your seedlings grow until they're each about 2 inches tall. At this time, thin the cilantro to about 3 to 4 inches apart. Cilantro likes crowded conditions because the leaves will shade the roots and help to keep the plant from bolting in hot weather, so feel free to keep your seedlings all in one pot. If you're transplanting the cilantro into your garden, dig holes 3 to 4 inches apart and plant away. Be sure to water your garden or pot thoroughly after the initial planting.
Growing cilantro
Cilantro is able to grow indoors and outdoors, but the most important thing to remember is that it's not a fan of hot weather. Cilantro loves growing in soil that reaches up to 75F (24C), so ideal conditions are cool but sunny. Place your pot or dig your garden where the cilantro will get early morning or late afternoon sun, but also shade during the hottest part of the day, and don't forget to water daily to keep the soil moist. Once it makes a home for itself in your garden, cilantro reseeds on its own.
Harvesting cilantro
When your cilantro is ready for harvesting, simply cut stems from the plant as needed. Since it's easy for cilantro plants to bolt, we suggest harvesting often and reseeding as necessary for a continuous supply all season long. Then, enjoy the fruits of your labor by incorporating this culinary herb into your family's meals. Here are some of our favorite egg recipes that call for freshly harvested cilantro:
Wake up early and put your cilantro harvest to work with loaded vegetarian breakfast burritos. While some may think the shiitake mushrooms, fried eggs, and sweet potatoes stuffed into each bite give these burritos their flavor, it's the drizzle of herby cilantro and toasted pepita pesto that will have you coming back for more.
The beauty of this cold noodle salad lies in every delicious detail: crisp vegetables, chewy noodles, bouncy egg ribbons, seasoned steak, homemade dressing, and numbing mala chili oil. Bring every element together by garnishing your bowls with sesame seeds and fresh cilantro from the garden.
Some classic meals need no improvements, which is exactly what we think of this traditional Mexican breakfast. Serving up a plate of crispy chilaquiles at brunch without a generous sprinkle of chopped cilantro is unheard of, which is why we always reserve a stem or two for making this comforting dish.
After filling each crispy tortilla pocket with soft scrambled eggs and spicy kimchi, these cheesy quesadillas deliver better-than-takeout flavor when served with fresh cilantro and a dollop of sour cream.
At the intersection of street food flair and bite-sized convenience rests these zesty deviled eggs, which draw on flavors inspired by Mexican elotes. Finish yours with crumbles of cotija cheese and chopped cilantro before serving on a snackable grazing board.
The vibrant hue of this healthy shakshuka is enough to spark envy from gardeners and home cooks alike. Combine your fresh cilantro with leafy spinach, creamy avocado, and baked eggs to create a stunning bed of color in this wildly delicious meal.