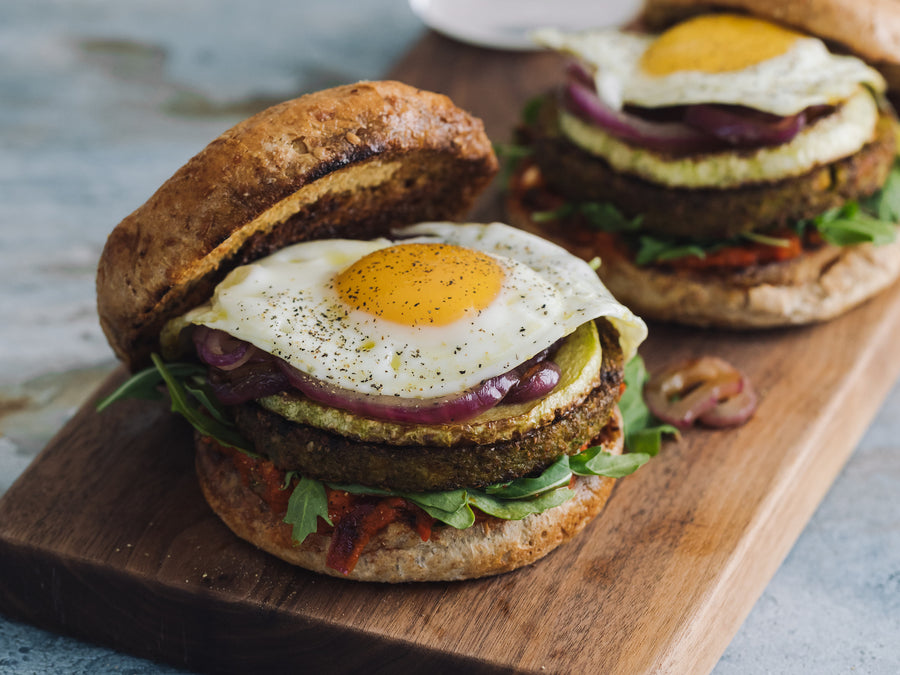 These recipes range from grilled mains to classic sides with a twist, and all are guaranteed to make every summer BBQ a memorable one.
Whether you call it a BBQ, cookout, grilling session, or something else, everyone can agree that gathering in the backyard while the the resident grill master flips burgers, hot dogs, ribs, and corn on the cob is one of the best parts of the summer season. If you're hosting, don't be afraid to think outside the burger bun; why not offer your guests a grilled flatbread or juicy charred peaches? And if you're attending, don't forget to bring a side dish to round out the cookout menu. These recipes range from grilled mains to classic sides with a twist, and all are guaranteed to make every summer BBQ a memorable one.
When it comes to feeding the people you love, dishes that can be easily shared always taste better. This pesto flatbread is no exception: it can be cooked right on your grill-pancetta, pesto, cheese, eggs, and all. Everyone at the cookout will be clamoring for a slice once they catch a whiff of the dough starting to crisp up on the hot grill.
Grilling is a labor of love and time, so it never hurts to have appetizers on hand to keep your cookout guests or family busy before the main course is finally ready. With three flavors to choose from, these caprese, Cuban, and banh mi hard-boiled eggwiches are a great option for cookout companions young and old.
Whether you make a mean black bean veggie burger from scratch or prefer to grab a few of your favorite store-bought options from the freezer aisle, this recipe makes it easy to grill up vegetarian burgers that will pleasantly surprise the meat eaters at your cookout. You'll finish the patties with fresh arugula, plus grilled zucchini and onions before dropping the real flavor bomb on top: garlic parsley pepper sauce.
Finally, a summer side dish that doesn't weigh your plate down! This cauliflower salad is a low-carb alternative to potato salad and, if you can believe it, tastes even better. It's a tale as old as time, but with a twist: tender cauliflower florets take the place of potato chunks in this creamy combination of hard-boiled eggs, crispy bacon bits, mayonnaise, Dijon mustard, crunchy celery, and green onions.
Pro tip: although this recipe doesn't require a grill, giving your corn on the cob a slight char adds a smoky, savory flavor to the polenta. And if you haven't tried making polenta from scratch, grilling season is the best time to do so! This one is served with a fried egg and sun-dried tomato relish that turns the simple dish into an elevated dinner worth enjoying on the deck.
A traditional American cookout usually involves a lot of meat, and as delicious as they are, things like ribs and burgers can be pretty rich on their own. That's why side dishes like this one exist. This mayonnaise-free potato and egg salad is filling, yet light and herbacious with a homemade vinaigrette to help balance the flavors on your plate.
Dessert is far too often overlooked at backyard BBQs. You've taken the time to develop some great flavors for your main course, so why not throw a few peaches on the grill before you let the flames die down? Top with a quick Italian custard (which you can make ahead) and enjoy the fruits of your labor as the sun goes down.