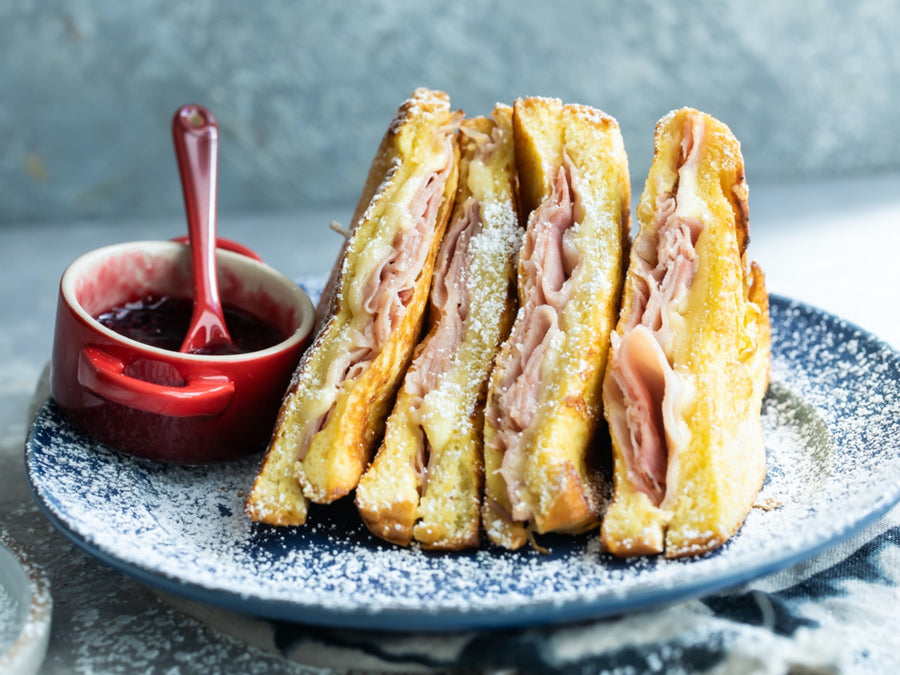 Any way you slice it, sandwiches are the quintessential lunchtime dish. Whether you prefer a classic ham and Swiss, turkey and cheddar, or BLT, you'll find some flavors to love in this collection of lunch-ready sandwich recipes.
We're partial to breakfast, but lunch is a close second when it comes to favorite meals around here. There's no argument: sandwiches are the quintessential lunchtime dish. Any way you slice it, the fact is that slapping a few ingredients between two pieces of bread is as easy and simple as lunch can get-and if you want to think outside the box and get fancy with your sandwich, you have the power to. Whether you prefer a classic ham and Swiss, turkey and cheddar, BLT, or something warm and toasty like a grilled cheese or a Reuben, you'll find some flavors to love in this collection of lunch-ready sandwich recipes.
Egg salad sandwiches are just downright nostalgic, whether or not they were your favorite school lunch as a kid. This version doesn't stray far from the classic recipe, but swaps out white sandwich bread for brioche rolls and includes a touch of rosemary and some chopped bacon to appease your grown-up palate.
Meet the Monte Cristo, sandwich of sandwiches. Inspired by Parisian cafeÃÅ offerings, this combination of GruyeÃÄre, smoked ham, brioche, and Dijon mustard is dunked in an eggy batter and skillet fried in butter, then showered in powdered sugar and served with raspberry preserves on the side.
A standard BEC (bacon, egg, and cheese) is such a faultless creation that we wouldn't think twice about having one for breakfast, and then another for lunch. This one is made with folded eggs, cheddar cheese, and crispy bacon, all lovingly placed between two halves of a homemade cheesy biscuit.
Fried eggs, hollandaise, tomatoes, bacon, mushrooms, Swiss cheese, spinach, balsamic reduction...this 8-layer loaded sandwich seriously has it all, and then some. Words don't do it justice, so just take the plunge and set aside an afternoon to share this beast of a sandwich with a friend (and lots of napkins).
Though a wrap isn't technically a sandwich, it's a cousin to the sandwich at the very least. This turkey club wrap is a great keto option, as the tortilla is made from nothing but eggs and a few spices. Fill it with mayo, turkey, bacon, tomato, and lettuce, and you've successfully made a low carb lunch that will keep you full for hours.
The famed egg katsu sando is the product of a traditional Japanese preparation method and the mind of Dominique Ansel, creator of the cronut. It's an ensemble of panko-crusted steamed eggs, milk bread, and miso honey mayo that graced Shake Shack's menu for a short time in 2019-and now, you can finally have it for lunch without leaving your home.
Meet the eggwich, in which bread is replaced with hard-boiled eggs for the most adorable lunchtime finger food ever created. These eggwiches borrow flavors from three well-known sandwiches: the Vietnamese banh mi, the Cuban, and the Italian caprese.
It has to be said: sometimes, even a holy trinity like bacon, lettuce, and tomato can be improved upon. And if the BLT is missing anything, it's an E (egg) and W (waffles). Savory cheddar waffles, to be exact. In this recipe, they're smeared with mayo and topped with the works; crispy bacon, arugula, tomato slices, and a fried egg.
Got leftovers? Whether or not it's the day after Thanksgiving, this sandwich tastes just as scrumptious all year round. Next time you need a little taste of the holiday season, pick up some turkey from the deli counter and add to a rustic roll along with hard-boiled eggs, dried cranberries, chopped walnuts, and some fresh herbs-it's that easy.