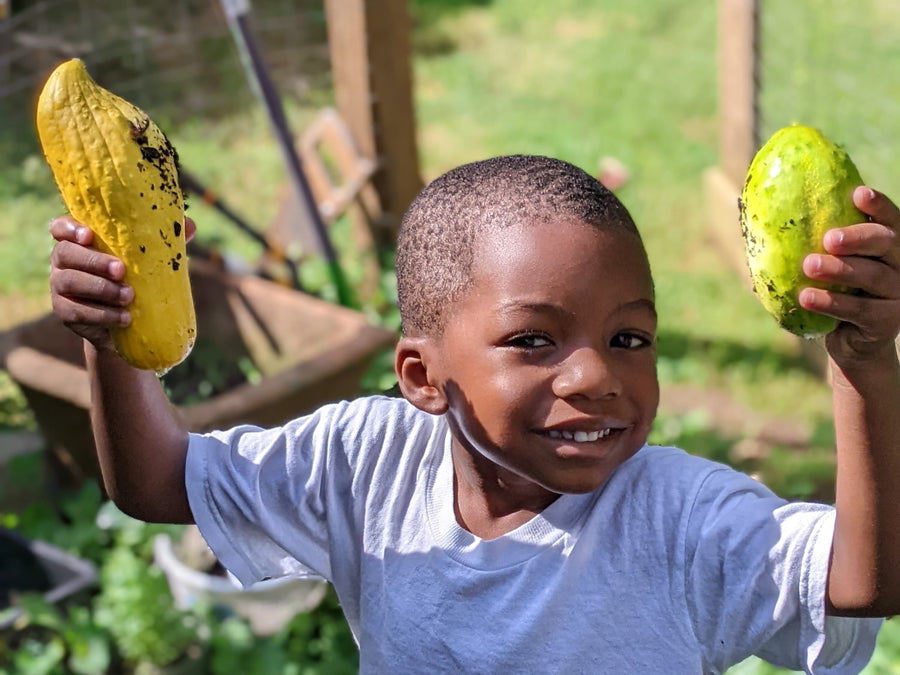 Learn how a few young gardeners turned garden-fresh ingredients and organic eggs into 3 uniquely delicious and healthy egg meals.
It's a well-known fact that organic eggs and garden fresh produce go hand in hand. As an affordable, whole food that's rich in protein and other essential nutrients, eggs offer a valuable source of nutrition while also having the ability to turn freshly picked vegetables into a satisfying and healthy egg meal. To celebrate this pairing and inspire young chefs everywhere to get cooking in the kitchen with high-quality ingredients, Pete & Gerry's proudly partnered with KidsGardening.Org for a summer recipe contest in June 2022.
To enter, participants first brushed up on the basics of backyard gardening and simple egg bite recipes in our Gardening Activity Pack. Then, young chefs crafted their own original recipe using eggs and homegrown produce. Contest winners were chosen for the top 3 most creative recipes, and we hope you feel inspired by their delicious creations below!
1. Pancake Puffs
Just in time for strawberry season comes this blender recipe for muffin tin pancake puffs. Smaller and even more adorable than your typical short stack, these pillowy puffs serve as a bite-size vehicle for your favorite fresh fruit. We recommend following the lead of young chefs Lauren and Amanda by topping each pancake puff with strawberries from your own backyard or favorite local farm.
For the pancake puffs:
1/2 cup flour
1/2 cup milk
2 tablespoons butter, melted
1 tablespoon vanilla extract
For the toppings
1 pint strawberries, chopped
Maple syrup, optional
Confectioner's sugar, optional
Make the recipe:
Preheat oven to 400F. Grease a mini muffin pan with cooking spray.
Add flour, milk, eggs, butter, and vanilla extract to a blender and blend until fully combined. Pour batter into the prepared muffin pan.
Bake for 13 minutes, or until pancakes are puffed up and lightly golden around the edges.
Transfer pancakes to serving plates and top with chopped strawberries. Drizzle with maple syrup and sprinkle with confectioners sugar if desired.
2. Breakfast Squash Casserole
If there's one thing gardeners like Niya know to be true, it's that you can never have enough recipes for an abundant summer squash harvest! As soon as your sprawling vines begin to set fruit, consider saving a tender squash or two for this easy breakfast casserole — a hearty and healthy egg meal to start the day.
For the casserole:
1 cup heavy cream
2 tablespoons sour cream
1 teaspoon garlic, minced
1/2 onion
1 summer squash
1 cup cheese, shredded
Seasonings of your choice
Basil, for garnish
Make the recipe:
Preheat the oven to 400F. Grease an 8"x8" casserole or baking dish.
In a large mixing bowl, add eggs, heavy cream, and sour cream. Whisk together until smooth.
Add garlic, onion, squash, cheese, and seasonings to the bowl and stir well until combined. Pour egg mixture into the prepared casserole dish.
Bake for 30 minutes, or until the eggs are completely set in the center.
Let casserole cool before garnishing with basil and slicing to serve.
3. Eggy, Leggy, and the Zucchini Boats
After giving these cheesy boats a try, you'll never wonder what to do with your extra zucchini again! Fresh herbs and vegetables from the garden fill Gyquetta's signature dish with flavor, while hard-boiled eggs and a little imagination turn the rest of your ingredients into adorable snacks to round out this refreshing meal.
For Eggy and Leggy:
4 portabella mushrooms
2 asparagus stalks, cut into 4 sticks
1 medium carrot or 2 baby carrots, sliced into 4 sticks
Capers
Bell peppers, rosemary, and other vegetables or herbs as desired, for garnish
Toothpicks, for assembly
For the zucchini boats:
2 large zucchini
1 cup ricotta cheese
1 cup Italian cheese, shredded
2 tablespoons fresh herbs, chopped
1 teaspoon salt
3 cloves garlic, minced
1/2 teaspoon dried thyme
1/2 teaspoon dried oregano
1 1/2 teaspoons dried basil
4 crackers, crushed, for topping
Tomatoes and fresh herbs, for garnish
Make Eggy and Leggy:
Peel your hard-boiled eggs.
Using toothpicks and a paring knife if needed, give Eggy and Leggy mushrooms for heads and wings, asparagus for legs, carrots for feet, and capers for eyes.
Add bell pepper and additional herbs or vegetables, if using, to give each egg hats and wings for garnish.
Make the zucchini boats:
Preheat oven to 400F. Grease a large casserole or baking dish.
Slice zucchini lengthwise and scoop out seeds to discard or compost. Transfer each zucchini half to the prepared baking dish and set aside.
To a large mixing bowl, add the egg and ricotta cheese and whisk together.
Add Italian cheese, fresh herbs, salt, garlic, and dried herbs to the bowl and stir until well combined.
Use a spoon or cookie dough scoop to fill each zucchini boat with the egg and cheese mixture.
Transfer filled zucchini boats to the oven and bake for 40 minutes. Remove and sprinkle crushed crackers evenly over each zucchini boat, then return to the oven and continue baking for about 5 minutes or until the cracker topping is golden brown.
Remove and let cool slightly before garnishing with tomatoes and herbs.
Feeling inspired? We'd love to know what you're cooking with organic eggs and fresh garden ingredients! Comment below or share your creations by using #peteandgerrys.