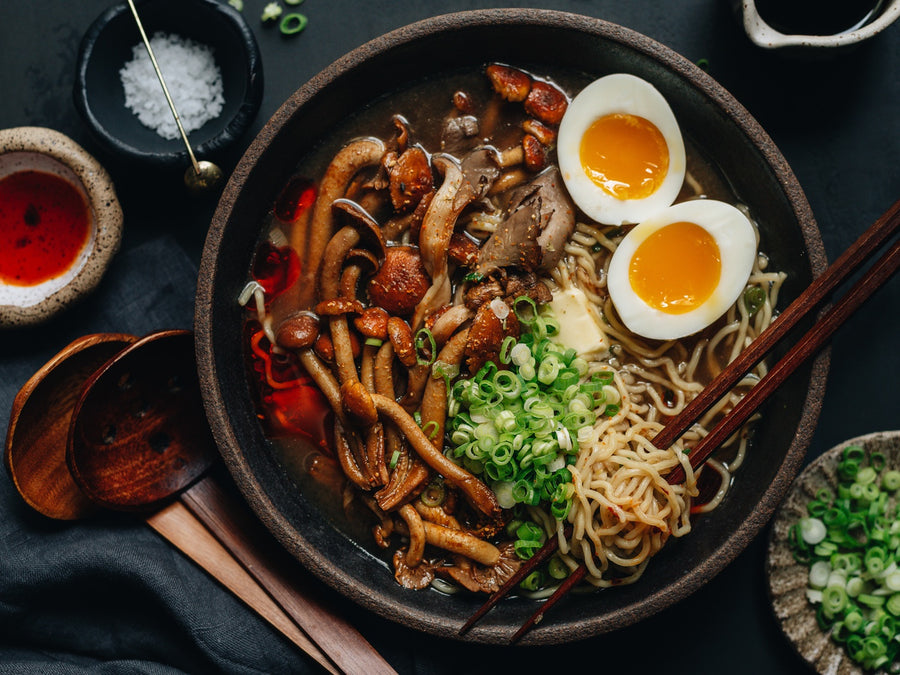 Ranging from tomato egg drop soup to a complex curried butternut soup, every one of these soup recipes will bring you comfort the second the spoon hits your lips.
Soup is pure comfort that you can sip. When you're feeling under the weather, it swoops in with its brothy, umami-fueled superpowers and takes you back to childhood. At the end of a long winter day, it revives your frozen fingers and toes, warming you from the inside out. When the world comes back to life in springtime, a chilled soup done right is unbelievably refreshing. Ranging from a pared down egg drop soup to a complex curried butternut soup, every one of these recipes will bring you comfort the second the spoon hits your lips.
Simmering at the intersection of one-pot meals and comforting vegetarian fare rests this easy ramen recipe. If you're new to incorporating mushrooms into your meals, we suggest using a variety of earthy mushrooms like oyster and enoki for both texture and taste and topping with a marinated soy sauce egg or two for maximum umami flavor.
The key to a strong meal prep menu any time of year (but especially the winter months) is hearty veggies and plenty of protein. This kale and egg soup has it all: onions, carrots, celery, potatoes, and tender kale simmering away in vegetable stock. Just before serving, you'll drop in some fresh lemon juice and eggs. A steaming hot bowl of this nutritious goodness will be a welcome sight come lunchtime.
Boasting a vibrant red hue and touch of acidity, this tomato-forward take on the traditional Chinese soup brings a welcome pop of color to any cold and dreary winter day. Just as simple to make as your typical egg drop soup, this bright and balanced recipe comes together in less than twenty minutes with the help of tender eggs, juicy tomatoes, and comforting chicken broth.
While not exactly the chicken adobo or ramen recipe you may remember from childhood, this fusion dish combines the best of both culinary worlds into a flavorful and low-maintenance meal. After simmering away in the slow cooker all afternoon, each bowl of ramen delivers a hearty dose of adobo flavor, chewy noodles, and satisfyingly tangy emulsified broth.
You're looking at the epitome of comfort food: sundubu jjigae, a spicy Korean stew with soft, fall-apart tofu, pork, and seafood in a gochugaru broth, best served boiling hot with an egg yolk nestled on top. If you like a little bit of heat in your meals, a bowl of this stew will perk you right up.
Organic eggs, chicken stock, garlic, salt, white pepper, and green onions. That's it. That's the recipe. And yet, this egg drop soup tastes as complex as something that's been simmering away for hours. Like your favorite takeout menu item, it features whispy bits of egg that help thicken the broth slightly and make for a simple yet flavorful meal.
Soup isn't a cure-all, but we've never met one that didn't lift our spirits. This curried butternut squash soup is sure to do the same for you. It's thickened with cashews and mellowed out by coconut milk and a drizzle of CBD to keep you feeling cozy and relaxed, then finished with a poached egg, cilantro, and red pepper flakes for even more flavor and nourishment.