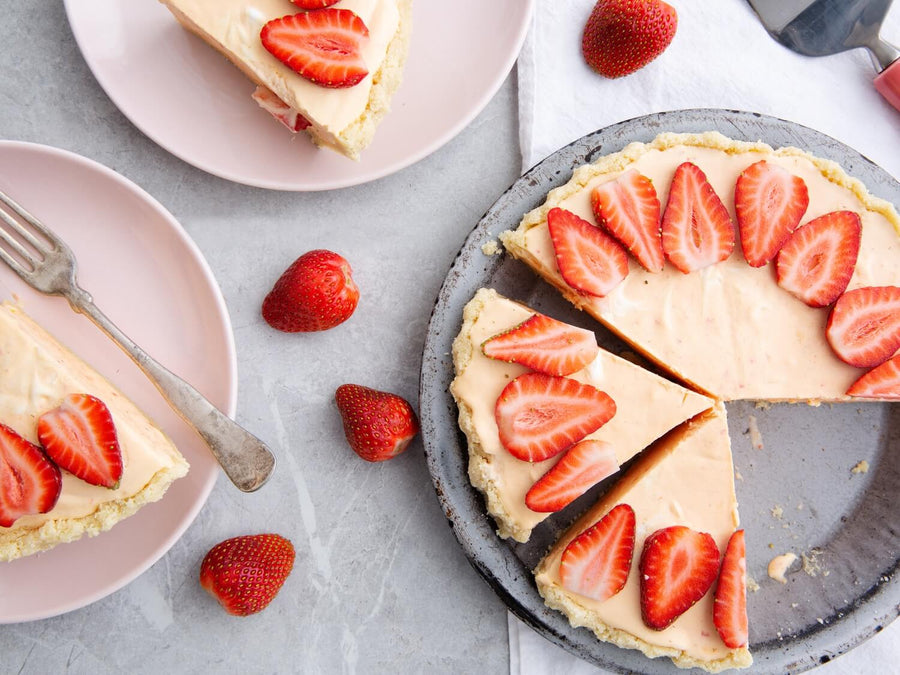 This year, get creative with these unexpected recipes that are perfect for the mother you're celebrating. Mixing it up with a picnic style brunch or dinner on the deck just might become mom's new favorite Mother's Day tradition.
You've already done pancakes and bacon. Eggy avocado toast, too. This year, get creative with these unexpected recipes that are perfect for the mother you're celebrating. Going the traditional route (think breakfast in bed and a bouqet of blooms) is never a bad idea, but mixing it up with a picnic style brunch or dinner on the deck just might become mom's new favorite Mother's Day tradition.
Warm May weather calls for something cool and sweet. Enjoy a breezy afternoon with mom, complete with a slice of this semifreddo strawberry lemonade pie-it'll compliment the spring tulips beautifully!
Whether you serve them for breakfast, dessert, or anything in between, mom is pretty much guaranteed to love these tarts filled with creamy meyer lemon curd. Most of all, she'll appreciate the thought and effort that goes into making such a stunning treat.
When it comes to breakfast in bed, French toast is a great choice. But why keep it simple? Thick slices of brioche and a splash of eggnog bring this dish up to mom's level. We recommend serving it with all her favorite toppings: maple syrup, whipped cream, and fresh berries.
Treat mom to the CBD-infused cookies of her dreams hot from the oven first thing in the morning. The soft, chewy chocolate exterior is filled with melty caramel and finished with flaky sea salt, making these the ideal treat for mom to enjoy pre-spa or post-dinner.
If you're taking mom out on an excursion or picnic in the park, don't forget to pack these snack-sized egg salad bites. She'll love all the complex flavors, from zippy pickled red onion to delicate buttery layers of phyllo.
Not all moms want a long, drawn out breakfast on Mother's Day morning. She might have a scenic hike planned or a farmer's market to explore, and that's where these quick and simple dippy eggs and toast soldiers come in.
If you have a mom who's a lover of all breakfast foods, you know that she takes French toast pretty seriously. Mix up her day by surprising her with brinner (breakfast for dinner) in the form of cinnamon sugar and Mexican chocolate sauce.
Enjoying a piping hot casserole and a cup of coffee with mom on the porch is just good for the soul-and something that we should all take time to do once in awhile. So start now and whip up the shareable version of a Croque Madame sandwich complete with melty Gruyère and silky béchamel sauce.
If treating mom to a night out is on the agenda, start your evening with a cocktail or two at home. This light and lemony gin fizz may look simple, but it boasts the same complex flavors and smooth finish that you'd probably find at mom's favorite upscale reastaurant.
No matter what meal you're dishing up this mother's day, it simply won't be complete without a cocktail. Egg white takes this cranberry-mint punch over the top, making it a drink as sophisticated as the mom you're mixing it for!
If you had the privilege of growing up with mom's homecooked meals, you know that a little love and care goes a long way. Show your appreciation with a bowl of from scratch polenta decked out in sundried tomato relish and a crispy fried egg.
This lovely low-carb coffee cake is the answer to all your questions about what to get mom for Mother's Day. Depending on where you live, mid May is the latter end of rhubarb's short season, and this is the perfect way to make those fleeting flavors shine.
Celebrate the mom who's tough to shop for with something even better than a day at the spa: chocolate mousse spiked with her favorite brandy-the perfect way to end mom's special day.
Cheesy Mother's Day greeting cards have nothing on this eggs Benedict bread pudding and accompanying hollandaise. It's all so creamy, decadant, and delicious that mom might have to borrow the recipe from you this time around.
There's a trick to avoiding long lines at your favorite diner and still giving mom the brunch she deserves: this outrageously good recipe for eggs Benedict on latkes. It may take some time and technique, but mom is worth it.
Farmer Judith (a mom herself!) has been making this cast iron cobbler ever since her own mom shared it with her many years ago. Now you can continue that tradition by treating your mom to a little taste of this Kline family recipe.
Light and airy is the way to go if you and mom are still full from that afternoon picnic and dinner at your favorite spot in town. This classic cream-filled meringue is easier to put together than it looks, and mom is sure to be impressed with the colorful results.
Taking mom on a trip to Italy may not be in your budget, but you can transport her to those picturesque farmlands via the vibrant flavors of fresh asparagus, zucchini, and tomato. Pick up a loaf of sourdough from her favorite bakery to make it a complete meal!
Sometimes a quiet afternoon involving rocking chairs, iced tea, and a warm cup of lemon pudding cake is just what mom needs on her special day. Giving her a chance to relax, read the paper, or just catch up with you can be a simple yet sweet way to thank her for all that she does.