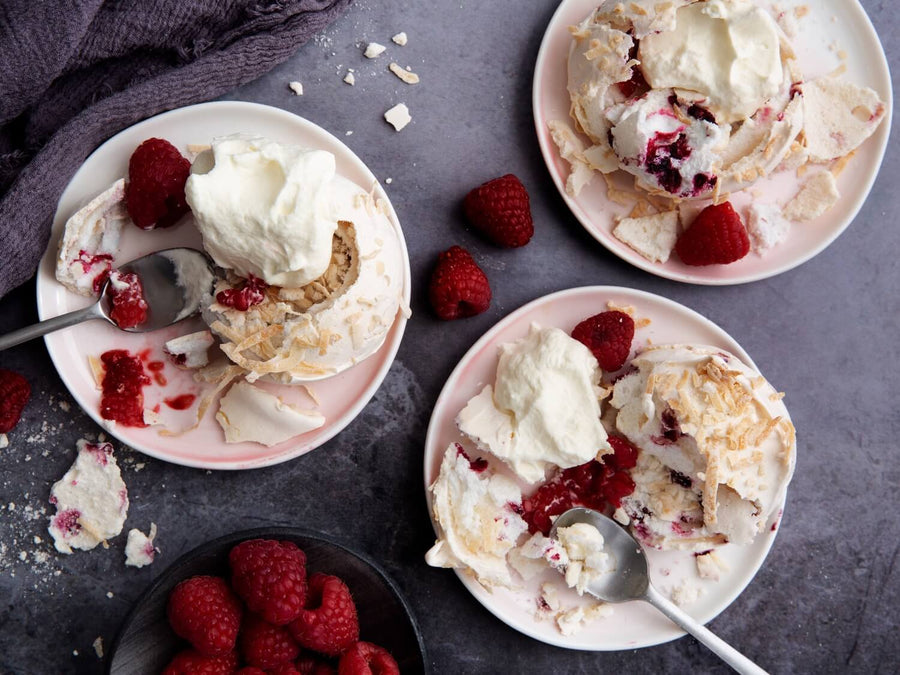 From showstopping soufflés and decadent cheesecakes to creamy chocolate mousse, these uniquely delicious holiday dessert recipes are guaranteed to shine.
The holiday season is the time to give it all you've got in the kitchen: so go ahead and make those showstopping soufflés, bourbon-spiked cheesecake, and impossibly creamy chocolate mousse. Whether you're hosting extended family or venturing home for the holidays, a great dessert is always a welcome sight after the Christmas ham or New Year's roast has been finished off. Our holiday dessert recipes range from bold and rich to simple and bright, all guaranteed to shine at any festive gathering.
Slices of Mexican tres leches cake are welcome at any dessert table, but the addition of cocoa powder and traditional soak in a sweetened milk mixture make this dessert stand out. Top it all off with a thick layer of chocolatey whipped cream to sweeten the deal and let this light, airy cake make a bold impression on your holiday guests.
This seasonal flavor isn't just for Thanksgiving! If you're a lover of all things pumpkin and pumpkin spice, make this majestic pumpkin cheesecake the star of your after-dinner spread. It starts with a buttery graham cracker crust and ends with a sour cream topping, both sandwiching the luscious maple-bourbon-pumpkin cheesecake batter in between.
Quick breads (think banana or zucchini bread) make wonderfully easy holiday desserts for anyone who can't seem to catch their breath amidst the chaos that is the month of December. If you're still working through that Christmas shopping list, don't worry: this spiced apple loaf is fairly hands-off and not nearly as complicated to make as a layered cake or even a pie—and that includes the cream cheese frosting.
Even if the world outside your door is lacking in the winter wonderland department, these charming pavlovas will make whatever holiday you're celebrating feel magical. The delicate "snowballs" are dusted with shredded coconut and topped with dollops of homemade whipped cream, making them just a tad lighter and airier than your average wintertime dessert.
Can your dessert table ever have too much chocolate? We don't think so! That's why we suggest adding this deeply chocolatey cream pie to your lineup. A scoop of rich espresso powder infuses each slice with intense mocha flavor, bringing both balance and warmth to the dark chocolate pudding filling and homemade cookie crust.
Exuding warmth, spice, and that cozy holiday feeling, these soufflés are the ultimate endeavor for even the less experienced baker. Sure, they require some patience and precision, but pulling the stunning, perfectly risen pockets of gingerbread from the oven makes it all worthwhile. They're keto-friendly too, so they'll bring everyone at your table together.
Having trouble choosing between pie and cake? Here's your solution: the best of both worlds. Apple pie filling, a trifecta of warm spices, and a three-ingredient caramel sauce all make this cheesecake worthy of adding to your prized collection of spotlight-stealing and crowd-pleasing holiday desserts.
Pound cake is a Christmas tradition in many households, and for good reason. It's dense, satisfying, and takes on a beautiful golden brown crust, especially when baked in a Bundt pan. This version is low-carb, gluten-free, and topped with an irresistable cream cheese glaze. For a seasonal touch, chopped fresh cranberries and orange zest are baked right into the batter.
Quite possibly the most wonderfully indulgent dessert you'll ever try, this horchata-infused flan is made with a whopping ten egg yolks. No wonder it's so silky! To add contrast to the sweet vanilla bean caramel topping, the recipe calls for ground cinnamon and cayenne. Every bite is rich, sweet, then spicy; everything you want from a holiday dessert recipe.
Because they're made in a baking pan (meaning you don't have to fuss with a springform), these pumpkin cheesecake bars are great for crowds and even holiday potlucks. If you need to, you can scale up this easy holiday dessert recipe to feed your in-laws, cousins, parents, grandparents, and the rest of your extended family with ease. Just expect lots of compliments on the chocolate cookie crust.
This is an ideal time of year to incorporate citrus into your baking, and 'tis the season of meyer lemons. This sweet and sour ingredient lends just the right amount of brightness and much needed acidity to the creamy curd that fills these tarts. High quality eggs are essential here: they'll make a difference in the texture and flavor, and it's a difference that your holiday guests are guaranteed to appreciate.
You've already made enough decisions when it comes to planning that festive meal, so this unique holiday dessert is a no-brainer. Starting with a low-carb batter filled with chocolate, pumpkin, pecans, and sweet cream cheese swirls, this gooey earthquake cake bakes up in less than an hour and is sure to please chocolate, cheesecake, pumpkin spice, and keto fans alike.
It's not a special occasion without chocolate mousse! If you're having an intimate holiday celebration this year, make it even more special by serving each guest their very own cup full of brandy-spiked cheer. Alternatively, scatter festive gold sprinkles into each cup and make this mousse your signature New Year's Eve dessert.
An ode to Paula Deen's beloved recipe and a nod to the original St. Louis dessert, this gooey butter cake is almost too good to be true...almost. And don't hesitate to serve it up to your keto guests, because one slice comes in at just under three net carbs. Who needs bûche de noël when you've got gooey butter cake?
Can't decide between ending your evening with dessert or a nightcap? With this sweet and sticky pecan pie, there's no need to choose. After using a splash of bourbon to add oaky notes to each caramelized and nutty bite, the only hard decision you'll be making is how many slices to save room for.