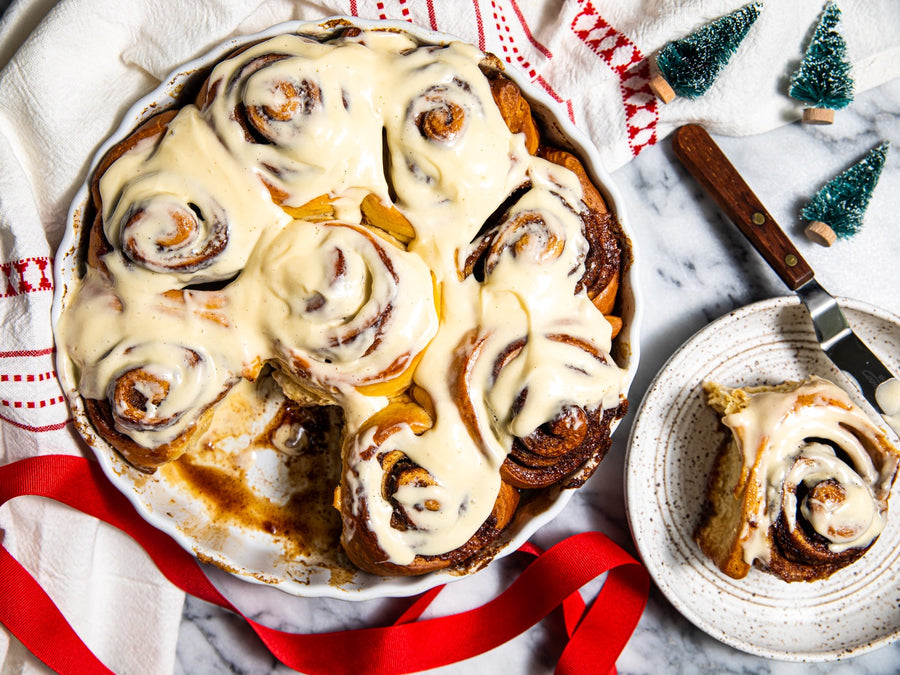 'Tis the season of entertaining...which means we've got Christmas morning breakfast ideas on the mind. Please all of your guests with these crowd-friendly recipes.
Tis the season of entertaining...which means we're thinking about Christmas breakfast ideas for a crowd. We've gathered a few of our favorites that you can easily scale up, from keto-friendly to protein-packed and everything in between. Build a crowd-pleasing Christmas breakfast buffet with these mouth-watering holiday recipes.
Eggs Benedict can be tricky to make for a crowd, but it's always a favorite. Our solution? Eggs Benedict bread pudding dotted with fresh chives and Canadian ham, served with a side of rich hollandaise sauce. The second you get a whiff of this piping hot casserole fresh out of the oven, it just might become a new Christmas tradition at your house.
There's more than one way to enjoy everyone's favorite holiday beverage! In addition to serving as a vehicle for generous swirls of cream cheese frosting, these cinnamon rolls come with nutty brown butter and eggnog baked into each layer of dough and are sure to become a beloved Christmas tradition.
If you happen to have a few extra sweet potatoes leftover from your holiday pies or favorite casseroles, this elevated scrambled eggs and toast breakfast is easy to whip for a hearty meal. Looking to feed a crowd on Christmas morning? Simply follow our farm team tips for scaling up the recipe as needed.
Is there a more magical way to start the morning than circled around the fireplace with a tray of tender, fluffy donuts? This sweet and salty recipe for homemade donuts is as easy as they come and will have you slinging fresh rings of fried yeasted dough onto your plate before it's time to unwrap gifts.
We're always looking for ways to combine all our favorite breakfast foods. Enter eggs Benedict on latkes with smoked salmon. This mashup will look beautiful on your Christmas breakfast table and has something to please everyone's palate.
When traditional French toast doesn't seem quite over-the-top enough for Christmas morning, it's time for this maple pecan French toast bake. Boasting a thick layer of custard-soaked croissants nestled between pockets of cream cheese and pecans, this casserole is sure to bring the holiday magic with every crispy, crunchy, and maple-drizzled bite.
Grab your biggest skillet and rouse the family - this reimagined shakshuka will be ready by the time everyone has made their way downstairs. A bubbling hot bowl of baked eggs swimming in spiced tomato sauce and fresh fennel is the perfect pre- or post-gift-opening meal.
When it's too early to open gifts, head to the kitchen and get to work on these flaky popovers. Best with a pat of butter and covered in colorful jams and marmalades, these warm pockets of goodness are sure to delight as much as the presents under the tree.
Step away from the stove! Baked eggs are a great Christmas breakfast idea for a crowd, ideal for feeding throngs of grandparents, in-laws, and cousins. Family members young and old will be delighted with these pre-portioned cups layered with crispy hash browns, salty chorizo, and bright herbs. You can even cook the yolks to each guest's desired doneness by adding a few minutes to the bake time.
For all the keto guests at the table on Christmas morning, whip up this caramelized onion and gruyére quiche; no need to sacrifice that crispy crust. The golden brown top and velvety texture make this meal a Christmas present in and of itself.
The beauty of this Christmas breakfast casserole recipe is how much flavor is packed into it. For that, you can thank the melty Gruyère, salty pockets of ham, and silky smooth béchamel sauce that soaks into the crusty French bread in the oven. It's a special occasion dish that you'll look forward to serving every Christmas morning from here on out.
Sometimes less is more when it comes to Christmas breakfast - there are so many other moments to celebrate and memories to make. If you're going the finger food route rather than making one big dish, these mini cheese and ham quiches are a great addition to your spread. They're simple, classic, and kid-friendly.
For a sweet and oh-so-delicious Christmas breakfast, look no further than this eggnog French toast. It speaks for itself: thick-cut brioche soaked in eggnog, a drizzle of maple syrup, and a dollop of whipped cream...what's not to love?
When you're feeding a horde of hungry kids eager to open presents or make their first snowmen of the season on the big day, cooking eggs and bacon to order simply isn't realistic—so pop a few batches of these hash brown baskets in the oven. They're filled with everyone's favorite breakfast foods nestled into crispy, cheesy potato cups.
On mornings that typically mean more quality time with famiy and friends, we're all about making every minute count with kitchen shortcuts like prepared puff pastry. This flavorful quiche comes with all the buttery, flaky benefits of a puff pastry crust while maintaining a soft and creamy filling thanks to pockets of fresh ricotta cheese.
Inherently cozy, shakshuka has long been a go-to winter brunch idea, but who has time to stand at the stove when there's a full house to feed? This sheet pan shakshuka is the perfect solution. Boasting an entire 9" x 13" pan full of onion, bell pepper, feta, and spices all bubbling away in a rich tomato sauce, this hands-off recipe is sure to please both the crowd and the cook.
Nothing compliments the comfort, joy, and coziness of Christmas morning more than the familiar aroma of fresh banana bread baking away in the oven. Made with delightfully nutty browned butter and whole wheat flour, this elevated version of the classic quick bread brings a perfect balance of elegance and nostalgia to the most wonderful day of the year.