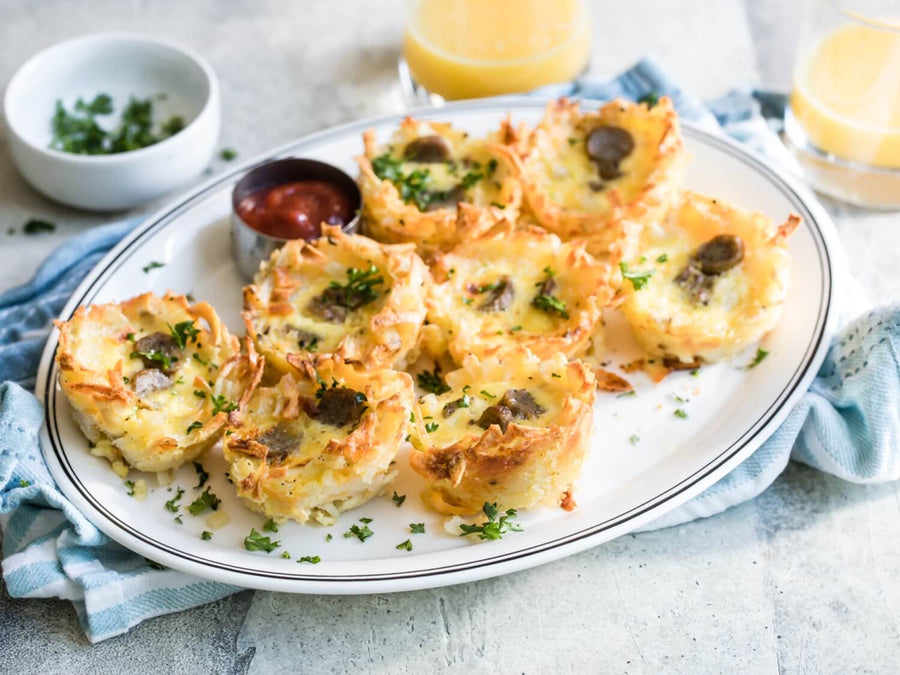 If you want to turn your Sunday into a full-fledged football party, why not up the ante? Share these small bites, tasty appetizers, and no-utensils-needed snacks in between the touchdowns, fumbles, and commercials on gameday.
Football fan or not, you have to admit that nothing brings family and friends together like enjoying a few appetizers while the big game unfolds through the evening. Pizza is an obvious choice, and chips and salsa never fail, but if you want to turn your Sunday into a full-fledged football party, why not up the ante? Share these small bites, tasty finger foods, and no-utensils-needed snacks in between the touchdowns, fumbles, and commercials.
Start your game day off right with the satisfying crunch of these loaded breakfast egg rolls. Irresistably crispy and stuffed to the seams with spiced sausage, bacon, cheddar, avocado, and shredded potato, these no-holds-barred rolls pack a delicious punch of comfort food flavor that'll last well into the fourth quarter.
Despite being so mouthwatering that you won't want to share it, this egg-topped flatbread is an easy solution for a hungry crowd. When the action on TV hits a lull, fire up your oven or grill and watch your party guests slowly trickle into the kitchen the second that aroma of pesto and pancetta starts to waft through the air.
Making a batch of these hash brown baskets for game day is equivalent to treating your family to breakfast for dinner: a guaranteed win. The crispy potato baskets are filled with cheesy eggs and sausage, which makes for a filling snack that your fellow football spectators won't even need utensils for.
If you're cracking open a few beers on Sunday night, Scotch eggs are a requirement. They're quite literally layered with flavor: the hard-boiled eggs, herbed sausage, and panko breadcrumbs are all fried to crispy, golden perfection that will shine on your gameday charcuterie board.
Big games call for big flavors, and nothing does the job better than sour, briney dill pickles. They'll brighten up your egg salad, which can be served in countless ways: as sliders, with crackers, or atop pickle slices.
The perfect fusion of classic finger food and brunch delight, these classy deviled eggs feature a smooth crème fraîche filling, smoked salmon, and a few sprinkles of everything bagel seasoning. They're also packed with protein, naturally low-carb, and come together quickly for an easy last-minute appetizer.
Instead of ordering a few cheese pies, go into full hosting mode and make something that will be even more memorable than the final score. This sweet and savory pizza combines caramelized shallots, fig preserves, fresh arugula, goat cheese, and runny yolks to dip your crust in.
Salty, chewy, and perfect for dunking in a homemade creamy mustard dip - there's no shortage of reasons to love these delicious pretzel bites. With a keto-friendly dough made from egg, mozzarella, and coconut flour, these dippable bites cook in just five minutes for an easy low-carb and nut-free appetizer that everyone can enjoy.
Put out a platter of these flavor-packed caprese, Cuban, and banh mi hard-boiled eggwiches on game day and they'll disappear right before your eyes. Since the egg stands in for the bread/bun in these sandwich sliders, they're naturally low in carbs and (almost too) easy to gobble up.
No game day party is complete without a platter of meatballs—the kind you can skewer with a toothpick and dip into a savory, lip-smacking sauce. These pork and zucchini meatballs are just that, and fellow football fans will love the break from traditional American flavors that Thai party bites offer.
Think nachos, but elevated. This traditional Mexican dish is comfort food at its finest, and performs well at parties where shareability is key. And like nachos, chilaquiles come together in minutes: simply let the tortilla chips and red chili sauce bake while you prepare the toppings.
There's nothing wrong with wings and beer, but if you're going for something a little fancier, these egg salad bites are a great choice. They're served in crackly phyllo cups, topped with crispy bacon and quick pickled onions, and pair perfectly with your gameday cocktails.
Deviled eggs are the epitome of football food, and nothing feeds hungry guests quite like a platter of them. These are pickled in a beet brine, which gives them a stunning pop of pink and a sour zing that's sure to keep everyone awake through half-time.
Small bites are always a welcome sight at a party. They travel well and don't require any utensils (meaning less cleanup for you), so whether you're hosting Saturday night football fans or heading to a potluck, these bite-size cheese and ham quiches are a touchdown.