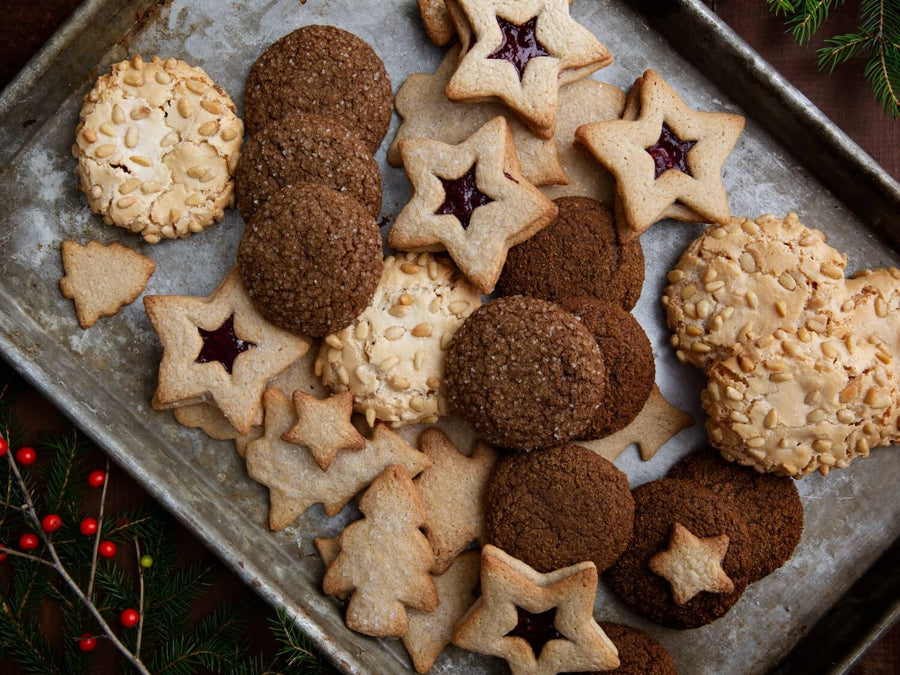 Just like a perfect cookie box, there's something sweet, salty, nutty, and nostalgic for everyone to enjoy in this roundup of holiday cookie recipes.
If you ask us, cookies are the powerhouse of holiday baking. They're small enough to eat by hand, easy to package into beautiful holiday cookie boxes, and a joy to bake with family on a cozy winter afternoon. The good tidings a platter of holiday cookies can bring are nearly as numerous as the endless variety of cookie recipes out there—which is why having a curated list of reliable options is of the utmost importance. We've done some of the work for you by rounding up our favorite cookie recipes for the holidays. And just like a perfect cookie box, we've included something sweet, salty, nutty, and nostalgic for everyone to enjoy.
As soon as we hear the first note of holiday music or see those first snowflakes fall to the ground, we know it's time to break out the molasses and get to work on these nostalgic gingerbread friends. Perfectly spiced with ginger, cinnamon, brown sugar, and cloves, these yuletime staples come together easily in only one bowl, making them one of our favorite easy holiday cookie recipes.
Be it sprinkled, iced, or plain and simple, we've never met a sugar cookie we didn't like. With just a few common ingredients and a couple helpers for rolling out and decorating, these sweet and crispy sugar cookies go from a fun activity to a delicious treat in one quick winter afternoon. And thanks to whole grain oat flour, this gluten-free holiday cookie recipe can be enjoyed by all.
Looking for a holiday cookie box inclusion that is sure to make friends everywhere you go? These sweet and salty chocolate cookies are the only introduction you'll need. Filled with a gooey CBD-infused caramel and topped with flaky sea salt, these cookies bring smiles all around whether eaten warm from the oven or frozen and rewarmed for the perfect midnight snack. Not sure about using CBD caramels? Just swap them out for soft caramels instead.
When it comes to pignoli cookies, don't let the short and sweet ingredient list fool you. These traditional Italian desserts are made with a simple batter of almond paste, confectioners' sugar, and egg whites for a deliciously soft and cloud-like texture. The signature pignoli touch, a generous sprinkle of pine nuts that toast gently while baking, adds a sophisticated crunch to these naturally gluten- and dairy-free cookies.
If you're on the hunt for the perfect treat to round out your holiday cookie platters, look no further than these flourless cookies. Sweetened with coconut sugar and molasses and filled with warmth from cinnamon, nutmeg, and ginger, these spiced cookies add a bold and flavorful touch to any dessert tray and pair wonderfully with a warm cup of tea.