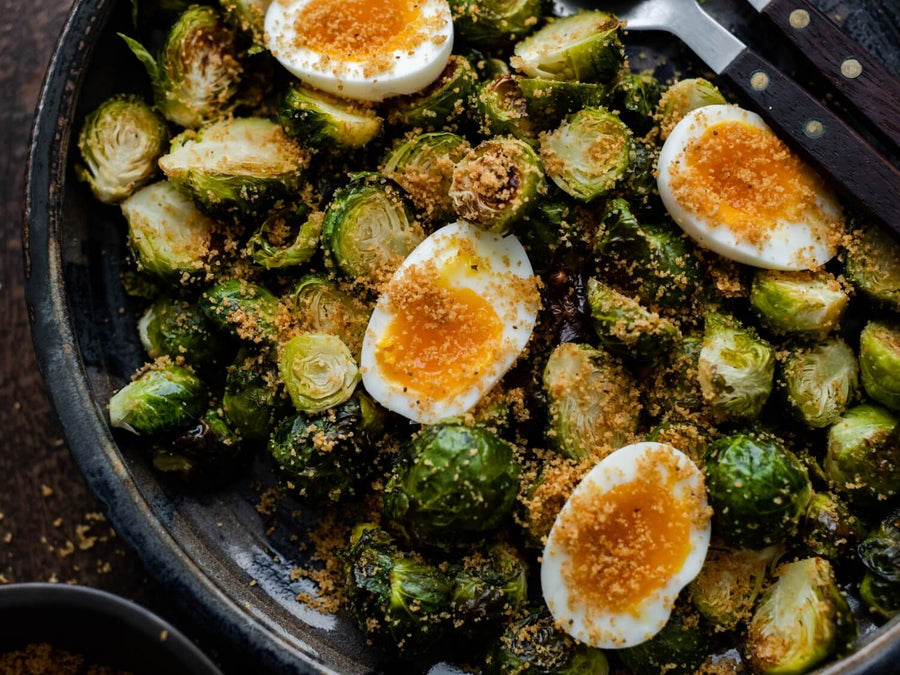 Friendsgiving is an opportunity to begin a new tradition and reconnect with friends and loved ones. If you're on side dish duty, one of these recipes is sure to be a hit at your holiday get-together.
Friendsgiving is an opportunity to begin a new tradition, reconnect with old friends, and celebrate those in your life who you think of as family, whether you're related or not. Chances are you've got a lot of catching up to do and plenty of laughs to have, so split up the cooking among your comrades to guarantee an easy, relaxed, and memorable day—the category that all Friendsgivings should fall into. If you're on side dish duty, one of these is sure to be a hit with your friends.
Who says fried rice doesn't deserve a spot at your Friendsgiving table? Twenty minutes is all it takes to assemble this stunning ensemble of crisp vegetables, tender shrimp, and fried rice with a golden egg yolk coating. Your friends will appreciate a refreshing alternative to the traditional Thanksgiving starches, and any leftovers can be remixed into a satisfying stir fry the next day.
Let Thanksgiving be the time and place for a traditional cornbread or country stuffing, and instead, surprise your friends with this sourdough bread pudding. Like a perfect stuffing, it had a soft, bready interior with a golden oven-kissed top. Unlike most stuffings, it's scattered with Parmesan cheese and drizzled with hollandaise sauce.
There's rarely room left on the plate (or in your stomach) for those dense dinner rolls after you've filled up on turkey and mashed potatoes, so bring a lighter, airier option to Friendsgiving: popovers. They require just five ingredients and 35 minutes in the oven. No more waiting around for the buns to rise!
A balanced Friendsgiving spread requires a vegetable side dish, and soggy green bean casserole never does the trick. Opt for a platter of these roasted Brussels sprouts topped with homemade breadcrumbs and jammy eggs. They bring the fresh flavor and crispy texture that most holiday meals are missing.
Everyone loves a side dish that doubles as an irresistable appetizer, and these loaded breakfast egg rolls fit the bill perfectly. Stuffed with comfort foods like spiced breakfast sausage, shredded potato, scrambled eggs, bacon, and cheddar, these egg rolls will pull double-duty starting Friendsgiving off right and keeping the party going until every delicious bite is gone.
Quiche is an excellent addition to any get-together because it's a classic crowd-pleaser. This one is layered with caramelized onions, melty Gruyére, and a creamy, custardy filling that all rests atop a garlicky almond flour crust. Got friends who eat low-carb or avoid gluten? The recipe is keto-friendly and gluten-free.
Side salads aren't exactly up there on most Thanksgiving favorites lists, but Friendsgiving is all about creating new traditions. That's why you should bring this over-the-top stunning asparagus, truffle, and morel salad. Reason number two: the port wine vinagrette that you'll want to toss all future salads in.
Pressed for time? Deviled eggs are always a good idea. These are filled with an ultra creamy sweet potato and yolk mixture, then topped with crunchy candied pecans. You probably have all the required ingredients on hand already, given that it's November, so this recipe is an excellent choice for those last-minute Friendsgiving plans.
If you're the out-of-the-box thinker in your friend group, this bacon-studded cauliflower salad is your out-of-the-box solution to being assigned side dish duty for this year's Friendsgiving. It's impossibly creamy and savory, making it a great mashed potato substitution for keto friends. And for all others, it's sure to be a welcome break from all the piping hot dishes on the table.
Think of strata as the stuffing of breakfast. Instead of chicken stock and aromatics, it's filled with an eggy milk mixture that transforms the slightly sweet pieces of brioche into a savory casserole dotted with rosemary and Italian sausage.
Even if you're not a pro pastry chef, these French-style puffs of choux dough and sweet, nutty Asiago cheese are completely attainable as a last-minute contribution to this year's Friendsgiving. They can be a stand in for dinner rolls or be served as an appetizer for peckish attendees before the whole group has arrived.
Be bold with your Friendsgiving offering by whipping up this head-turning Swiss onion quiche. Living up to its name, it's filled with onion and gooey Swiss cheese, plus fresh thyme and crispy bits of bacon that manage to sneak their way into every forkful.