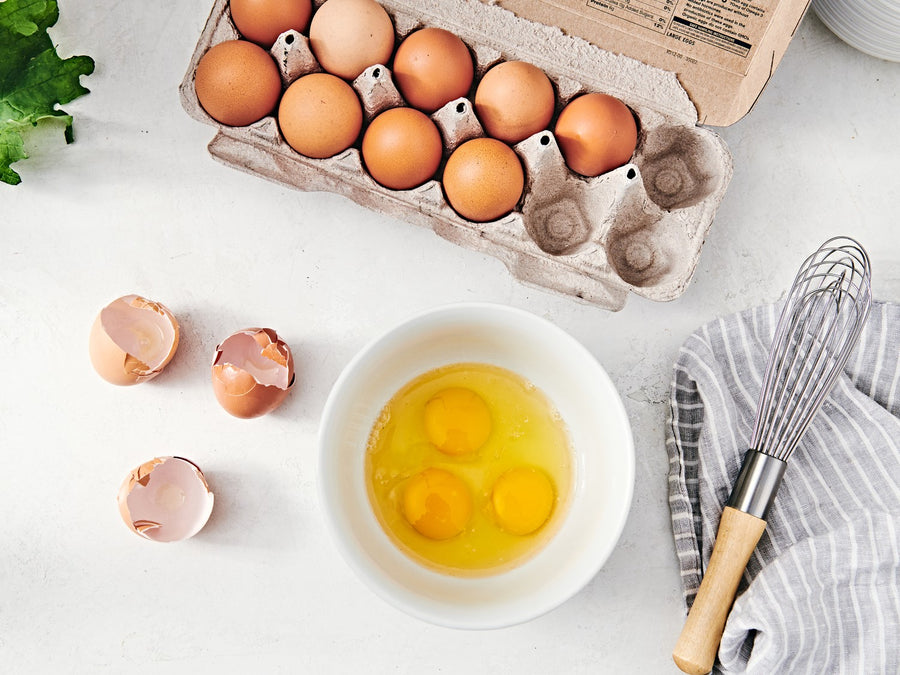 Got leftover yolks? Don't throw them out! Instead, put them to use in these recipes that call for extra egg yolks. Who knows? You could be just a few yolks away from homemade pasta carbonara or the best flan you've ever had.
So you whipped up pavlova, and now you have a bowl full of egg yolks that you're not sure what to do with. Who knows...you might have just cracked open a whole carton of double yolks. Or maybe you made a light-as-air angel food cake and feel like you're playing devil's advocate, now toying with the idea of tossing the leftover yolks that you'll never find a use for. We're here to tell you one thing: don't toss those yolks! There are so many ways to utilize them in your cooking and baking. Once you've perused these sweet and savory ways to use up extra yolks, you'll never throw away a leftover yolk again.
Though butter plays an important role in the sauce, traditional hollandaise gets a lot of its richness and that silky smooth texture from egg yolks. This recipe calls for two yolks (along with a full two sticks of butter) and is pure luxury when drizzled atop eggs Benedict or your favorite roasted vegetables.
Zabaglione is a sweet Italian custard, usually served with fresh fruit. Here, it's a delightful topping for grilled peaches, pairing perfectly with the sweet, caramelized summer fruit. The recipe calls for two yolks, but the zabaglione can be doubled if you like your dessert extra saucy.
Trust us when we say you'll want to put this runny yolk sauce on absolutely everything. Similar to hollandaise but without the butter, this sauce is cooked low and slow with a sous vide machine to achieve the consistency of a soft-boiled or easy-over egg yolk. The recipe calls for a full dozen yolks, but can easily be halved.
Any pie with a pudding-like filling almost always requires extra egg yolks, and the same is true for this chocolate mocha cream pie. In fact, you won't have to crack any new eggs to make it: the recipe calls for a whopping five yolks and no whites.
With their bouncy dough and sweet vanilla custard, these steamed dim sum buns bridge the worlds of sweet and savory. The custard requires a total of three yolks, which give it that telltale thick texture, velvety mouthfeel, and pale yellow hue.
Because they're keto, these raspberry lemonade bars are all about the creamy, luscious, zesty lemon raspberry filling. To achieve the right texture, you'll need three eggs plus two extra yolks. The result? A curd-like consistency that holds together when cut.
Swap out the classic English muffin for a bed of tender asparagus and you may never go back! But if there's one thing that makes eggs Benedict eggs Benedict, it's the silky hollandaise sauce drizzled on top. This one calls for two yolks and a whole lot of butter, so you know it's going to be good.
Got yolks? It's time to put on your chef hat and take a whack at this beloved Italian dish: homemade pasta carbonara. Along with Romano and guanciale, the four extra egg yolks required in this recipe are your ticket to a creamy, emulsified sauce without the use of actual cream.
The strawberry-lemon filling in this pie is semifreddo style, which means semi-frozen. Similar to ice cream, it's cold and creamy, but not icy. That's partly thanks to the addition of four yolks, which help stabilize the mixture and keep the texture soft and silky.
Cooked with a sous vide machine in individual Mason jars, this crème brûlée is all about texture and consistency. But the precise cooking method isn't the only thing that guarantees a luscious result: the five egg yolks bring the creaminess in a big way.
Having extra yolks sitting around is a fantastic excuse to make this six-yolk pots-de-crème recipe (not that you need an excuse). It's luxuriously chocolaty and rich, laden with heavy cream, vanilla bean, and 55% chocolate.
If you're up to your neck in egg yolks, flan is one of the quickest ways to use them up. This classic leche flan is made with a whopping ten (yes, you read that right!) yolks, which, when combined with sweetened condensed milk and evaporated milk, transform into a deliciously dense, sliceable custard.
When you think about it, it makes sense that yolks and Meyer lemons are a total match. Like most citrus, Meyer lemons have the unique ability to "cut" the fat (which comes in the form of two extra egg yolks) in these creamy lemon curd tarts, while adding a hint of sweetness and floral notes to the dessert.
Chococlate mousse is a bit of a conundrum: it's light yet intense, each bite teeming with the rich flavor of cocoa. Yolks, of course, are the culprit. In this recipe, they're heated with heavy cream, chocolate chips, brandy, sugar, and butter to create the classic dessert you know and love.
Other ways to use leftover egg yolks
Make your scrambled eggs extra rich and creamy by adding a few extra yolks.
Add a couple egg yolks to your breakfast egg bites before baking for an even more filling on-the-go snack!
Bulk up your casseroles and breakfast bakes by tossing in a few extra yolks.
Swap some of the whole eggs in your quiche for yolks only.
Use up extra yolks in your brunch strata for an even more custardy bite.
Make homemade pasta! Some recipes call for whole eggs, but many call for yolks only.
Whisk your extra egg yolks with 1 teaspoon of water per yolk, grab a pastry brush, and use the mixture as an egg wash to achieve a deep, golden crust on your pies, dinner rolls, danishes, scones, and other baked goods.
Swap yolks for whole eggs in your French toast batter to thicken it up and add richness.
Use extra yolks to make a frozen or chilled sweet treat like ice cream, gelato, crème brulee or your favorite kind of semifreddo.
Use yolks in place of whole eggs for binding meatballs.
Curds, custards, puddings, and sauces typically call for yolks only. Try your hand at making crème anglaise or aioli the next time you have a few extra yolks on your hands!