Ingredients
For the dough
1/2 cup (125g) water
1 teaspoon (7g) active dry yeast
5 tablespoons (60g) sugar
1 2/3 cup (250g) cake flour (or low-gluten flour)
2 teaspoons (7g) baking powder
1 1/2 teaspoons (7g) shortening
For the custard
3 tablespoons (20g) cornstarch
1 teaspoon (3g) all-purpose flour
1/4 cup (56g) sugar, separated
3 large Pete & Gerry's eggs, yolks only
1 cup (240g) whole milk
1 tablespoon (15g) unsalted butter
1/4 teaspoon vanilla extract
Serv. Size: 1 bun, Servings: 16
Amount Per Serving
Calories 120
Fat Cal. ** 25**
Total Fat 2.5g (4% DV)
Sat. Fat 1g (5% DV)
Trans Fat 0g
Cholest. 40mg (13% DV)
Sodium 70mg (3% DV)
Total Carb. 21g (7% DV)
Fiber 0g (0% DV)
Sugars 8g
Protein 2g
Vitamin A (2% DV)
Vitamin C (0% DV)
Calcium (6% DV)
Iron (6% DV)
Vitamin D (4% DV)
Percent Daily Values (DV) are based on a 2,000 calorie diet.
For more information about how we calculate our nutritional content and to read our nutritional disclaimer, please check out our Recipe Nutrition Facts blog post.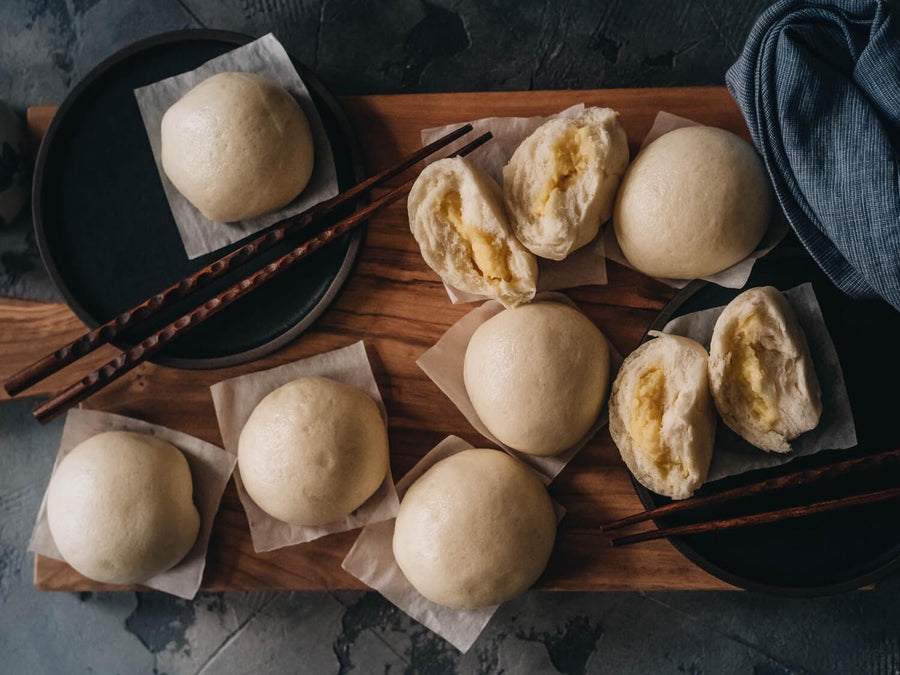 Prep Time: 1 hour
Cook Time: 20 minutes
Yield: 16 buns
Prep Time: 1 hour
Cook Time: 20 minutes
Yield: 16 buns
Ingredients
For the dough
1/2 cup (125g) water
1 teaspoon (7g) active dry yeast
5 tablespoons (60g) sugar
1 2/3 cup (250g) cake flour (or low-gluten flour)
2 teaspoons (7g) baking powder
1 1/2 teaspoons (7g) shortening
For the custard
3 tablespoons (20g) cornstarch
1 teaspoon (3g) all-purpose flour
1/4 cup (56g) sugar, separated
3 large Pete & Gerry's eggs, yolks only
1 cup (240g) whole milk
1 tablespoon (15g) unsalted butter
1/4 teaspoon vanilla extract
Serv. Size: 1 bun, Servings: 16
Amount Per Serving
Calories 120
Fat Cal. ** 25**
Total Fat 2.5g (4% DV)
Sat. Fat 1g (5% DV)
Trans Fat 0g
Cholest. 40mg (13% DV)
Sodium 70mg (3% DV)
Total Carb. 21g (7% DV)
Fiber 0g (0% DV)
Sugars 8g
Protein 2g
Vitamin A (2% DV)
Vitamin C (0% DV)
Calcium (6% DV)
Iron (6% DV)
Vitamin D (4% DV)
Percent Daily Values (DV) are based on a 2,000 calorie diet.
For more information about how we calculate our nutritional content and to read our nutritional disclaimer, please check out our Recipe Nutrition Facts blog post.
Also known as nai wong bao, custard buns are a dim sum classic. Made with a yeast dough and cooked in a steamer, these buns have a super soft and bouncy texture with a smooth surface. The custard filling is creamy, fragrant, and sweet, embodying that perfect melt-in-your-mouth texture when eaten warm. They lie somewhere between milk bread rolls and cinnamon buns: hearty and filling, but just sweet and creamy enough to pass for dessert, they can be enjoyed during breakfast, as an afternoon snack with tea, or alongside your dinner.
To make the dough
Add water to a small microwave-safe bowl and warm to approximately 100-110F, about 30 seconds in microwave. Add sugar and active dry yeast and let sit for 5 minutes to allow the yeast to activate.
While the yeast activates, add cake flour and baking powder into the bowl of a stand mixer. When bubbles form on the surface of yeast mixture, add to bowl with the flour and baking powder. Stir with a spatula just until liquid is absorbed by dry ingredients.
Insert dough hook attachment into mixer. Start kneading at low speed, then gradually increase to medium speed (level 6 out of 10). Let knead for 10 minutes, until dough is very smooth. If needed, stop the mixer halfway through and scrape dough from the sides of the bowl.
Add shortening to dough and knead on medium speed for another 5 minutes. Dough should be soft, smooth, and easily lift from the bowl without sticking to your hands.
Lightly grease a large bowl with butter or cooking spray. Transfer dough into greased bowl and cover bowl with plastic wrap. Let rest in a warm part of your kitchen until dough triples in size, about 2 hours.
To make the custard
While dough rests and rises, combine cornstarch, all-purpose flour, and 1/8 cup sugar in a small bowl. Set aside. In a separate large bowl, whisk egg yolks briefly to break them up.
In a small saucepan, warm milk and remaining 1/8 cup sugar over medium heat, stirring occasionally to dissolve the sugar completely. Cook until mixture reaches 120F (no higher than 150F). You might see a few bubbles here and there, but if the mixture starts foaming, it's too hot.
Just before the milk mixture is to temperature, add cornstarch, flour, and sugar mixture to egg yolks, whisking until a uniform paste forms. Do not add the dry ingredients too early, because the sugar will change the texture of the eggs.
Add warm milk mixture into egg yolk mixture about 1/4 cup at a time, whisking constantly with each addition until the milk is fully incorporated into the paste. Continue adding and stirring until a thin, smooth mixture has formed and all milk has been added.
Return mixture back to the the pot used to warm the milk. Heat over medium-low and stir constantly until mixture thickens, about 5 minutes. Custard should be thick enough for you to draw a line on the bottom of the pot using a spatula. The custard will start to thicken suddenly, like a switch was flipped, so keep a very close eye on it. When this occurs, remove from heat immediately and add butter and vanilla extract, then stir to combine.
Line a large, deep plate with plastic wrap. Place a large mesh strainer on top. Pour custard onto lined plate through the strainer to smooth out the texture. Use a spatula to press custard through the strainer if any lumps remain.
Cover custard with plastic wrap, pressing the wrap against the custard itself so it won't form a skin. Chill in the fridge until fully cooled, about 2 hours.
To assemble the buns
Cut parchment paper into 16 3" (7 cm) squares to hold the buns. Punch the air out of the dough and transfer it onto a lightly oiled working surface. Knead a few times to form dough into a round ball, then divide into 16 even pieces by cutting it first into 2 even strips, then cutting each strip into 4 small pieces. Each piece of dough should weigh approximately 27 grams.
Use your hands to roll and shape dough pieces into balls. Working with the dough balls one at a time, flatten each ball using your palm. Then, use a rolling pin to roll the flattened dough into a round disc that is thick in the middle and thin on the edges, about 2.5" to 3" (6 to 7 cm) in diameter.
Carefully remove rolled dough wrapper from your work surface and place it onto your palm. Drop a heaping tablespoon of custard into the center of wrapper, pressing down gently to release any air bubbles within the custard.
Use your other hand to gather the wrapper onto the top of custard filling. The wrapper will start to form pleats and retain its round shape. Finally, place the wrapped bun pleated-side-down onto one of the cut parchment squares, then place it on a plate. Set a timer before moving onto the second bun in order to keep track of resting time; ensure that the buns rest 20-30 minutes before steaming.
Loosely cover buns with plastic wrap to prevent them from drying out as you repeat the process with remaining dough and custard.
To prepare the steamer, add about 3" (7 cm) of water to the pot and heat over medium-high until water starts to boil. Place rested buns onto steamer rack, leaving at least 2" (5 cm) in between, as the buns will expand during cooking. Cover and let steam for 10 minutes. Once done, remove steamer rack and place onto a trivet. Carefully uncover steamer rack, let steam escape, then transfer buns onto a serving plate. Let buns cool for 5 minutes before eating.

Farm Team Tips

When making your custard, take care not to overheat the milk, or it will cook the eggs and turn the filling into a lumpy soup. If you do not have a thermometer, heat up the milk over low heat until it's warm, but not scalding hot to the touch.

It's important to stir the custard constantly as you heat it up on the stove. The mixture will be very runny at the beginning and will take a few minutes to cook, but once it starts to thicken, everything happens in the blink of an eye.

Pressed for time? Chill the custard in the freezer for 30 minutes instead of refrigerating. The texture will harden and become easier to work with once chilled.

Depending on the size of your steamer, you might need to steam the buns in batches. If this is the case, prepare the steamer after wrapping half of the buns so that one batch can steam as you wrap the rest.

These custard buns taste best when still warm, but can be served at room temperature or stored. To store, let the buns cool completely, then place in a sealed container at room temperature if serving the same day. Buns can also be stored for 2-3 days in the refrigerator. To serve, gently warm the buns in the microwave.