Ingredients
For the sauce
2 cups chicken, beef, or vegetable stock
2 tablespoons oyster sauce
2 tablespoons Shaoxing wine (or dry sherry)
2 tablespoons light soy sauce
1 teaspoon dark soy sauce
1/8 teaspoon white pepper powder
For the beef and eggs
1 pound (450g) ground beef
1 tablespoon peanut or vegetable oil
1 yellow onion, minced
2 teaspoons ginger, minced
2 teaspoons cornstarch
1 cup frozen green peas
1 teaspoon sesame oil (optional)
4 large Pete & Gerry's eggs
2 cups steamed rice (see notes)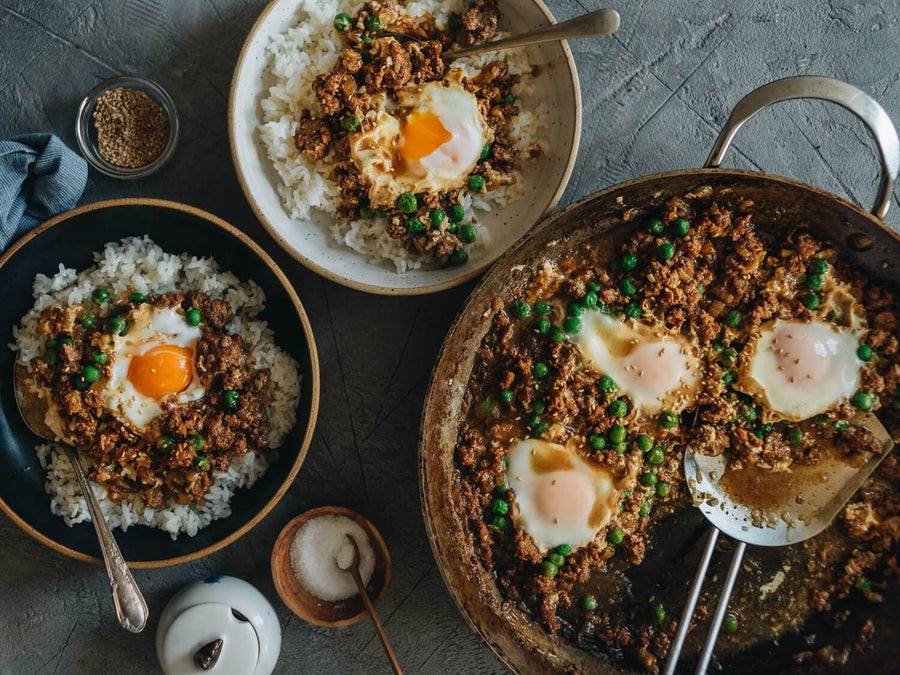 Prep Time: 10 minutes
Cook Time: 20 minutes
Yield: 4 servings
Prep Time: 10 minutes
Cook Time: 20 minutes
Yield: 4 servings
Ingredients
For the sauce
2 cups chicken, beef, or vegetable stock
2 tablespoons oyster sauce
2 tablespoons Shaoxing wine (or dry sherry)
2 tablespoons light soy sauce
1 teaspoon dark soy sauce
1/8 teaspoon white pepper powder
For the beef and eggs
1 pound (450g) ground beef
1 tablespoon peanut or vegetable oil
1 yellow onion, minced
2 teaspoons ginger, minced
2 teaspoons cornstarch
1 cup frozen green peas
1 teaspoon sesame oil (optional)
4 large Pete & Gerry's eggs
2 cups steamed rice (see notes)
With the deep, unmistakable umami flavor of soy and oyster sauce running through it, a bowl of this Cantonese beef and eggs over rice is as comforting as it is delicious. In keeping with the spirit of many traditional Cantonese dishes, the gravy-like mixture is a beautiful balance of sweet and savory that takes under 30 minutes to travel from your fridge to your breakfast, lunch, or dinner table.
To make the sauce
In a medium bowl, stir together all sauce ingredients until well combined. If desired, substitute 2 tablespoons plus 1 teaspoon regular soy sauce for the light and dark soy sauce (this may result in a finished dish that's a bit lighter in color than what's pictured here).
To make the beef and eggs
In a large nonstick or carbon steel pan over medium, heat the oil. Add ground beef and use a spatula to spread it across the bottom of the pan. Let cook undisturbed until bottom has browned.
Use a spatula to break up the beef into smaller pieces. Add minced onion and ginger and cook, stirring occasionally, until onions are tender with lightly browned edges, about 5 minutes.
Pour sauce into pan and stir to combine with beef, ginger, and onion. Cover pan and simmer for 10 minutes, until sauce has reduced slightly, but still covers the beef. If sauce has reduced too much, gradually stir in more broth.
In a small bowl, whisk together cornstarch and 2 tablespoons of water. Add frozen peas to beef, stir cornstarch slurry once more to ensure that it is completely dissolved, then pour slurry into pan, stirring well.
Crack eggs into pan on top of the beef and sauce. Cover pan immediately and let steam, still on medium heat, until egg whites are set and yolks are still runny, about 2-3 minutes. Avoid letting the sauce come to a full boil by reducing the heat or removing pan from heat for a few seconds.
Once eggs are cooked to your liking, uncover pan and remove it from the stove. Drizzle sesame oil over top if desired, then divide steamed rice among 4 bowls and use a spatula or ladle to transfer the beef, sauce, and eggs into each bowl. Serve immediately.
Notes
Traditionally, this Cantonese dish is made by cracking the eggs into the mixture right after plating. The idea is to use the hot beef and sauce to quickly cook the egg, which results in a semi-raw texture. If you prefer your whites set, simply follow the recipe step by step and check the eggs for doneness before serving.
To make this dish completely gluten-free, look for a store-bought oyster sauce that does not contain wheat, a common added ingredient. Alternatively, you can make homemade oyster sauce with mushrooms.
If making freshly steamed rice, get it started right before you begin browning the beef so that it's ready right on time.