Ingredients
For the hollandaise sauce
2 large Pete & Gerry's eggs|recipes/yolks only
2 teaspoons lemon juice
1/4 teaspoon salt
1/4 cup (1/2 stick) unsalted butter, melted
1/8 teaspoon cayenne
For the asparagus eggs Benedict
2 tablespoons avocado oil, divided
8 slices Canadian bacon
1 lb asparagus, washed and trimmed
Salt and freshly ground black pepper, to taste
1 tablespoon white vinegar
8 large Pete & Gerry's eggs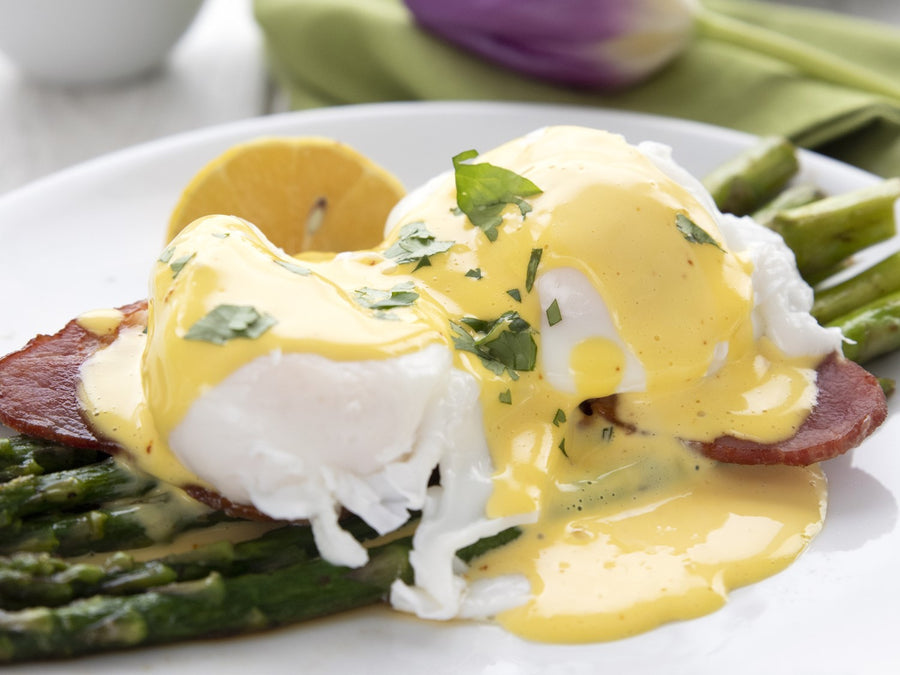 Prep Time: 20 minutes
Cook Time: 20 minutes
Yield: 4 servings
Prep Time: 20 minutes
Cook Time: 20 minutes
Yield: 4 servings
Ingredients
For the hollandaise sauce
2 large Pete & Gerry's eggs|recipes/yolks only
2 teaspoons lemon juice
1/4 teaspoon salt
1/4 cup (1/2 stick) unsalted butter, melted
1/8 teaspoon cayenne
For the asparagus eggs Benedict
2 tablespoons avocado oil, divided
8 slices Canadian bacon
1 lb asparagus, washed and trimmed
Salt and freshly ground black pepper, to taste
1 tablespoon white vinegar
8 large Pete & Gerry's eggs
Is eggs Benedict minus the English muffin still eggs Benedict? This keto version makes a strong case. It has all the all the traditional elements of the beloved brunch dish - perfectly poached eggs, buttery hollandaise sauce, and crisp Canadian bacon - sans the bread. Instead, the eggs, sauce, and bacon are perched atop a bed of tender asparagus lightly sautéed in avocado oil, poised and ready to sop up any runny yolk left behind.
To make the sauce
Add the egg yolks, lemon juice, and salt to a blender and blend for 10 seconds to combine well.
Remove the lid insert at the top and with the blender running on high, slowly drizzle in the melted butter until the sauce is creamy and thickened. Add the cayenne and briefly blend to combine.
To make and assemble the asparagus eggs Benedict
Heat 1 tablespoon of the oil in a large skillet over medium heat. Add the Canadian bacon and fry lightly on both sides. Transfer to a plate and set aside.
Add the remaining oil and cook the asparagus until bright green and tender. Season with salt and pepper to taste.
Meanwhile, fill a saucepan about halfway full with water and add the vinegar. Bring to a simmer, but do not let it boil. Break the eggs one at a time into ramekins or small bowls and gently slide them into the water (some people like to create a vortex in the water by swirling it with a spoon before adding the eggs; this doesn't guarantee success but can help keep the egg whites intact). Work in batches to avoid overcrowding the pot.
Poach the eggs for 3 to 3 1/2 minutes for runny yolks. Remove with a slotted spoon and place on a plate lined with a paper towel to drain.
Divide the asparagus between 4 plates. Top each with 2 slices of Canadian bacon followed by 2 poached eggs. Drizzle with hollandaise sauce and serve immediately (see notes).
Farm Team Tips
If your hollandaise has thickened too much from sitting, add a few teaspoons of hot water and re-blend to loosen.