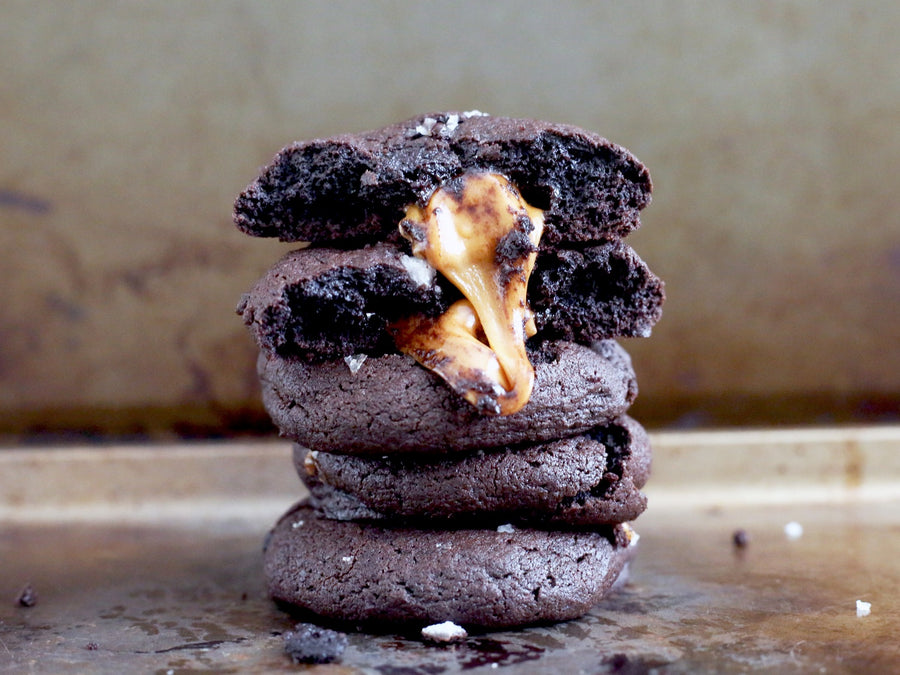 Valentine's Day or not, there's no wrong time to surprise your significant other with a rich, chocolaty treat. Each of these recipes fits the bill, whether it's a lovingly made batch of caramel-stuffed cookies or a silky smooth chocolate mousse.
Valentine's Day or not, there's no wrong time to surprise your significant other with a rich, chocolaty treat. And the best ones don't come in neat packages tied with a red bow—they're baked from the heart. Each of these recipes includes an element of chocolate, whether it's a lovingly made cookie crust or a silky smooth custard. You might choose to whip up a batch of fudgy chocolate cookies stuffed with CBD-infused caramel to complement a surprise movie night or try your hand at boozy chocolate mousse to cap off a special candlelit dinner, but one thing's for certain: your efforts will mean the world to your loved one.
Setting the table for two? This recipe makes just what you need with no leftovers. Each French silk pie cup lives up to its name, starting with a chocolate mousse-esque filling with a dollop of lightly sweetened whipped cream, all nestled atop a delicate almond flour crust. These pie cups also happen to be low-carb, making them a great option for the keto loved one in your life.
There's more to these chewy chocolate cookies than meets the eye. They're each stuffed with a soft CBD caramel that oozes out when bitten into. If you and your sweetheart are snuggling up on the couch for a night in, nothing pairs better with your favorite show than a few of these warm, melty treats.
This is the creamiest, dreamiest chocolate mocha cream pie you'll ever taste. And don't be surprised if your date is rendered speechless: the silky smooth pudding gives the illusion that a seasoned pastry chef is behind this decadent dessert.
If your special someone has a soft spot for slices of tres leches cake, this cocoa-infused version may end up being the key to winning over their heart. We'll be the first to admit the traditional Mexican dessert truly needs no adjustments, but adding chocolate to the equation makes for an even richer cake your date won't soon forget.
Want to impress your significant other? This chocolate mousse has that wow factor you're looking for in the form of brandy. Just a splash brings a sweet, oaky flavor to the whipped, airy dessert. Add a dusting of gold sugar sprinkles to make it feel extra special.
These nostalgic frozen treats may contain only a pop of chocolate, but they also make the perfect pairing for a dreamy walk down memory lane. Whether you prepare the keto-friendly recipe ahead of time or make a date of dipping each pudding pop in dark chocolate, we suggest working these dairy-free desserts into your special plans.
Though not technically a dessert, this French toast is as sweet as one. Like a traditional churro, it's coated in cinnamon sugar and comes with homemade Mexican chocolate sauce to drizzle over top. For your loved one, waking up to fresh flowers and a sweet breakfast like this one is sure to make any old day feel like a special occasion.
Chocolate and pumpkin are a match made in heaven. Case in point: in these cheesecake bars, a chocolate cookie crumble adds just a touch of cocoa flavor to the mellow but rich pumpkin cream cheese filling, making them the perfect choice for the loved one with a taste for less-than-sweet desserts.
Any opportunity to celebrate the person you love is an opportunity for chocolate cake. If you (lovingly) like to call your significant other a chocolate fanatic, this is a fitting dessert to serve them. The cake is as intense as cakes come, and the creamy peanut butter frosting makes every slice pure decadence.
Discerning palates will adore this sophisticated dessert, which happens to come from the mind of a professional chef. And there's a major twist to the sweet French chocolate custard: fluffy meringue dusted with Old Bay seasoning. For an extra special occasion (think Valentine's Day or an anniversary), impress your sweetheart with another one of Chef Edward Lee's favorite recipes and make it a full-course meal for the memory books.