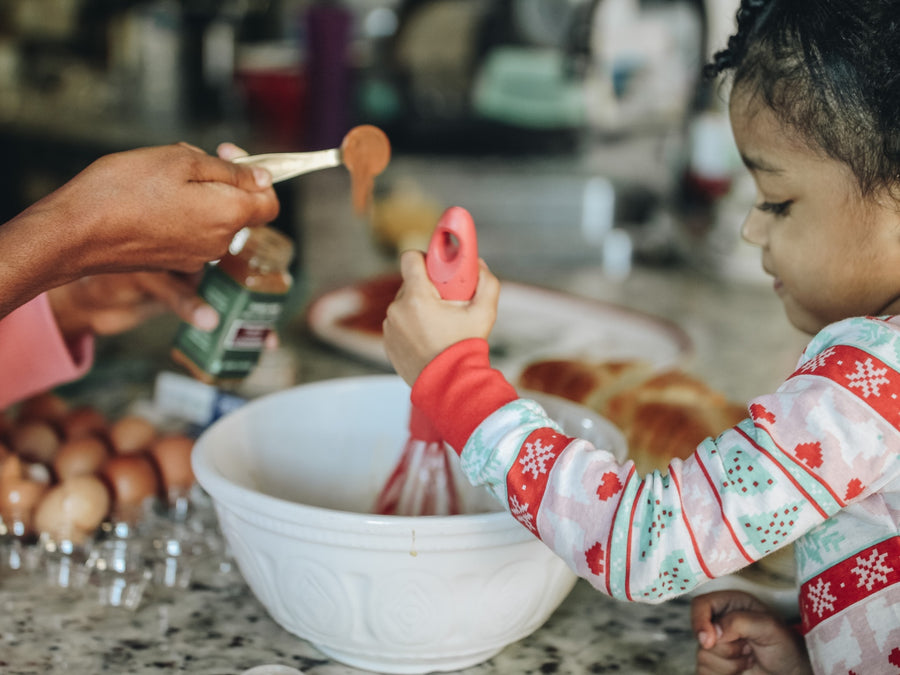 I can still smell the kitchen of my childhood on Christmas morning. Those yummy scents have stuck with me well into my adult years, and are a huge part of the magical Christmas memories I keep. Most of all, I remember my mom's face and how joyful she always looked. Now that I am a mama, I know how much work it took and how tired she must have been, but all my heart remembers is that smile on her face; how much pride she took in preparing all that goodness (which always included eggs).
Why stay home for the holidays?
Funnily enough, most of my favorite memories all took place in the same setting: home. Although many families make a tradition out of traveling for the holidays, I've learned over the years that cozying up in your very own kitchen or living room with the people you see every day can be just as special - and in most cases, much less stressful - than getting on a plane or taking a long car ride during the busiest time of year. Whether or not it's a safe year for travel, I'm a huge advocate for finding joy and holiday spirit in your very own backyard—or should I say kitchen?
How to add magic and cheer to your holidays at home
My mom played a part in so many of those special Christmas moments from my childhood. Now I'm the mama. I am the magic maker, and I am the cooker of Christmas morning breakfast—which, for us, is always eggnog French toast. What an honor it is to follow in my mama's footsteps, making memories with my own children. I can only pray that my babies carry the tastes and smells of our kitchen with them always. This will be my eighth Christmas making eggnog French toast on Christmas morning, but I still vividly remember being a brand new wife, living in Germany with my freshly active duty army husband, and wanting to make our first Christmas as husband and wife special. I found this recipe, and we both ended up loving it. The rest is history!
Eggnog French toast recipe
I've tweaked this recipe over the years to make it my own, and it's something my family and I look forward to all year long. With lots of eggnog and warming spices, it's truly the perfect blend of Christmas flavors and good old fashioned comforting goodness, all while remaining simple and versatile. Just like I did, I encourage you to make it your own. Use your favorite brand of eggnog, try your hand at homemade eggnog, or use a dairy-free version. You could even turn it into a breakfast board with tons of topping and syrup options. A favorite of Raegan and Zarie's is to toss on some fun holiday sprinkles.
Ingredients:
4 large Pete and Gerry's Organic Eggs
1 1/2 cups eggnog, store-bought or homemade
1 teaspoon ground cinnamon
1/4 teaspoon ground nutmeg
1/2 teaspoon vanilla extract
6-8 thick slices brioche bread
Butter, for the pan
Powdered sugar, maple syrup, and/or berries, for topping
Directions:
In a large mixing bowl, gently whisk together the eggs, eggnog, cinnamon, nutmeg, and vanilla extract until fully combined.
Heat a pan/griddle on medium heat, and melt about a teaspoon of butter in the pan.
Dunk one slice of brioche into your eggnog mixture until both sides are generously coated.
Cook the bread for about two minutes on each side, or until golden brown. Repeat with remaining slices.
Serve your eggnog French toast with your choice of powdered sugar, syrup, and/or berries and enjoy.
I encourage you to let the kiddos get in on the action. Have them scoop in the cinnamon or whisk the egg mixture. It takes a little more time, and will definitely be a bit messier, but I promise the sweet memories will be worth it. I hope this recipe can become a part of your family's traditions in the same way it has become part of mine. Wishing you a happy holiday season!
Shakira Patterson is the motherhood lifestyle blogger, serial holiday celebrator, and party enthusiast behind OccasionsByShakira.com, a resource and inspirational space for parents. Shakira currently lives in the Fort Bragg area of North Carolina with her active duty military husband, two daughters Raegan and Zarie, and her newborn son Xander. Her passions include travel, Disney, and finding ways to turn up the magic on everyday occasions, always with the goal of making intentional and special memories as a family.