Ingredients
1 pound whole wheat pizza dough, from scratch or store-bought
2-3 shallots
2 tablespoons olive oil
4 ounces goat cheese
1/2 cup fig preserves
2-3 handfuls arugula
Freshly ground black pepper to taste
2 tablespoons olive oil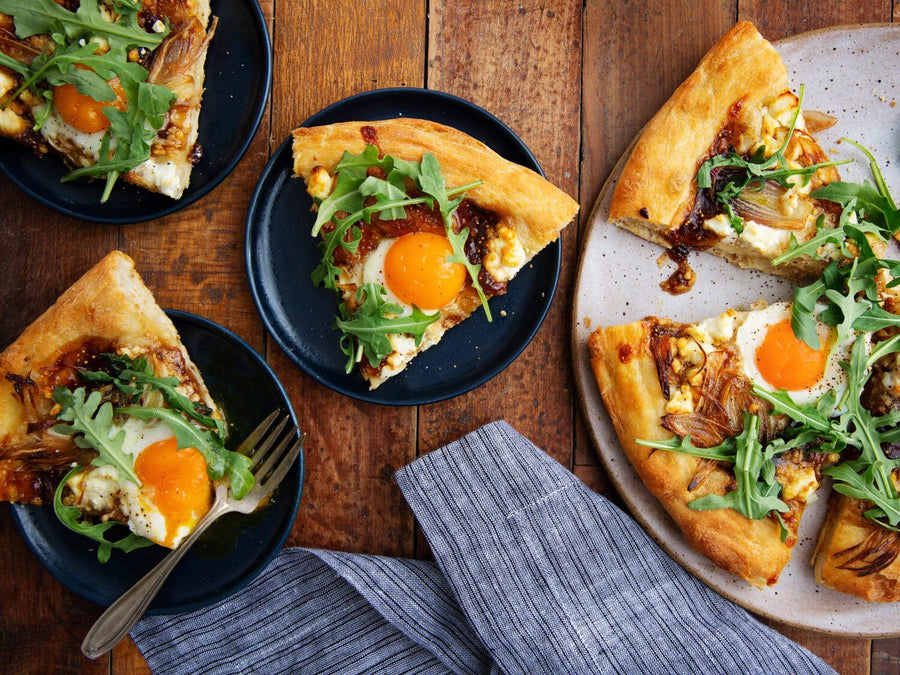 Prep Time: 10 minutes
Cook Time: 25-35 minutes
Yield: One 12-inch pizza
Prep Time: 10 minutes
Cook Time: 25-35 minutes
Yield: One 12-inch pizza
Ingredients
1 pound whole wheat pizza dough, from scratch or store-bought
2-3 shallots
2 tablespoons olive oil
4 ounces goat cheese
1/2 cup fig preserves
2-3 handfuls arugula
Freshly ground black pepper to taste
2 tablespoons olive oil
Pizza isn't just for dinner anymore! Perfect for a lazy weekend morning, this sweet and savory dish combines the complex flavors of caramelized shallots, arugula, fig preserves, and goat cheese with a few Pete & Gerry's eggs baked right on top.
Directions
Preheat oven to 425F.
Thinly slice shallots and sauté in olive oil until softened and slightly caramelized.
Lightly grease a 12-inch cast iron skillet with olive oil. Stretch dough across the skillet and top with spoonfuls of fig preserves and goat cheese, gently spreading each ingredient to distribute evenly. Sprinkle shallots on top.
If using homemade dough, bake pizza for 20-25 minutes, or until dough is fully cooked and just starting to turn golden. If using store-bought dough, cook according to instructions on the package.
Pull pizza out of oven and crack eggs on top. Carefully place pan on the top rack and bake for an additional 5-8 minutes, depending on preferred doneness of eggs.
Once eggs are cooked to your liking, remove pizza from oven and top with arugula. Grind fresh black pepper over the top and serve immediately.