Ingredients
1 pound pizza dough, made from scratch or store-bought
4 ounces goat cheese, room temperature
1 tablespoon fresh sage, torn
1 tablespoon fresh rosemary leaves
Sea salt and freshly ground black pepper to taste
1 tablespoon olive oil
Flour for rolling out dough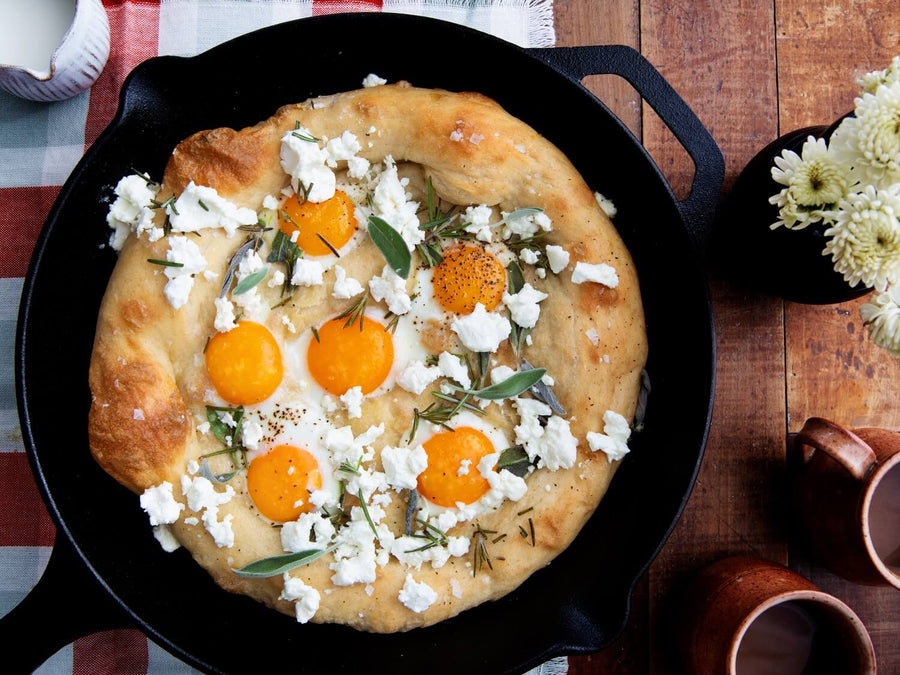 Prep Time: 10 minutes
Cook Time: 25-25 minutes
Yield: One 12-inch pizza
Prep Time: 10 minutes
Cook Time: 25-25 minutes
Yield: One 12-inch pizza
Ingredients
1 pound pizza dough, made from scratch or store-bought
4 ounces goat cheese, room temperature
1 tablespoon fresh sage, torn
1 tablespoon fresh rosemary leaves
Sea salt and freshly ground black pepper to taste
1 tablespoon olive oil
Flour for rolling out dough
Delicious for breakfast, brunch, or any time of the day, this dish is a savory explosion of flavors and textures: the eggs are nestled into a warm, airy dough topped with fresh herbs and dollops of creamy goat cheese. This recipe has been featured on by Danielle Addimandi of The Crafty Hostess alongside other eclectic meal ideas and entertaining tips.
Directions
Preheat oven to 400F. Roll out pizza dough onto a lightly floured surface to a 12-inch circle. Lift dough onto a 12-inch round pizza pan and press down.
Brush the top of dough with olive oil and season with salt and pepper. Place pan in oven and bake until dough just begins to harden and turn golden, about 20-25 minutes. If using store-bought dough, cook according to instructions on the package.
Remove pan from the oven and carefully crack eggs on top. Sprinkle over sage and rosemary, then return pan to the oven and continue baking until the whites and yolks are cooked to your liking.
Remove pizza from oven and crumble soft goat cheese on top. Slice pizza while still warm and enjoy!