Ingredients
1 lb of your favorite pizza dough (store bought or from scratch)
4 ounces fresh pesto
8 ounces Pancetta, diced and cooked until almost crispy
1 cup Parmesan cheese, grated
1 cup colby or cheddar cheese, shredded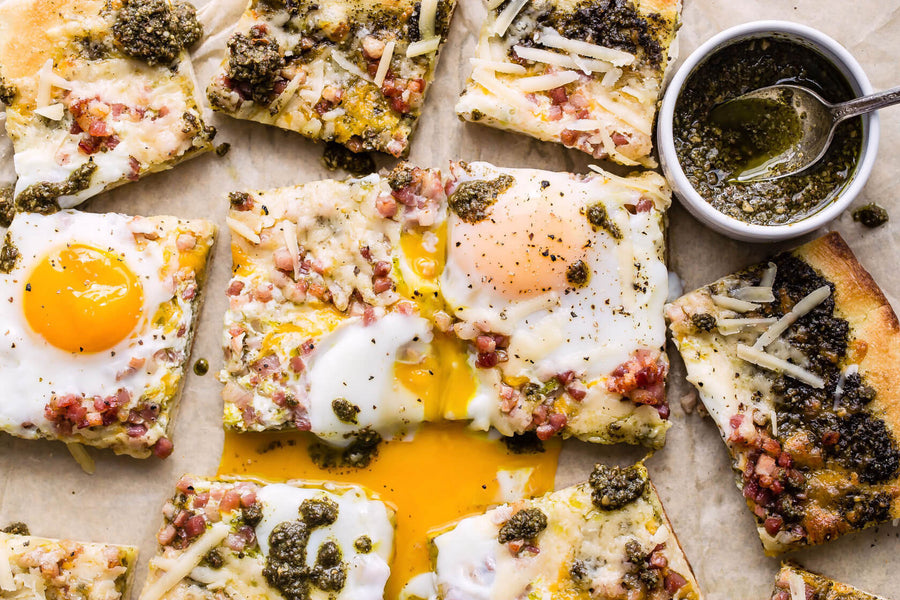 Prep Time: 10 minutes
Cook Time: 20 minutes
Yield: 3-4 appetizer servings; 2 main course servings
Prep Time: 10 minutes
Cook Time: 20 minutes
Yield: 3-4 appetizer servings; 2 main course servings
Ingredients
1 lb of your favorite pizza dough (store bought or from scratch)
4 ounces fresh pesto
8 ounces Pancetta, diced and cooked until almost crispy
1 cup Parmesan cheese, grated
1 cup colby or cheddar cheese, shredded
A good meal is one that can be shared. A *great* meal is one that you secretly don't want to share. Whether you're with old friends or new ones, everyone will want more than one slice of this grilled flatbread with salty and sweet notes from basil, pancetta, and runny egg yolks. This is the recipe you've been searching for all summer!
Directions
Preheat your grill to high and place your pizza stone on the grill. Let the stone heat up for at least 10 minutes. If grilling directly on the grill, preheat your grill to high and let heat up for at least 10 minutes.
Roll the dough out to almost the same size as your pizza stone, if using one. Dust a large baking sheet lightly with flour and place the dough onto it. Open your grill and carefully slide the dough from the baking sheet to the pizza stone or right onto the grill. Grill for about four minutes until the dough starts to puff up.
Quickly place the dough back onto the baking sheet, making sure to flip it over onto its other side (this ensures that your dough is strong enough before adding other ingredients).
Spread the pesto over the flatbread and top with both cheeses. Sprinkle on the pancetta, then crack each egg gently onto the flatbread and carefully slide back onto the pizza stone or directly onto the grill.
Grill for another 4-5 minutes or until you see the egg whites start to set. Slice into squares and serve.