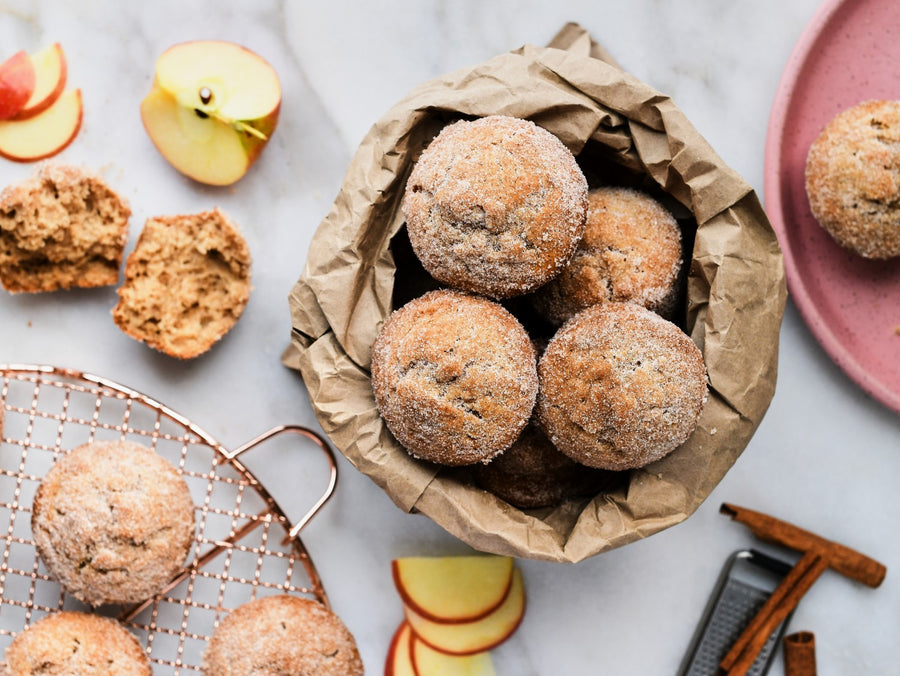 A fantastic, versatile ingredient year-round but especially when they're in season, apples do some real heavy lifting when it comes to adding flavor to baked goods, sweet breakfast dishes, and even cocktails. With so many varieties to choose from and countless ways to highlight each one's unique flavor profile (think warming spices, brown sugar, maple syrup, and caramel!), it's no wonder this fruit is such a popular baking staple. Find inspiration in these apple-centric recipes to enjoy the cozy, comforting flavors of fall any time of year.

Apples and cinnamon are an unbeatable pair in this twist on a classic tres leches cake. The cake itself is heavily spiced with apple sauce baked right in the batter, and the cinnamon whipped cream is truly the cherry on top.
Second only to a glug of freshly pressed cider straight from the jug, these apple cider muffins rolled in cinnamon sugar are downright irresistible no matter the temperature outside.
For a sweet breakfast or after-dinner treat with a glass of mulled cider, look no further than this tried and true spiced apple quick bread. If the chunks of tender apple and cream cheese frosting don't feel like a warm autumn hug, we don't know what will.

In search of something silky smooth, kissed with cinnamon, and sure to add a little warmth to your next happy hour? Look no further than this elegant and inviting pumpkin apple silk cocktail, made with pumpkin pureé and a splash of apple brandy for a truly autumnal experience.
Give your French toast a simple and unassuming upgrade that's sure to delight your tastebuds: crunchy Honeycrisp apples tossed in cinnamon sugar. Leaving the apples uncooked adds a fresh, crunchy element that'll take your breakfast from good to great.

Not that it needs to be a replacement for the pumpkin pie at your Thanksgiving table or the chocolate mousse you serve every Christmas, but this apple-studded cheesecake draped in homemade caramel sauce is a more than worthy alternative for any classic holiday dessert.
What if you could have it all? We're talking cinnamon raisin French toast, pecan apple crumble, and sweet bread pudding all in one pan. Well, it's possible - and can even be made ahead - with this homey breakfast casserole.