Ingredients
2 1/3 cups almond flour
2/3 cup Swerve Granular or other granulated sweetener
1/4 cup unflavored whey Protein powder
2 teaspoons baking powder
2 teaspoons pumpkin pie spice
1/4 teaspoon salt
3 large Pete & Gerry's eggs
2/3 cup pumpkin purée
3/4 cup unsalted butter, melted and divided
1/2 teaspoon vanilla extract
8 ounces cream cheese, softened
3/4 cup Swerve Confectioners or other powdered sweetener
1/2 cup chopped pecans
1/2 cup sugar-free chocolate chips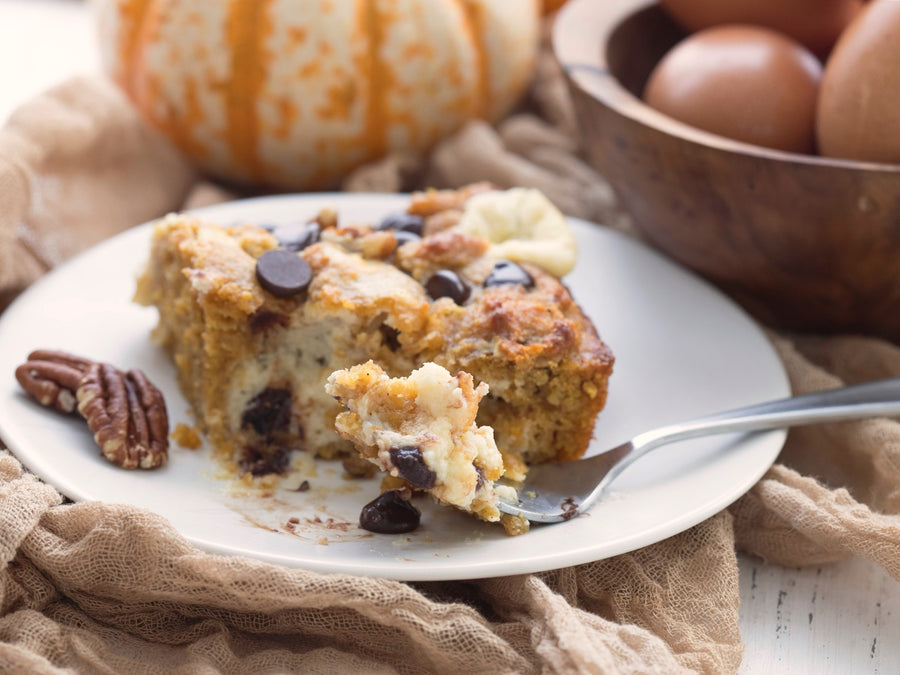 Low Carb
Meals
Snacks & Apps
Prep Time: 20 minutes
Cook Time: 45 minutes
Yield: 20 servings
Low Carb
Meals
Snacks & Apps
Prep Time: 20 minutes
Cook Time: 45 minutes
Yield: 20 servings
Ingredients
2 1/3 cups almond flour
2/3 cup Swerve Granular or other granulated sweetener
1/4 cup unflavored whey Protein powder
2 teaspoons baking powder
2 teaspoons pumpkin pie spice
1/4 teaspoon salt
3 large Pete & Gerry's eggs
2/3 cup pumpkin purée
3/4 cup unsalted butter, melted and divided
1/2 teaspoon vanilla extract
8 ounces cream cheese, softened
3/4 cup Swerve Confectioners or other powdered sweetener
1/2 cup chopped pecans
1/2 cup sugar-free chocolate chips
If you're the type of person who can't decide between cookies, cheesecake, and layer cake, earthquake cake will rock your world. Appropriately named, this keto pumpkin spice earthquake cake starts with a low carb base of moist almond flour and protein powder crumb cake with sweet cream cheese swirled into the batter. When baked, it becomes a seismic mass of chocolatey goodness with pecan peaks and cream cheese fault lines in every single bite.
Directions
Preheat the oven to 325F and grease a 9" x 13" glass or ceramic baking pan (see notes if using a metal pan).
In a large bowl, whisk together the almond flour, granular sweetener, protein powder, baking powder, pumpkin pie spice, and salt. Stir in the eggs, pumpkin purée, 1/2 cup of the melted butter, and the vanilla until well combined.
If the batter is very thick, add water 1 tablespoon at a time until batter is spreadable, but not pourable. Spread the batter evenly in the prepared pan.
In another bowl, use an electric mixer to beat cream cheese with the remaining 1/4 cup of melted butter until smooth. Beat in the powdered sweetener. Dollop this mixture over the cake batter by the spoonful and sprinkle with the pecans. Use a knife to swirl everything together. Sprinkle the top with chocolate chips.
Bake 40 to 45 minutes, or until the cake is mostly set but the center is still slightly soft and jiggly when the pan is gently shaken. Remove and let cool completely in the pan before serving, and store any leftovers in the fridge.
Farm Team Tips
We recommend using a glass or ceramic baking dish for this cake. You will be cutting the pieces right out of the pan and you don't want to scratch your non-stick bakeware! If you don't have a glass or ceramic pan, you can also use a metal one, but be advised that the cake will bake more quickly, so be sure to test for doneness starting at the 35 minute mark.
Pre-mixed pumpkin pie spice is a great option, but you can always mix up your own if you prefer. For this recipe, combine 1 teaspoon ground ginger, 3/4 teaspoon ground cinnamon, 1/4 teaspoon ground nutmeg, and a 1/8 teaspoon ground cloves.
When dolloping the cream cheese mixture over the batter, it's helpful to try to get some of the cream cheese swirls all the way to the edges so every piece of the cake is nice and gooey.
This cake won't be totally set when you remove it from the oven, and you don't want it to be. The center should still have a bit of jiggle when the pan is shaken, and it will continue to set as it cools in the pan.
Be sure to store this delicious cake in the fridge, as it's far too moist to sit on the counter.