Ingredients
For the pretzel bites
1/4 cup plus 1 tablespoon coconut flour, divided
1 teaspoon baking powder
1/2 teaspoon garlic powder
1/4 teaspoon xanthan gum
6 ounces shredded part-skim mozzarella cheese (see notes)
1 large Pete & Gerry's eggs, lightly whisked
1 tablespoon unsalted butter, melted
Coarse salt, for topping
For the dipping sauce
2 tablespoons mayonnaise
2 tablespoons spicy brown mustard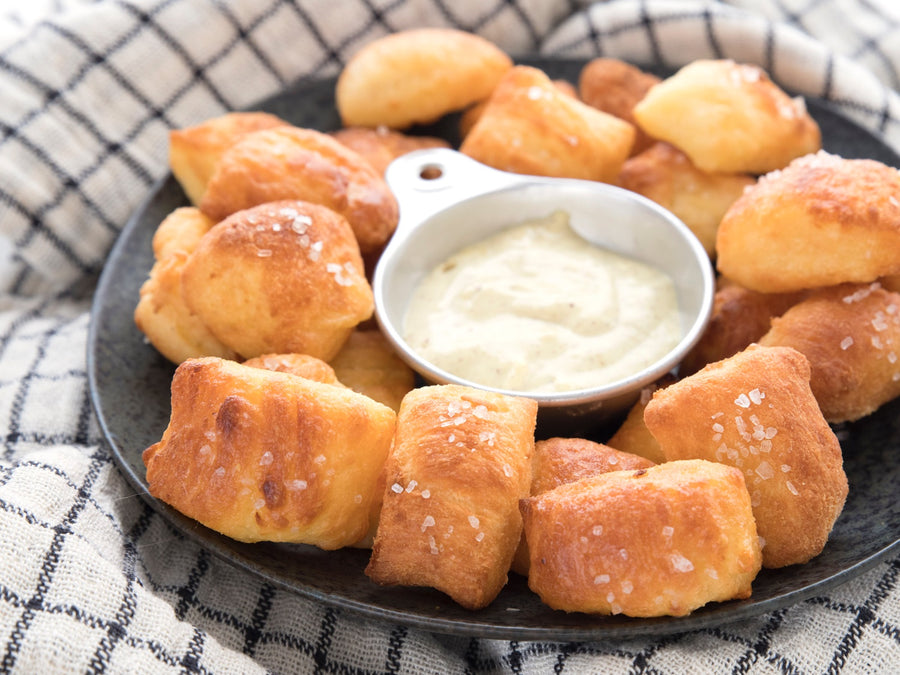 Low Carb
Snacks & Apps
Sweets
Prep Time: 20 minutes
Cook Time: 6 minutes
Yield: 32 pretzel bites
Low Carb
Snacks & Apps
Sweets
Prep Time: 20 minutes
Cook Time: 6 minutes
Yield: 32 pretzel bites
Ingredients
For the pretzel bites
1/4 cup plus 1 tablespoon coconut flour, divided
1 teaspoon baking powder
1/2 teaspoon garlic powder
1/4 teaspoon xanthan gum
6 ounces shredded part-skim mozzarella cheese (see notes)
1 large Pete & Gerry's eggs, lightly whisked
1 tablespoon unsalted butter, melted
Coarse salt, for topping
For the dipping sauce
2 tablespoons mayonnaise
2 tablespoons spicy brown mustard
These pretzel bites are made with fathead dough, a staple recipe in the keto community that consists of coconut flour, egg, and mozzarella. The low carb, nut-free dough takes just five minutes in the air fryer (or a few minutes longer if you're using an oven) to transform into a soft, chewy, salty, craveable appetizer or snack ready to be dunked in creamy mustard dip.
To make the pretzel bites
In a medium bowl, whisk together 1/4 cup of the coconut flour with the baking powder, garlic powder, and xanthan gum.
Place mozzarella in a large microwave-safe bowl and microwave on high in 30-second increments until well melted and easy to stir.
Add the flour mixture to the heated mozzarella, then add the egg. Using a silicone spatula, work the flour and egg into the cheese, kneading the dough up against the side of the bowl.
Dust a work surface with the remaining tablespoon of coconut flour. Turn the dough out onto the work surface and knead with your hands until cohesive. If the dough is still very sticky, dust lightly with more coconut flour until it no longer sticks to your hands.
Divide the dough into 4 even portions and roll each portion out into an 8-inch log. Cut each log into 8 pieces.
Spray the rack of an air fryer with avocado or coconut oil spray (or brush lightly with the oil of your choice). Place the pretzel bites on the rack with some space in between each one, then brush with the melted butter. Sprinkle with coarse or pretzel salt and press lightly to help it adhere to the dough.
Air fry pretzel bites at 350F for 5 to 6 minutes, or until puffed and golden brown.
To make the dipping sauce
In a small bowl, stir the mayonnaise and mustard together until smooth. Serve with the pretzel bites.
Farm Team Tips
Fathead dough is a simple combination of ingredients, but can be tricky to make, especially if it's your first time. It helps to measure and prepare your dry ingredients before melting the mozzarella, as this will allow you to begin kneading the dough while the cheese is still very warm and malleable.
The cheese you use can make or break this keto fathead dough recipe. For best results, choose a pre-shredded, low moisture, part-skim mozzarella.
If at any point your dough becomes difficult to work with, pop it back into the microwave for 5 to 10 seconds, and it should become malleable again.
Make sure the pretzel bites aren't touching each other in the air fryer basket, as they will expand slightly during cooking. Work in batches if need be; just keep your eye on them because every air fryer is different!
To make these pretzel bites in the oven, set a baking rack over a baking sheet and spray the rack with nonstick cooking spray. If you have a convection oven, use that setting on 350F. If your oven does not have convection, set the temperature to 375F. Watch your pretzel bites carefully when baking, and rotate your pan at the halfway mark to ensure even browning. Depending on your oven, the pretzel bites may take anywhere from 7-12 minute to bake.