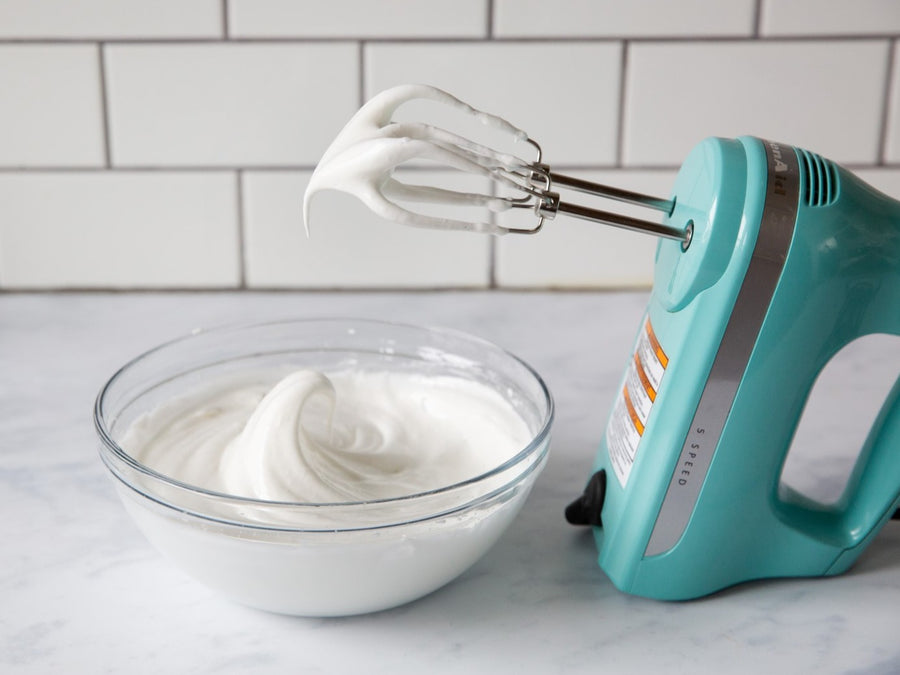 Add these egg whites only recipes to your repertoire to minimize waste and maximize tastiness in your kitchen.
If you're an avid baker, a traditionalist when it comes to pasta carbonara, or an eggs Benedict enthusiast who firmly believes that hollandaise is the best part of breakfast, you probably find yourself with more than a few leftover egg whites from time to time. If you learn one lesson today, it's that extra egg whites do not belong in the trash—they belong in an airy, crackly pavlova, a heavenly angel food cake topped with fresh berries, and sky high meringue for all your lemon and key lime pie needs. Add these egg whites only recipes to your repertoire to minimize waste and maximize tastiness in your kitchen.
Whipping up some meringue (the base of pavlova) is the easiest way to make use of a few extra egg whites and get some bang for your buck. This pavlova recipe calls for three egg whites, which take on tons of air when whipped into meringue. Combined with fresh whipped cream and berries, it makes for a heavenly dessert.
If you need to use up a lot of egg whites in one fell swoop, angel food cake will save the day. This one requires a whole dozen, which you'll whip into meringue to fold the dry ingredients into. The result is a cake like no other; fluffy, light, and ready to be topped with anything from strawberries to chocolate sauce.
There's a reason why lemon and meringue is such a traditional combination. The tartness of lemon curd complements the sweetness of those egg white peaks, creating the perfect bite. The meringue that tops this lemon tart is made with four egg whites and comes together in minutes.
These Italian cookies are popular during the holidays, but delicious with a cup of coffee year round. They're made with just four ingredients: almond paste, confectioners' sugar, two egg whites, and pine nuts. Since they contain no yolks, these cookies turn out wonderfully chewy with an strong nutty flavor that shines through.
When you don't want to make a full on pavlova, consider trying these individual pavlova snowballs. You'll use up five egg whites and be left with crackly meringue that pairs beautifully with raspberries and shredded coconut. Depending on the time of year, switch up the flavors and use seasonal fruit to make these snowballs your own.
If you're a die-hard fan of eggnog, you know that it's not easy to find in the off season. What's an eggnog lover to do? Make your own! This dairy free recipe uses three egg whites, almond milk, coconut milk, maple syrup, and spices for a lighter take on the holiday beverage.
Other ways to use leftover egg whites
Use egg whites as an egg wash when you want a shiny pie crust or loaf of brioche without adding too much color. Just bring an egg white or two up to room temperature and whisk with a splash of water, then use a pastry brush to apply.
Use an egg white wash to help toppings like coarse sugar or sesame seeds ahere to your cookies, scones, breads, and bagels.
Turn egg whites into face masks, eye treaments, and even at home hair repair. Egg whites have antibacterial properties that make them a great base for DIY skin and hair care when used properly.
When in doubt, make meringue! The simplest version requires nothing more than egg whites, sugar, and cream of tartar. Meringue can baked into bite size cookies, piped onto cakes in lieu of frosting, and swirled atop lemon meringue and key lime pies.
Make your scrambled eggs with an extra egg white, or swap out a whole egg for just the white. You'll end up with a slightly less rich dish, but lots of extra protein!
Swap out a couple whole eggs for egg whites when you make breakfast egg bites.
Use egg whites in place of whole eggs for binding meatballs.
Lighten up your casseroles and breakfast bakes by using egg whites in place of one or two whole eggs.
Swap some of the whole eggs in your quiche for egg whites.