Ingredients
3 tablespoons unsalted butter
1 shallot, diced
1 cup cremini mushrooms, chopped
2 garlic cloves, minced
8 large Pete & Gerry's eggs
1/2 teaspoon salt
1/2 teaspoon pepper
2 to 3 cups baby kale or spinach
1 1/2 cups cooked pasta
2/3 cup freshly grated Parmesan cheese, plus more for sprinkling
3 to 4 cups spring greens (or more baby kale or spinach)
1 tablespoon olive oil
2 teaspoons freshly squeezed lemon juice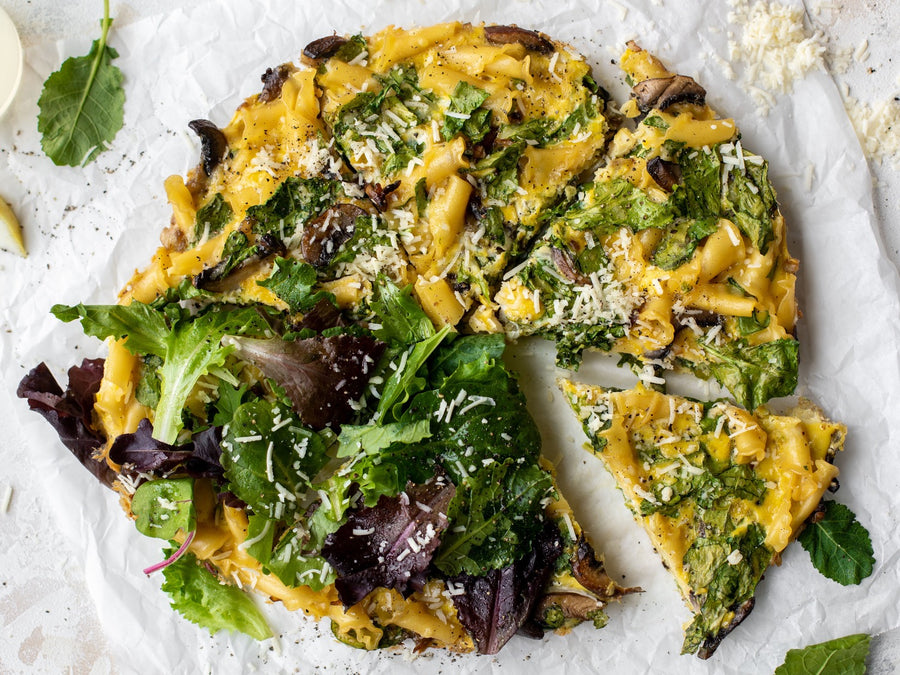 Prep Time: 15 minutes
Cook Time: 25 minutes
Yield: 4 servings
Prep Time: 15 minutes
Cook Time: 25 minutes
Yield: 4 servings
Ingredients
3 tablespoons unsalted butter
1 shallot, diced
1 cup cremini mushrooms, chopped
2 garlic cloves, minced
8 large Pete & Gerry's eggs
1/2 teaspoon salt
1/2 teaspoon pepper
2 to 3 cups baby kale or spinach
1 1/2 cups cooked pasta
2/3 cup freshly grated Parmesan cheese, plus more for sprinkling
3 to 4 cups spring greens (or more baby kale or spinach)
1 tablespoon olive oil
2 teaspoons freshly squeezed lemon juice
Recipe excerpted from EVERYDAY DINNERS by Jessica Merchant. Photo and Text Copyright @ 2021 by Jessica Merchant. Published by Rodale Books, an imprint of Random House Publishing Group, a division of Penguin Random House LLC.
Directions
Preheat the oven to 350F.
Heat an oven-safe skillet (about a 10-inch) over medium-low heat. Add 1 1/2 tablespoons butter and once melted, add in the shallots and mushrooms with a pinch of salt and pepper. Stir in the garlic. Cook until softened, about 5 minutes.
While the onions are cooking, whisk together the eggs, salt and pepper. Stir in the 2 to 3 cups greens, pasta and Parmesan until combined.
Add the remaining 1 1/2 tablespoons of butter to the skillet. Pour the egg mixture into the skillet. Use a spatula to stir and even everything out. Let it cook for 5 minutes.
Place the skillet in the oven and bake for 10 to 15 minutes, or until the center is set.
While the frittata bakes, whisk together the olive oil and lemon juice with a pinch of salt and pepper. Toss the greens with the olive oil + lemon juice.
Remove from the oven and serve with the dressed spring greens and extra Parmesan!