Ingredients
For the donuts
1 cup whole milk, warmed to 110F
1/3 cup granulated sugar
1 packet (2 1/4 teaspoons) active dry yeast (see notes)
2 large Pete & Gerry's eggs
1/2 cup (1 stick) unsalted butter, melted and slightly cooled
4 cups bread flour, plus more as needed
1/2 teaspoon kosher salt
2 teaspoons vanilla bean paste or vanilla extract
1 quart vegetable oil, for frying (see notes)
For the maple icing
2 cups confectioners' sugar
1/2 cup pure maple syrup
1 tablespoon milk of choice
2 teaspoons maple flavor or extract
1/8th teaspoon (pinch) kosher salt
6 slices cooked bacon strips, cut in half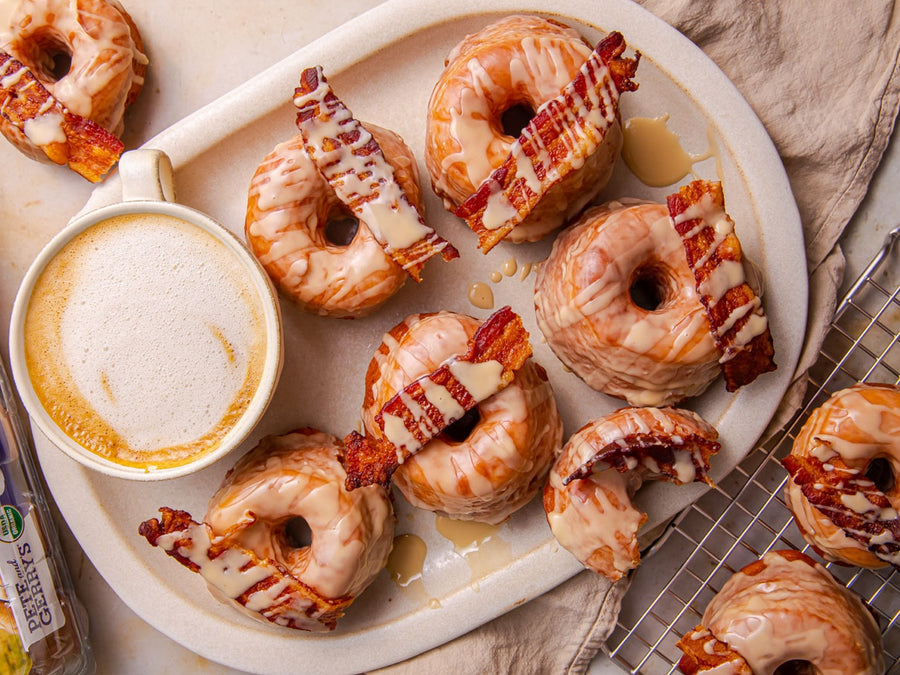 Prep Time: 30 minutes + 2 hours for rising
Cook Time: 10 minutes
Yield: 12 donuts
Prep Time: 30 minutes + 2 hours for rising
Cook Time: 10 minutes
Yield: 12 donuts
Ingredients
For the donuts
1 cup whole milk, warmed to 110F
1/3 cup granulated sugar
1 packet (2 1/4 teaspoons) active dry yeast (see notes)
2 large Pete & Gerry's eggs
1/2 cup (1 stick) unsalted butter, melted and slightly cooled
4 cups bread flour, plus more as needed
1/2 teaspoon kosher salt
2 teaspoons vanilla bean paste or vanilla extract
1 quart vegetable oil, for frying (see notes)
For the maple icing
2 cups confectioners' sugar
1/2 cup pure maple syrup
1 tablespoon milk of choice
2 teaspoons maple flavor or extract
1/8th teaspoon (pinch) kosher salt
6 slices cooked bacon strips, cut in half
From the recipe author: This recipe comes together so easily, y'all. I love how straightforward and simple it all really is. Homemade donuts, especially fried donuts, can seem challenging but that isn't the case here! Tender, fluffy, and easy-to-make yeast donuts paired with a delightful maple icing and topped with salty bacon. Incredibly good, wonderfully rich, and detailed notes provided to ensure recipe success!
To make the donut dough
In the bowl of a stand mixer or a large mixing bowl, combine the warm milk and 2 tablespoons of the granulated sugar. Sprinkle the yeast on top and mix well. Let the yeast mixture sit for 10-15 minutes, or until foamy.
Once the mixture is foamy, add the remaining granulated sugar along with the eggs, butter, flour, salt, and vanilla bean paste. If using a stand mixer, secure the dough hook attachment in place.
Mix ingredients on low speed for 1 minute, stopping to scrape down the sides of the bowl as needed. Increase the speed to medium and knead for 2-4 minutes more. The dough may look shaggy at first, but will come together and pull away from the sides of the bowl. Look for a smooth, elastic, and slightly sticky texture. If kneading by hand, mix the dough with a stiff rubber spatula or wooden spoon and knead until a smooth and sticky texture is achieved.
Step 4Shape the dough into a ball and transfer to a lightly greased large bowl, turning to coat. Cover bowl with plastic wrap or a clean kitchen linen and let rise in a warm environment for 1 1/2-2 hours or until nearly doubled in size. Alternatively, cover and place dough in the refrigerator to rest overnight for a maximum of 8-10 hours (to make donuts on the following day).
To roll and shape the donuts
Line a large baking sheet with parchment paper and set aside. Knock the air out of the dough by punching it down, then turn out dough onto a lightly floured surface. Use a rolling pin to roll out the dough to about 1/2" in thickness.
Use a donut cutter at least 3-4" in size to cut out 12 donuts along with their respective holes. You may need to collect scraps and re-roll to achieve 12 donuts in total.
Place the donuts onto the prepared parchment paper, reserving any remaining donut holes to use testers if desired. Cover the donuts with plastic wrap or a clean kitchen linen and let rest for 30 minutes while you prep the oil for frying. If you refrigerated your dough overnight, allow the chilled donuts to rest until they come up to room temperature before frying.
To fry the donuts
Heat the oil in a large dutch oven or heavy-bottomed pot to 350F. Set aside a large baking sheet fitted with a wire rack. Once the oil temperature is achieved, working in batches, carefully add 3 donuts into the oil. Let fry for 1 minute per side until lightly golden brown, then use a slotted spoon or fish spatula to transfer to the prepared wire rack. Repeat this process until all donuts have been fried, allowing donuts to cool for at least 10-15 minutes before icing. If cooking donut holes, the cooking time for them will be significantly less.
To ice the donuts
In a medium bowl, combine the confectioners' sugar, maple syrup, milk, maple flavor/extract, and salt. Stir the mixture together until the icing is smooth and free of any lumps.
Dip each donut into the icing and return to the wire rack to allow any excess maple icing to drip down. Immediately add the bacon pieces on top, gently pressing them into the icing. Feel free to crumble the bacon and sprinkle on top of the glaze if you prefer pieces instead of strips. Drizzle a bit more icing over the finished donuts if desired.
Serve these maple bacon donuts right away while they're at their tastiest. Otherwise, store any leftover donuts in an airtight container on the counter for up to one day. Enjoy!
Farm Team Tips
This is a yeasted donut variety, which means the yeast is essential to getting a good rise! Don't forget to double check the expiration date on your yeast and make sure it's fresh.
The exact amount of oil you'll need for frying will depend on the size and shape of your cooking vessel. Aim for the oil to come halfway up the pot; enough for the donuts to float but not so much that the oil will splatter.
Don't be afraid to reuse your oil! Fried donut oil tends to be relatively clean and almost odorless/flavorless. After frying, let the oil cool to room temperature and use a funnel to strain it back into the same container it came from.