Ingredients
For the chili oil
1 tablespoon Chinese or Korean coarse chili flakes
2 cloves garlic, microplaned or minced
1 scallion, thinly sliced
1/4 teaspoon salt
1/4 cup high smoke point neutral oil
2 teaspoons pink Sichuan pepper
2 whole star anise
For the dressing
2 tablespoons + 1 teaspoon soy sauce
2 tablespoons Chinese black vinegar
1 tablespoon rice vinegar
1 tablespoon sesame oil
2-3 garlic cloves, finely chopped
1 1/2 teaspoons sugar
For the salad
4 ounces uncooked glass noodles (see notes)
2 Persian cucumbers
8 ounces sirloin steak, uncooked
1/2 teaspoon kosher salt
1/2 teaspoon black pepper
1/2 teaspoon Chinese five spice powder
1 tablespoon butter
1/2 teaspoon neutral oil
3 large Pete & Gerry's eggs
1-2 teaspoons sesame seeds
Cilantro, for garnish
Microgreens, for garnish, optional
Servings: 4
Amount Per Serving
Calories 450
Fat Cal. 240
Total Fat 27g (42% DV)
Sat. Fat 6g (30% DV)
Trans Fat 0g
Cholest. 180mg (60% DV)
Sodium 1110mg (46% DV)
Total Carb. 32g (11% DV)
Fiber 2g (8% DV)
Sugars 3g
Protein 20g
Vitamin A (30% DV)
Vitamin C (10% DV)
Calcium (8% DV)
Iron (20% DV)
Vitamin D (8% DV)
Percent Daily Values (DV) are based on a 2,000 calorie diet.
For more information about how we calculate our nutritional content and to read our nutritional disclaimer, please check out our Recipe Nutrition Facts blog post.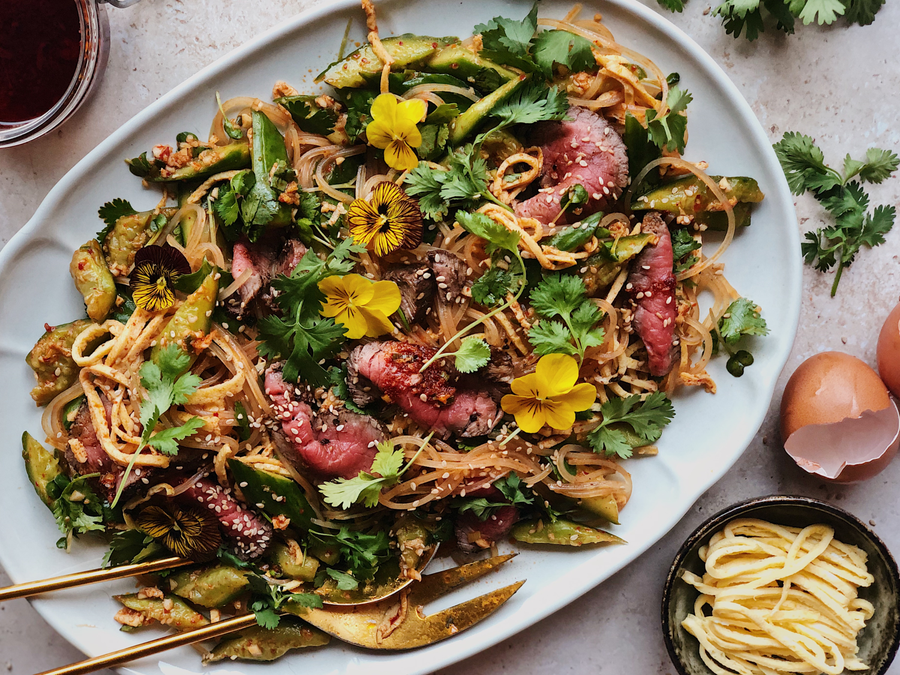 Prep Time: 35 minutes
Cook Time: 25 minutes
Yield: 2-4 servings
Prep Time: 35 minutes
Cook Time: 25 minutes
Yield: 2-4 servings
Ingredients
For the chili oil
1 tablespoon Chinese or Korean coarse chili flakes
2 cloves garlic, microplaned or minced
1 scallion, thinly sliced
1/4 teaspoon salt
1/4 cup high smoke point neutral oil
2 teaspoons pink Sichuan pepper
2 whole star anise
For the dressing
2 tablespoons + 1 teaspoon soy sauce
2 tablespoons Chinese black vinegar
1 tablespoon rice vinegar
1 tablespoon sesame oil
2-3 garlic cloves, finely chopped
1 1/2 teaspoons sugar
For the salad
4 ounces uncooked glass noodles (see notes)
2 Persian cucumbers
8 ounces sirloin steak, uncooked
1/2 teaspoon kosher salt
1/2 teaspoon black pepper
1/2 teaspoon Chinese five spice powder
1 tablespoon butter
1/2 teaspoon neutral oil
3 large Pete & Gerry's eggs
1-2 teaspoons sesame seeds
Cilantro, for garnish
Microgreens, for garnish, optional
Servings: 4
Amount Per Serving
Calories 450
Fat Cal. 240
Total Fat 27g (42% DV)
Sat. Fat 6g (30% DV)
Trans Fat 0g
Cholest. 180mg (60% DV)
Sodium 1110mg (46% DV)
Total Carb. 32g (11% DV)
Fiber 2g (8% DV)
Sugars 3g
Protein 20g
Vitamin A (30% DV)
Vitamin C (10% DV)
Calcium (8% DV)
Iron (20% DV)
Vitamin D (8% DV)
Percent Daily Values (DV) are based on a 2,000 calorie diet.
For more information about how we calculate our nutritional content and to read our nutritional disclaimer, please check out our Recipe Nutrition Facts blog post.
From the recipe author: Mala is the Chinese word meaning "numbing spicy." The numbing part comes from what is known as Sichuan peppercorns but are actually the pepper husks; they contain a molecule that causes a tingling sensation on your tongue. This recipe includes my mala chili oil, which is not all that spicy in terms of fiery chili heat, but you'll definitely feel that numbing tingle! Give the leftover chili oil a try on your breakfast eggs, too!
Chinese salads are not big bowls loaded with leafy greens like Western salads; they are more often cold appetizers featuring just one marinated crunchy veggie, and smashed cucumber salad may be the most classic example. It can sometimes be found with mala chili oil and other times without, but either way, it is incredibly refreshing for summer. I wanted to take this classic salad and turn it into a full meal that would be perfect for a hot summer evening, and this is what I came up with! With the addition of glass noodles for a satisfyingly bouncy texture, egg ribbons for airiness and savoriness, and Chinese five spice-rubbed steak for hearty protein, this salad will load your palate with flavor.
To make the chili oil
Combine chili flakes, garlic, scallions, and salt in a heat-safe bowl. Set aside.
In a small saucepot, combine oil, Sichuan pepper, and star anise. Heat on medium-low until the lighter interior parts of the peppercorn husks begin to turn brown, about 4 minutes. Turn off the heat and wait for the pepper to turn fully dark brown, about 1 more minute.
Carefully pour oil through a fine mesh strainer set over the scallion mixture in the bowl. When sizzling stops, stir together and set aside (see notes).
To make the dressing
Combine all ingredients for the dressing in a large bowl. Whisk together and set aside.
To make the salad
Cook noodles according to package instructions (see notes). Rinse thoroughly and drain completely.
Place a cucumber on a cutting board and using a large knife, press the blade firmly against it until the cucumber cracks open. Repeat all the way down the length of both cucumbers (they should crack into 3–4 strips each). Drain away excess liquid and remove any loose seeds. Cut cucumbers on a bias into 1" pieces.
Toss cucumbers and noodles in the dressing and let marinate for at least 15 minutes, although longer is recommended.
To make the steak, combine kosher salt, pepper, and five spice powder, then rub it all over the steak.
Heat a cast iron skillet on high until smoking. Turn heat down to medium high, add butter, and immediately add steak. Allow steak to cook undisturbed on one side, then flip and cook to desired doneness on the other side (2 1/2 to 3 minutes on each side for medium rare). Transfer to a grooved cutting board and let rest for 10 minutes.
To make the egg ribbons, fold a small piece of paper towel into a 1-inch square and allow it to soak up the 1/2 teaspoon of oil. Beat 1 egg thoroughly.
Apply a thin layer of oil to the inside of a small non-stick skillet using the paper towel. Heat the skillet on low, add the beaten egg, and swirl to form a thin, even layer. Cook until set, about 2 minutes, then transfer to a cutting board. Repeat with the remaining eggs.
Once slightly cool, roll egg crepes tightly and slice into thin ribbons, 1/8" to 1/4" wide.
To assemble the salad, slice steak into thin pieces. Toss 1–2 tablespoons of chili oil with the marinated cucumbers and noodles. Combine steak, cucumbers, noodles, and the egg ribbons on a serving platter. Drizzle additional chili oil on top to taste. Garnish with sesame seeds, cilantro, and microgreens.
Farm Team Tips
Japanese or Korean style glass or cellophane noodles, typically made from yam or potato starch, are recommended for this recipe for their thickness and bounciness.
Package instructions for glass noodles often describe adding the uncooked noodles to boiling water. This means allowing the noodles to soak in boiling hot water; do not boil the noodles on the stovetop.
This recipe makes more chili oil than is needed for the salad. The leftovers will go great with your breakfast eggs, no matter which way you cook them!