Ingredients
For the crust
1 1/2 cups (213g) all-purpose flour
5 tablespoons (64g) sugar
1/2 teaspoon table salt
1/2 cup extra-virgin olive oil
2 tablespoons water
For the filling
1 cup (200g) sugar
2 tablespoons all-purpose flour
1/4 teaspoon table salt
3 large Pete & Gerry's eggs, plus 3 additional yolks
1 tablespoon grated lemon zest
1/2 cup lemon juice (about 3 lemons)
1/4 cup extra-virgin olive oil
Servings: 8
Amount Per Serving
Calories 443
Total Fat 22g
Sat. Fat 3g
Trans Fat 0g
Cholest. 70mg
Sodium 247mg
Total Carb. 57g
Fiber 1g
Sugars 33g
Protein 6g
Nutritional information provided by America's Test Kitchen.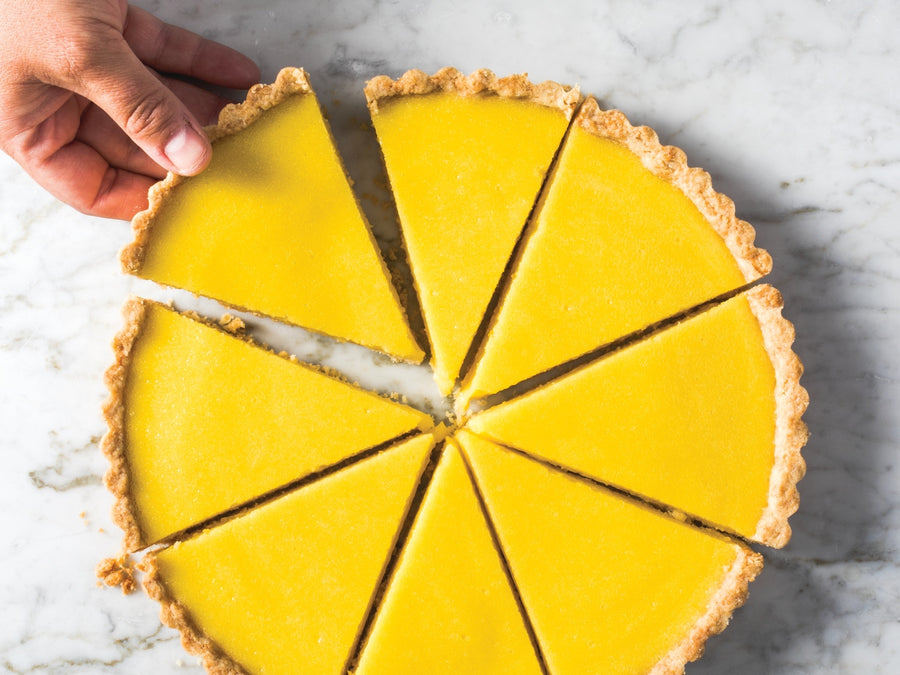 Prep Time: 20 minutes
Cook Time: 1 hour and 15 minutes
Yield: 8 servings
Prep Time: 20 minutes
Cook Time: 1 hour and 15 minutes
Yield: 8 servings
Ingredients
For the crust
1 1/2 cups (213g) all-purpose flour
5 tablespoons (64g) sugar
1/2 teaspoon table salt
1/2 cup extra-virgin olive oil
2 tablespoons water
For the filling
1 cup (200g) sugar
2 tablespoons all-purpose flour
1/4 teaspoon table salt
3 large Pete & Gerry's eggs, plus 3 additional yolks
1 tablespoon grated lemon zest
1/2 cup lemon juice (about 3 lemons)
1/4 cup extra-virgin olive oil
Servings: 8
Amount Per Serving
Calories 443
Total Fat 22g
Sat. Fat 3g
Trans Fat 0g
Cholest. 70mg
Sodium 247mg
Total Carb. 57g
Fiber 1g
Sugars 33g
Protein 6g
Nutritional information provided by America's Test Kitchen.
From America's Test Kitchen: Most lemon tart recipes feature butter in both the crust and the filling, but here we use extra-virgin olive oil instead. It makes the crust a snap: Just mix the flour, sugar, and salt with the oil and a little water until a soft dough forms; crumble it into the tart pan; press it into the sides and bottom; and bake it right away—no rolling or chilling required. Using olive oil in the filling doesn't compromise its firmness or sliceability because the filling gets plenty of structure from the protein in the eggs. Olive oil does, however, allow lemons' acidity to come to the fore in a way that butter doesn't. That means we can use a bit less juice and still enjoy plenty of bright lemon flavor.
To make the crust
Adjust oven rack to middle position and heat oven to 350F.
Whisk flour, sugar, and salt together in bowl. Add oil and water and stir until uniform dough forms.
Using your hands, crumble three-quarters of dough over bottom of 9" tart pan with removable bottom. Press dough to even thickness in bottom of pan. Crumble remaining dough and scatter evenly around edge of pan, then press crumbled dough into fluted sides of pan. Press dough to even thickness. Place pan on rimmed baking sheet and bake until crust is deep golden brown and firm to touch, 30 to 35 minutes, rotating pan halfway through baking.
To make the filling
About 5 minutes before crust is finished baking, whisk sugar, flour, and salt in medium saucepan until combined. Whisk in eggs and yolks until no streaks of egg remain. Whisk in lemon zest and juice. Cook over medium-low heat, whisking constantly and scraping corners of saucepan, until mixture thickens slightly and registers 160F, 5 to 8 minutes.
Off heat, whisk in oil until incorporated. Strain curd through fine-mesh strainer set over bowl. Pour curd into warm tart shell.
Bake until filling is set and barely jiggles when pan is shaken, 8 to 12 minutes. Let tart cool completely on wire rack, at least 2 hours. Remove outer metal ring of tart pan. Slide thin metal spatula between tart and pan bottom, then carefully slide tart onto serving platter. Cut tart into wedges, wiping knife clean between cuts if necessary, and serve.
Farm Team Tips
Use a fresh, high-quality extra-virgin olive oil here.
Make sure that all your metal equipment - saucepan, strainer, and whisk - is nonreactive, or the filling may have a metallic flavor.
Leftovers can be wrapped loosely in plastic wrap and refrigerated for up to 3 days.