Ingredients
2 cups almond flour
1/4 cup unflavored whey * Protein **powder (optional, to help bread rise)
3 tablespoons chopped fresh chives (or your favorite herbs)
2 teaspoons baking powder
3/4 teaspoon salt
6 ounces cheddar cheese, grated, divided
2 large Pete & Gerry's eggs
4 1/2 tablespoons unsalted butter, divided, melted
1/3 cup water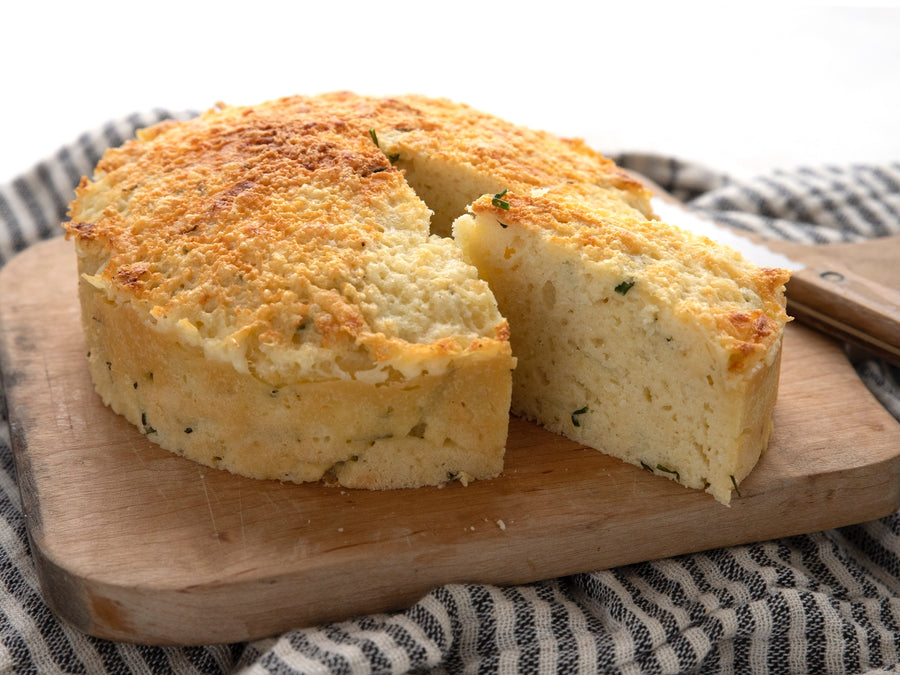 Prep Time: 15 minutes
Cook Time: 45 minutes
Yield: 12 servings
Prep Time: 15 minutes
Cook Time: 45 minutes
Yield: 12 servings
Ingredients
2 cups almond flour
1/4 cup unflavored whey * Protein **powder (optional, to help bread rise)
3 tablespoons chopped fresh chives (or your favorite herbs)
2 teaspoons baking powder
3/4 teaspoon salt
6 ounces cheddar cheese, grated, divided
2 large Pete & Gerry's eggs
4 1/2 tablespoons unsalted butter, divided, melted
1/3 cup water
Made with keto-friendly ingredients like almond flour, this cheesy, herby bread is your answer to entertaining gluten-free guests and hosting meals where everyone feels included. Unlike the classic quick bread recipes you're most familiar with (think banana bread, for example), this one is delightfully savory. The low carb dough gets its signature flavors from fresh chives and cheddar cheese that melts into the moist, fluffy crumb as it "bakes" in your Instant Pot. Serve alongside dinner, as an appetizer, or turn into keto stuffing for a special occasion dish that all can enjoy.
Directions
Grease a 7" springform pan well. Place the trivet on the bottom of your Instant Pot and add 1 cup of water.
In a large bowl, whisk together the almond flour, protein powder, chives, baking powder, and salt. Stir in 4 ounces of the grated cheddar.
Add the eggs, 4 tablespoons of the butter, and the water to the almond flour mixture and stir until well combined. Spread the batter into the prepared pan and smooth the top.
Tightly cover the top and the bottom of the pan with foil to reduce excess moisture seeping in during cooking. Place the pan in the Instant Pot. Close the lid and seal the vent. Set on the "cake" setting for 40 minutes.
When cooking is complete, let the pressure reduce naturally for 15 minutes, then open the vent to allow any additional steam to release. Remove the pan carefully and remove the foil.
Preheat your broiler to high and set an oven rack in the middle position. Brush the top of the bread with the remaining 1/2 tablespoon of butter and sprinkle with the remaining 2 ounces of grated cheddar. Place on the center rack so that it's not too close to the heat.
Broil bread until the cheese is melted and the top is golden, 3 to 5 minutes. Remove and let cool at least 15 minutes, then run a sharp knife around the inside of the pan and release the sides before slicing and serving.
Farm Team Tips
No Instant Pot? You can make this bread in your oven by preparing the batter as directed and transferring to a well greased 8" x 4" loaf pan or 7" springform pan. Cover the top with foil and bake at 350F for 30-40 minutes, or until the top is firm to the touch. Preheat the broiler and brush the top with the remaining melted butter. Sprinkle with cheese and broil until golden.